Gabriel Poole, who died in March 2020, was one of the most significant architects to emerge from Queensland, whose inventive work influenced a generation of architects.
In November 2015, Queensland architect and academic Elizabeth Musgrave and Poole's former employee Lindsay Clare met up with Poole in the Brisbane office of Tim Bennetton (another former employee).
They discussed the inspirations and convictions that underpinned Poole's work, the development of his distinctive lightweight, affordable approach, and the influence his mentorship and example had on the practice of Clare and his wife Kerry (Clare Design).
Here, the edited transcription of their discussion is published for the first time.
Elizabeth Musgrave: To begin at beginnings, [in the late 1950s] you returned from jackarooing [in Central Queensland], ostensibly to study medicine, but enrolled in a degree in architecture instead. What prompted this change?
Gabriel Poole: Some friends of ours out at Hamilton had a little gardener's hut, which was broken down and in disrepair. They said to me "Look, if you want to do this up you can have it for ten bob a week." I got in and I painted it and I built cupboards into it and I did all sorts of things. Not very sophisticated, but I did it all. One night I had a – well, most nights I had a party there, but this particular night I'd been in one of the pubs and picked up John Dalton and Don Winsen and Robin Gibson. After the pub closed, I said "Come out to my place and we'll continue the party." So they came out to my little cottage, which was in one of the most fantastic positions, right on top of Hamilton Hill and looking up the river. They had a look around and said "Well, who did the place up?" And I said "Well I did," and they said "What are you doing with your life," and I said "Well I'm going to do medicine". They said "No, you're not going to do medicine. You're going to do architecture. You can start in my office on Monday." That's how I started architecture.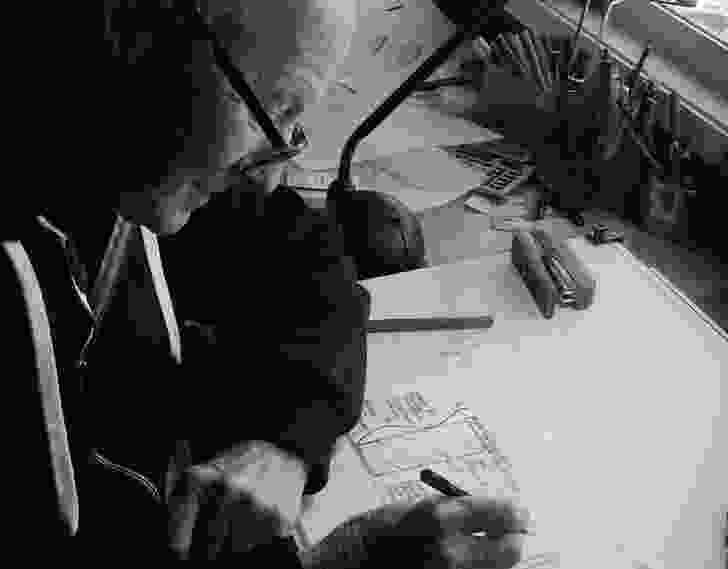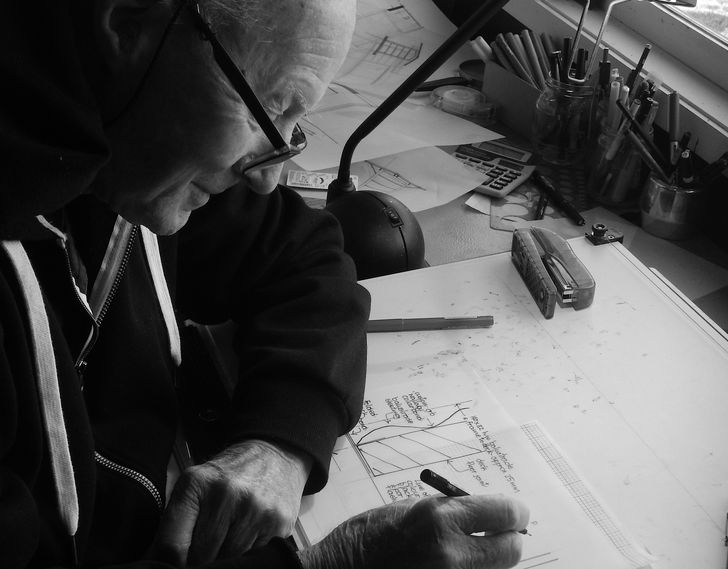 EM: Can you explain what it is that they saw in the work?
GP: I don't know. Well I was a bushy, and so, you know, I suppose everything was pretty basic, but it all worked.
Lindsay Clare: You've always been able to make something out of nothing, with bits and pieces of things lying around. I always remember [when] you moved north to Noosa, you had the caravan under the big gum tree, and [you] made a place for Harry [Gabriel's stepson] to sleep on top of all the tanks, and then [placed] a few bits of canvas around, created a few bits and pieces here and there, and next minute it was published in Belle magazine. Whatever Gabriel did, it must have been something that only he would have done. And you continue to do that I think.
EM: For young architects emerging in the 1970s and 1980s, the Dobie House, and the Schubert House were revelations. Lindsay, for you and Kerry, what was it about those particular houses?
LC: When I arrived in the office, the Dobie House was just about complete and the Schubert House was still under construction. Gabriel gave me the job of doing the back steps of the Schubert House where it touched the ground, the handrail detail and the toilet paper holder. The Dobie House had already won an architectural award and the Schubert House went on to receive a lot of acclaim. So, I knew that they were good houses and interesting architecture, but at the time, didn't see the importance of them more particularly. I just enjoyed them. But obviously they stayed embedded in mine and Kerry's thinking.
When I was studying at QUT there was a lot of talk about Gabriel's work – the projects were alive and fresh. There seemed to be something in the spatial composition, the materials and colours that made other projects looked stilted by comparison.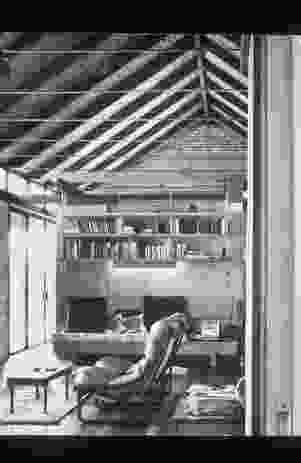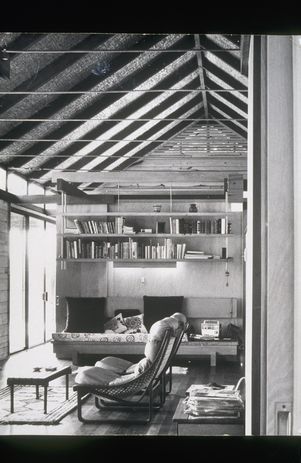 EM: Gabriel, the Dobie House seems to be more like the work that came before, the Dr Power house and some of the smaller houses. Certainly you can see the relationship with your later lightweight houses, the steel framed houses and the tent houses. But the Schubert House is completely different.
GP: I haven't tried to develop a particular style. I've generally deferred to my clients. If the clients wanted a particular sort of house I reckoned it was my job to do that sort of house but to make it better than they ever thought it would be. The Schuberts wanted a Queenslander type house. I had bought the original Hazelmere house in Hazelmere Parade [Graceville]. It was 100 years old, hot in summer and cold in winter. I started off architecture with the idea that no matter what I did I had to get cross ventilation. That's basically what I did [in the Schubert House].
Lindsay's sort of inferring that I got these ideas or that I was inspired by the [Case Study House] architects. I wasn't, because I hadn't read them and I didn't know them.
EM: So who was interesting to you? Who influenced you as a young student?
GP: Well [John] Dalton and [Robin] Gibson. They told me what was good. Neither of them liked Frank Lloyd Wright, and so I didn't like Frank Lloyd Wright.
EM: Who did they like then?
GP: Well, Mies van der Rohe. Rob was very Mies van der Rohe.
EM: Theo Thyne and Associates was very much informed by climatic design.
GP: Yes, well it was those guys who did it. So that's where it all came from, and that's why I was such a bloody rebel at college I suppose. I had these architects lecturing me, and John and Rob would say "They're terrible architects," and so I'd tell them they were terrible architects, They were still pushing the old architecture, whereas Rob and John Dalton were into new stuff, which was what I really wanted to do. And every time I had an assignment I would always discuss it with Rob particularly, because I really built up the relationship with him, and John Dalton. They were tough men,
EM: When you say tough men, they had convictions?
GP: Yes. And they were very precise. Detail was something that they were fanatical about. I suppose I'm looking at the house that I'm doing down at [South Stradbroke Island] at the moment, and I realized that I haven't stopped being a fanatic.
EM: Lindsay claims your houses have a special quality about them which is difficult to describe. Where do you think that comes from?
GP: I don't know how it happens, but I know that you can walk into my houses and you can feel the volumes. I know that I feel that when I'm drawing on a sheet of paper, and I seem to be able to transfer that into actuality.
LC: I also think there is some key point [where] certain architects manage to be able to make buildings come alive. The plan has more in the spatial connection at the edges and boundaries than you might think. There is a dynamic that's attached to materials and the way they connect, and the light that falls on them, and even colour. These things can be used to create a space that feels it can be occupied in a way that is delightful.
EM: The language of work, arising from both your respective practices, particularly the lightweight work, has become an idiom, commonly associated with architecture on the Sunshine Coast. What do you make of this phenomenon?
GP: I don't know. I don't suppose I've ever put a great deal of importance on it, because I think the whole focus of my work has been inventing and finding new ways of doing things – things like Quadropod – because we were building on steep slopes and things like that. I'm currently doing a container house in Esk, because I want to see how they work and whether you can make a decent house out of it. At this stage I'm convinced that you can.
[My wife] Elizabeth has had to put up with a lot over the years – we'd build a house and then sell it and build another house and so it went on and on. There were particular houses; the Tent House was just a glorious place to be in. The Lake Weyba house was a glorious place to be in. They're probably two of the best from the point of view of living experience.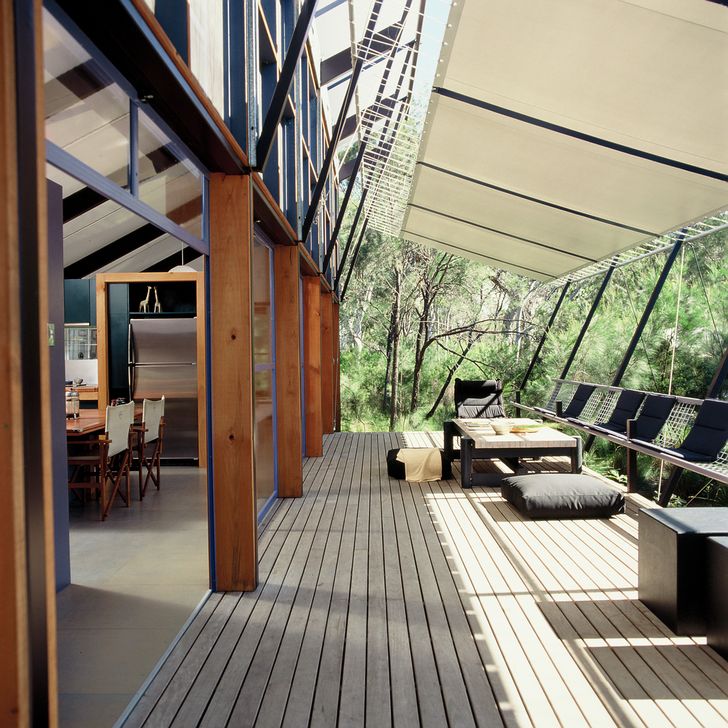 LC: On this point I think it's important to note, that while Gabriel is probably more well-known for lightweight projects, there have been a number of houses and projects that he's done that explore the use of masonry or concrete, like the Blackburn and Munro Houses and that we, following on, explore in the Goetz House and then the Thrupp and Summers House. There's a different sense of enclosure that you get from masonry, a different sense of cool.
GP: Really I ran out of work doing lightweight architecture when all the fancy people started coming to Noosa.
LC: But the projects were still important, and in terms of what we're talking about, in terms of having a beautiful spatial composition, the Blackburn house for me was the phenomenal house, and it never got an award, it never got published to my knowledge. But it was a phenomenal house.
GP: I never had my houses photographed. I never really built to be remembered. As far as I was concerned I was building the house for somebody, and when I'd finished it that was their house and they could do what they liked with it.
Related topics