"I'm not even a huge Lady Gaga fan," admits Eli Sudbrack, who twelve years ago established Assume Vivid Astro Focus (AVAF), a prolific, multidisciplinary, authorless art collective. At the end of last year, Sudbrack collaborated with the American pop star to transform New York department store Barneys into Gaga's Workshop, a riotous series of installations loosely related to Santa's workshop at the North Pole. "I hadn't even seen any of her videos when we first started working together. I love dance music, but more underground and electronic stuff. Her music wasn't really in my world." But he was attracted to Gaga's penchant for self-expression and dressing up.
Indeed, one of the few things that Lady Gaga and AVAF have in common is the conviction that self-expression – and the more, the better – is a duty. Today Rio-born, Sao Paulo-based Sudbrack and Parisian artist Christophe Hamaide-Pierson, who have worked together since 2005, are the only two members of the AVAF collective. They divided the project with Gaga and her stylist, Thierry Mugler, and creative director, Nicola Formichetti.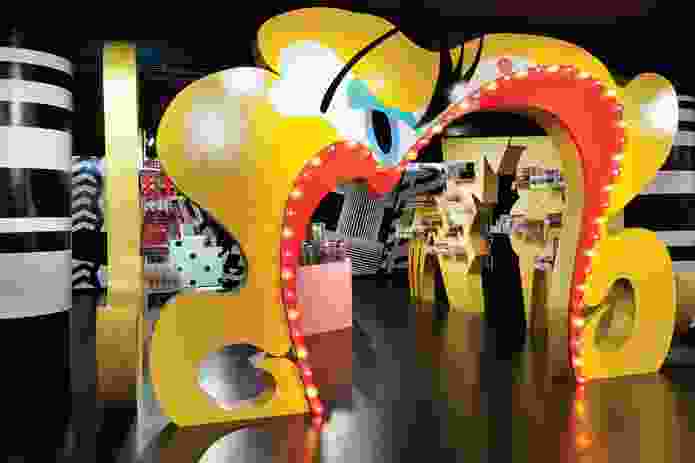 From June to November 2011, Formichetti and Gaga filled the Fifth Avenue and East 58th Street display windows with Art Nouveau-ish tableaux. These ranged from a glowing crystalline grotto populated with mermaids and a motorcycle whose chassis consisted of the singer, herself, pulled taut as taffy to a boudoir that was wallpapered and upholstered with blonde hairpieces. A reimagined yonic arch framed with Lady Gaga's scarlet lips led into a candy shop selling branded merchandise like rock-candy earrings, iridescent Gaga-themed paper masks, Naomi Yasuda fake nails, plastic Yottoy armadillo-shoe earrings, and even one-of-a-kind, Swarovski-crusted teacups.
The windows came off as somewhat self-conscious and commercial while the fifth floor, the purview of AVAF, offered a measure of the eclectic carnival and fevered profusion of their opulent street art, a world in which trash is treasure. Hamaide-Pierson and Sudbrack designed a midway of large-scale fibreglass-coated polystyrene sculptures that doubled as displays: choo-choo trains painted in electric Pantone hues; a placid, green-faced tarantula; and a blue-coiffed Gaga reclining in an elastic asana like a lacquered and catsuited Kali on a floor of mirrored black crystals.
"The colour was insane," Sudbrack says. "We didn't want to repeat any colour and we wanted to contrast it with the black-and-white walls." AVAF's signature delirious collision of stratified imagery and infinite inspirations was certainly toned down, but even bound to a single (fertile) subject, they took cues from sources as diverse as amusement parks, vogueing, contortionists and Santa's elvish sanctuary.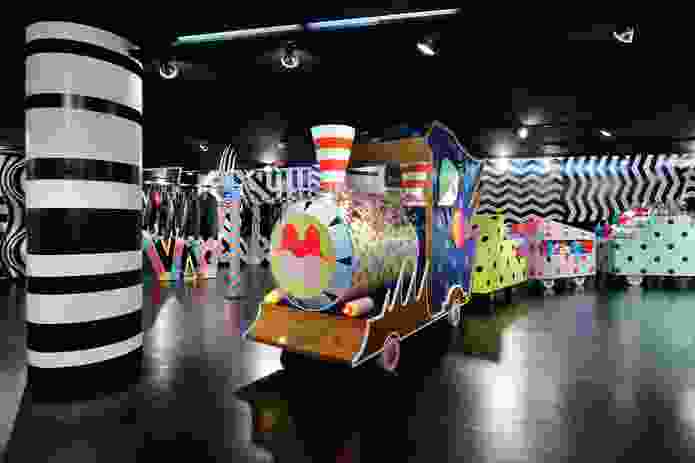 Although Hamaide-Pierson and Sudbrack make up the whole studio, the two don't see much of each other. "We don't like to Skype," Sudbrack admits. "We Skyped for this Lady Gaga thing for the first time ever. We always describe our ideas first; anything we create begins as words." For instance, he may begin a project by writing to Hamaide-Pierson that they should do something more dramatic: "Gucci sketches, patterns, drawings that are patterns. [I tell him] we should do a giant beanbag cyclops tranny that's pooping all the time." This type of description, rather than an image, is the genesis of each project. Indeed, Sudbrack's brimming, stream-of-consciousness "to do" or idea lists for each project are as rococo as his Rotring pen drawings and collages.
"What we usually produce is energy. What we want to propagate is energy. But you don't see energy; it's not an object," Sudbrack says. "This time, the object was more attractive to us than it has been before. Before we never gave a damn about the object. We wanted to create many objects and the viewer would be one of them."
Credits
Art collective
Project Team

Lady Gaga, Nicola Formichetti (Lady Gaga), Eli Sudbrack (AVAF), Christophe Hamaide-Pierson (AVAF), Thierry Mugler (Lady Gaga), Dennis Freedman (Barneys)
Site details

Location New York, United States
Category Interiors
Type Retail

Project Details

Status Built

Client

Client Barneys New York
Website thewindow.barneys.com

Source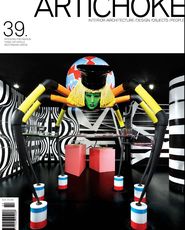 Issue
Artichoke, June 2012
Related topics