Standing in the tranquil garden entry to the Gallery House, architect Domenic Alvaro describes the qualities that initially attracted his client to this site on Sydney's lower North Shore. Bordered to the north by a small park and opening out towards expansive harbour views to the east, the property falls sharply from street level to an established garden at the base of a hill.
The client, an avid art collector, approached Domenic with a brief for a functional family home that would build on these site "bones." It was to be a house in which art and architecture are seamlessly integrated, a gallery home in which the daily rituals of family life are played out against a rich backdrop of intriguing artworks and dramatic harbour vistas.
The house responds to the rugged terrain by drawing tight against the hillside at the front of the site. New and existing gardens are integrated into the design, breaking it down into a series of interconnected pavilions arranged around a central circulation spine. A secluded courtyard screens the entry pavilion from the street and builds a sense of anticipation as you approach the front door. Inside, the house unfolds in a sequence of carefully orchestrated spatial transitions that negotiate the steep descent between the entry and the pool deck below. At the bottom of the site, stone walls salvaged from the original garden frame a terraced landscape that settles the new home into its existing context.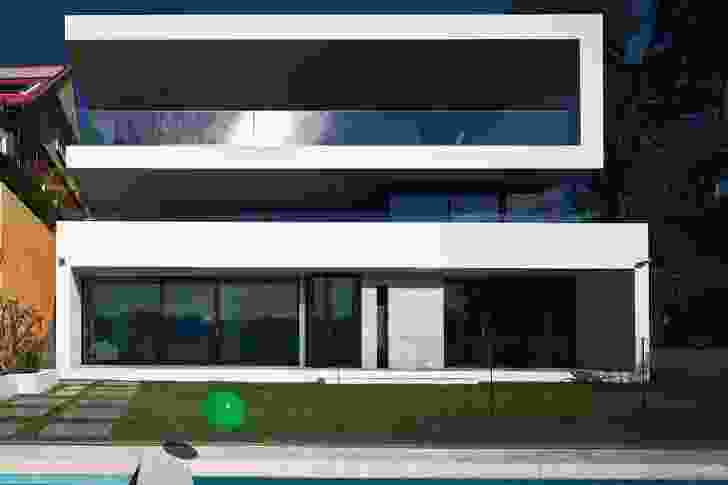 With a minimal composition of overlapping horizontal and vertical planes, the external envelope has a sculptural quality that extends into the interior. Off-form concrete, white walls and dark basalt tiles form a homogenous material palette that draws on the muted language of a gallery. Wall space is at a premium, with integrated hangers allowing for the flexible display of an extensive art collection that brings colour and vibrancy to the otherwise subdued environment. "That's actually been one of the best discoveries of the house," says Domenic, "to see what the art has done to the space."
Considered detailing reinforces the clarity of the architecture. Solid oak doors pivot within concealed frames, appearing as if the adjacent wall has simply peeled back to reveal the opening. Sashless windows create smooth bands of glazing that read as voids carved from the surrounding structure. Ceilings are kept clean with downlighting restricted to integrated track lights directed at the artworks. A grooved timber handrail glides smoothly underhand as you descend the stair, which connects all three levels in one continuous line. At night the handrail is subtly backlit to form part of a network of wayfinding cues that includes recessed brick lights marking the threshold of each door.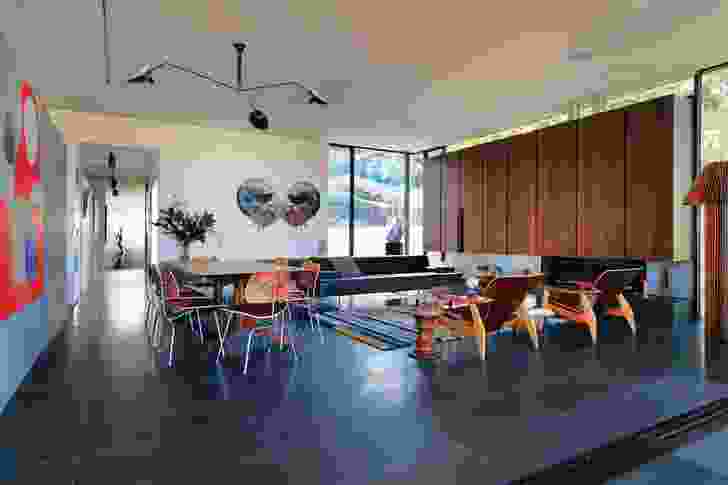 Joinery forms an important part of Domenic's work and here it is used extensively to add warmth and character throughout the interior. Custom-designed storage and built-in furniture are incorporated into the design of every room, providing an elegant response to the practical requirements of the brief. Much like the building itself, the joinery is broken down into simple elemental forms and finely crafted in American oak.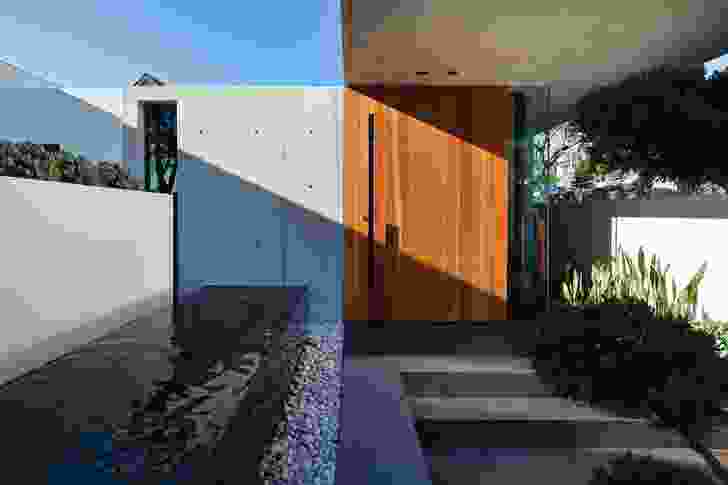 A sense of openness permeates the house. Sunken courtyards penetrate the compact footprint to draw natural light, views and ventilation deep into the interior. "It was really important to me to create a shifted transparency, so that there is always a connection with the outside," Domenic explains. Strategically placed corner windows and high-level glazing capture glimpses of the reserve to the north while maintaining the privacy of occupants within. On the eastern wall, cantilevered balconies fold down to provide sheltered viewing frames that encourage an active engagement with the view over the headlands and harbour beyond.
Domenic worked closely with the client to develop an efficient layout that meets the varying demands of family life and frequent entertaining. Flexibility is embedded into the design, with some rooms given multiple functions. In the study, an operable joinery wall conceals a retractable bed with matching side tables that fold out to provide a guest bedroom when required. On the top floor, a blade of concrete separates the formal lounge and dining from the more relaxed family and kitchen areas, creating two distinct yet overlapping zones. This gives the open-plan space a supple scale that adjusts to suit a range of uses, from intimate gatherings of two or three people to large social events.
Over Christmas the house expands to accommodate the client's entire extended family, making it a family home in the true sense of the word. With its restrained architectural character, the Gallery House has a sense of timelessness that will ensure it continues to adapt to the lives of its occupants for years to come. As Domenic says, "It's really a platform for family living to evolve."
Products and materials
Roofing

Lysaght Longline 305 roof cladding.
External walls

Rendered masonry in Dulux 'Antique White USA'.
Internal walls

Boral blockwork and plasterboard; off-form concrete feature walls.
Windows

K+K Shopfitters commercial window frames and Dupont powdercoated window frames with Viridian Comfort Plus clear glazing.
Doors

Custom solid oak doors by builder; Lockwood Robert Watson series door hardware.
Flooring

In-situ concrete structure with Lysaght Bondek slab; basalt stone slabs from Universal Stone.
Lighting

Tovo Lighting custom track lights and cast-in downlights; Skitsch lamp from Hub; Serge Mouille three-arm Spider pendant and floor lamp; Arne Jacobsen Louis Poulsen AJ table lamp from Corporate Culture.
Kitchen

Miele appliances; American oak joinery; custom island bench in statuary vein marble.
Bathroom

Agape bath from Artedomus; Parisi tapware; custom solid oak vanity.
Heating/cooling

Hydronic in-slab heating.
External elements

Reinstated existing stone walls.
Other

Custom smoked oak built-in joinery in living room; Paltrona Frau lounge; Viccarbe Ryutaro tables and Gan rug from Hub; Moroso balcony furniture; Matthew Hilton Light table from De La Espada; Walter Knoll Cubio leather armchair and stools, and Eames DCM chairs in walnut, all from Living Edge; LinBrasil Diz armchairs by Sergio Rodrigues from Avenue Road; Tio outdoor chairs and tables, and Missoni rug, from Spence and Lyda.
Credits
Architect

Domenic Alvaro
Surry Hills, Sydney, NSW, Australia
Consultants

Builder Leslie Parker Constructions
Building surveyor Anthony Protas Consulting
Joinery Elan Construct
Landscaping Landscapes Unearthed
Lighting Tovo Lighting
Structural engineer Tall Stories

Site Details

Location North Shore, Sydney, NSW, Australia
Site type Suburban
Site area 650 m2
Building area 520 m2

Project Details

Status Built
Design, documentation 12 months
Construction 16 months
Category Interiors, Residential
Type New houses, Outdoor / gardens

Source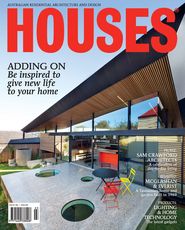 Related topics