The trust, respect and familiarity that exists between the architects and their clients allowed this extraordinary home to materialize in the absence of a brief. And given that the clients are leaders in their respective fields of property development and the arts, their expectations were high. The built result transcended those expectations.
Ingeniously integrated with factory remnants and existing level constraints on the site, the new building is a strong but respectful neighbour within its suburban precinct. The experience hidden within, however, is remarkable.
Upon entry, a section of thick, zinc-clad wall, medieval in substance, pivots to allow almost ceremonial access through a private art gallery to the living areas of the house. Art and family living merge and flow throughout. An external courtyard shaped irregularly by the triangular neighbourhood block plan enriches the living areas and views from the upper levels. Upstairs, the master bedroom and a study capture neighbourhood views from each end of the house, while a light court provides otherwise internal guest bedrooms with monastic tranquillity.
This complex, sophisticated house brilliantly synthesizes art, design and one family's dignified living aspirations.
– Jury citation
At a time when architectural patronage is rare, ours was an exceptional client with vision and dedication to a building of architectural distinction. Matching the client's determination was that of the builder, and in particular the foreman, who squarely met the exacting requirements of the design and the construction detailing. The formidable combination of client and construction team resulted in an extraordinary level of bespoke design for each light, handle and fitting, achieved as a total design conception.
– Denton Corker Marshall
For a full list of awarded projects see 2011 National Architecture Awards – the winners and for more awards discussion see Rachel Hurst and Rory Hyde's responses to the awards and the jury overview by Karl Fender.
Source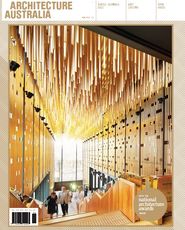 Issue
Architecture Australia, November 2011
Related topics