Baracco and Wright Architects' pursuit of the loosest and lightest of forms is exemplified in the practice's new house on Victoria's Western Port – a joyfully direct manifestation of experiments into pared-back infrastructural architectures. In this project, the architects begin to undertake a removal of some of the very components that make a building a building – the displacement of a floor, the elimination of solid walls and roof, and the dismissing of conventions such as the garden stopping at the front door. These editorial gestures seem a gradual undressing of sorts. The building invokes, the architects confess, an experience more like camping: "It isn't really a house, but more a kind of semipermanent tent."
The site is in a coastal area – a strip of (more or less) remnant vegetation among cleared farmland surroundings. The ongoing repair of the indigenous vegetation using careful bush regeneration techniques (the Bradley method) is seen by practice director Louise Wright as "a form of reconciliation" in which time spent on a site sifting and weeding is "laborious but rewarding." The house emerges modestly from this labour, its footprint discovered as a place of poor vegetation growth and probable landfill. The material form is of almost second-order significance to the ground conditions and consists of a raised deck eight hundred millimetres high, which allows seasonal floodwaters to move through, and an off-the-shelf kit shed of steel with polycarbonate cladding and three large (four-metre-wide) sliding facade walls. There is a mezzanine for sleeping within the enclosure, and a toilet and shower on the ground level. The form of the shed enclosure, as dematerialized and undressed as possible, is intended less as a reference toward economy or utility, although it does do that, than as a framework to be colonized by vegetation over time, both inside and out. The architecture can be envisaged in this way as a seamless part of a landscape and vegetation strategy, a mere step on a longer trajectory toward restoration, and one that can be almost as easily reversed – a scaffold upon which vegetation must grow in order to complete the functions of, for example, shading and cooling.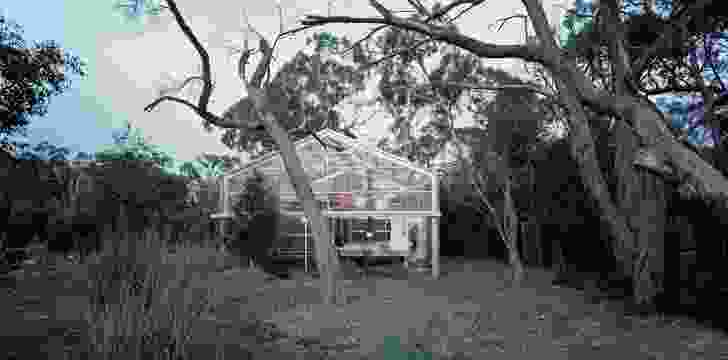 These references to the world of vegetation, the infrastructural and the tent have been a persistent theme in Baracco and Wright Architects' research and practice. The practice's exquisite and quietly radical inclusion in the exhibition Out of the Square: Beach Architecture on the Mornington Peninsula (Mornington Peninsula Regional Gallery, 2008–2009) consisted of large, ephemeral drawings, spidery lines depicting trees and foliage in which, barely there but visible, sat a deck, two chairs and a solar panel. Both the Coastal Deck proposal and the current project stake out an interest in a sort of subliminal proto-dwelling (drawing on a tradition of cabins and refuges), which captures the most minimal of temporary incursions in coastal landscapes. This involves drawing upon cultures of camping that are intensely local and also provisional – a simple, uncluttered experience with basic services and an immersion in the day-to-night experience of outdoor living, such as enduring the diurnal ranges of warmth, cold and damp.
The powerful outdoor experiences drawn out through the house's ephemerality are, however, only one part of a larger and more radical urban project that the practice has embarked on. Over the past five years it has been collaborating on the Habitat 141 project with Greening Australia, an organization responsible for large-scale vegetation restoration of temperate woodlands across the wheat belts of the county's south-east. In connecting eighteen million hectares and fourteen national parks, Habitat 141 intends to protect threatened habitats and species. The relevance of Habitat 141's agenda to architecture may seem oblique at first, but Baracco and Wright Architects is interested in the way that the infrastructure of towns and cities can be more mindful of its environments, ecosystems and local landscapes. In fact, the practice wants to redefine architecture through this process – or rather restate its relevance. The architects want to experiment and devise architectural typologies that, for example, could allow water to move through them, or that could permit the joining up of vegetated space across property boundaries and open up a deeper acknowledgement of a site's geography, geology and hydrology.
This expanded commitment to a quietly progressive architectural urbanism that places indigenous vegetation and ecosystems at its heart might seem odd when set against the regimes of contemporary tabula rasa development that mainstream Australia seems to willingly tolerate. However, a questioning of norms and conventions of suburban settlement seems timely, as does a strategic approach to how the city can be retrofitted or adjusted through techniques that can accommodate densification of otherwise difficult urban sites – flood plains, creeks and utility easements, for example. Through a long and thoughtful period of design research in RMIT University's School of Architecture and Design, often with publications and community partnership outcomes (for example, the Regenerated Towns in Regenerated Nature festival held in West Wimmera in 2014), the practice has tested and explored these typologies with students and staff, creating a body of work with a lasting legacy.
Most of all, what is humane and delightful about the trajectory that has led to this apparently modest house is the multiple scales of its enquiry. It is clear that Baracco and Wright Architects is as concerned with the minutiae of everyday life – how we might wake up in the morning, garden and cook in a place – as it is with the way that these regimes could be scaled up to effect urban regeneration at the scale of the city and the environment. This sensitivity for moving back and forth between 1:1 and 1:1000 scale infrastructures of the city is a foil to the conventionally detached bird's-eye view of policymakers and planners, where thinking rarely meets the ground, nor is played out as lived experience. In contrast, Baracco and Wright Architects intimately understands that the ground – and our own habitual ecosystems of everyday life – are powerful stabilities from which a more radical urban thinking can emerge.
Credits
Architect

Baracco + Wright Architects
Northcote, Melbourne, Vic, Australia
Project Team

Louise Wright, Mauro Baracco, Catherine Horwill
Consultants

Shed - frame and cladding Melbourne Garages
Structural engineer Perrett Simpson

Site Details

Site type Rural

Project Details

Status Built
Completion date 2014
Category Residential
Type New houses

Source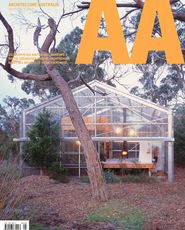 Project
Published online: 12 Nov 2015
Words: Melanie Dodd
Images: Copyright Erieta Attali
Issue
Architecture Australia, September 2015