What is a house for? Not every house is for the same thing. Well, obviously there are some common purposes – climate control, keeping the rain out, facilitating sleeping, storing things, preparing food and drink etc. This last category is normally fulfilled by something called a "kitchen," but there is a danger in using labels – they are ready-mades, stereotypes, clichés. Better not to name it at all – that way, it is more likely to appear to you afresh, as a unique thing, a particular instance, strange. At this house in Fitzroy North, designed by BKK Architects, every space has multiple potential uses and each zone bleeds into the next. There is a place for storing and preparing food, hanging out with friends, washing dishes – the usual kitchen things – and also slightly less usual things, like making cocktails (the alcohol cabinet is integrated into the kitchen end of the bookshelves), and, most importantly, gazing out at the garden. This last activity pretty much applies to every space in the house. Only a cinema/computer games room and a guest bedroom don't face the new "wilds" that replaced the old lawn (it would be wrong to label it a "backyard").
BKK has been designing houses for 20 years, and one thing that has shaped its designs over that time is the rejection of real-estate-style labelling of spaces; instead, the practice goes for looser definitions, encompassing a broader range of potential uses. This is reflected in the briefing exercise the architects employed for this house. They gave the clients a plan of the site showing roughly where the new additions were going, and asked them things like, "Where would you like to sit? To eat? To lie down?" BKK tries to create spaces that can be occupied in unexpected and unplanned ways; ways that are unique to the personality of the occupants.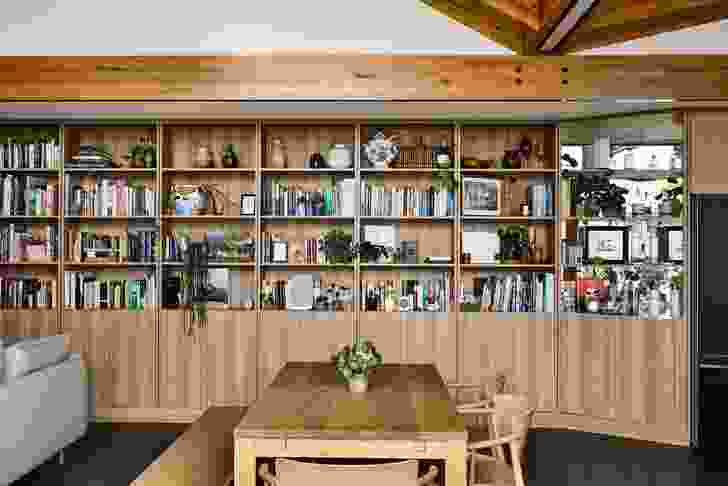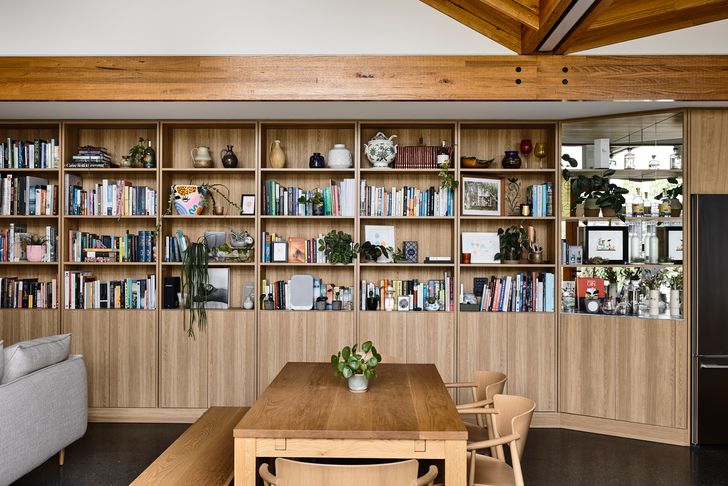 The concept of personality was also part of the briefing process. The architects asked the clients, a young couple, to provide two images each that expressed something about who they are. They specifically said not to provide images of architecture. She provided a tranquil photograph of wilderness and a still-life painting of a vase of flowers, and he a sci-fi movie poster and an illustration of wolves. She grew up in the Otway Ranges and loves to garden, and he thinks of himself as a lone wolf who sometimes likes to run with the pack. According to BKK director Simon Knott, they both identify as introverts. They intend to live in the house for a significant period of time. Providing a photo of a landscape, a painting of a bunch of flowers and some wolves, rather than, say, images of domestic interiors, opens up possibility, and increases the chance for a design to emerge outside of preconceived ideas of what a house should be.
Simon describes the house at one point as a "cascading series of salon spaces"; spaces for introverts to be alone, but with the option of mingling together, and even of hosting big parties if they open up the doors and windows to the outdoors. BKK have called it Garden House, and the name is apt, because every space is oriented outwards, facing the domesticated wilds. The facade line pops out and squeezes back in, the ceiling rises and falls, but at every opportunity, the architecture places your body near a window. And you do turn to look – because out there lies abundance, bounty, beauty. Verdant green or autumnal orange, lit with high contrast, or the glowing, saturated colour produced by Melbourne's overcast skies, depending on the moment in time. The client's two cats are a litmus test of the best window seats in the house, but they don't stay put, instead migrating nomadically with the movement of the sun. The same goes for the human occupants – depending on mood, task or situation, they can find their place here, in this variegated landscape of interior spaces.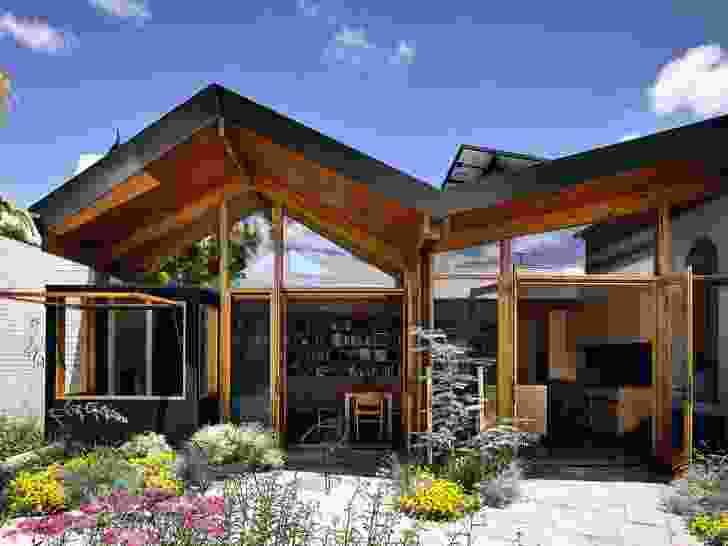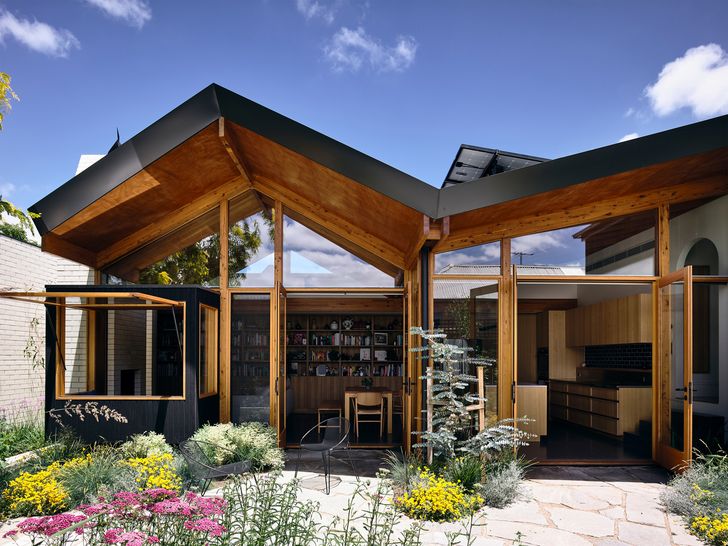 So, what is a house for? Perhaps we can infer that BKK places the highest priority on expressing the character of the occupants. Simon describes the house as a "container for living," and he is particularly keen on the role of bookshelves. The southern spine of Garden House is entirely shelves, displaying books and a collection of ceramics. "Bookshelves are like a timeline of your life," says Simon. "It gives the whole space a character, a personality. It's something that architecture alone can never achieve." He describes the bookshelves as a second facade, its quality created and curated by the clients, and accumulated over a lifetime – a true portrait of their personality.
Products and materials
Roofing

Lysaght Spandek and Klip-lok cladding in Colorbond 'Monument'
External walls

Austral Bricks La Paloma bricks in 'Miro' from Brickworks; Eco Timber charred timber cladding
Internal walls

Austral Bricks La Paloma bricks in 'Miro' from Brickworks
Windows

Valley Windows Victorian ash double-glazed windows in Cutek oil finish
Doors

Pittella door handles in 'Black Opaque' and 'Satin Brass'
Flooring

Vic Mix Himalayas Delta Black exposed aggregate concrete, polished; Artedomus Elba Honed stone tiles; Tretford carpet in 'Burnt Orange'; RC+D Natural Collection carpet in 'Charcoal'
Lighting

Darkon Linear Grazer pendant and profile lights; Flos Glo-ball wall lights and Find Me spotlight; Bocci pendant from Hub Furniture
Kitchen

Artedomus Elba Honed stone benchtop; Astra Walker tapware in 'Eco Brass'; joinery in George Fethers and Co. Lignapal natural timber veneer in 'Oak Rift'; Earp Bros ceramic wall tiles in 'Devon Blue Jeans' to splashback; bookshelves in Elton Group Evenex 'Golden Oak' panelling
Bathroom

Astra Walker tapware in 'Eco Brass'; Reece tapware in 'Polished Chrome'; Archier stone-finished basin; Signorino Carrara Penny Round tiles and honed marble floor tiles; Artedomus Elba Honed floor tiles; Earp Bros wall tiles in 'Cement Hexagon Sage'; DCS heated towel rail
Other

Mark Tuckey dining table; Fritz Hansen N01 dining chairs from Cult; Jetmaster Universal fireplace; Tait Volley outdoor chairs; Apparentt Idle Bench Seat and Fin Stools; Herring sofa by Nonn from District; Made by Morgen bed
Credits
Architect

BKK Architects
Melbourne, Vic, Australia
Project Team

Simon Knott, Vaughan Howard, Liz Mason, Lauren Dornau
Consultants

Builder Moon Building Group
Landscape architect Mud Office
Structural engineer Argall

Aboriginal Nation

Garden House is built on the land of the Wurundjeri people of the Kulin nation.
Site Details

Location North Fitzroy, Melbourne, Vic, Australia
Site type Urban
Site area 416 m2
Building area 166 m2

Project Details

Status Built
Completion date 2019
Design, documentation 12 months
Construction 12 months
Category Residential
Type Alts and adds

Source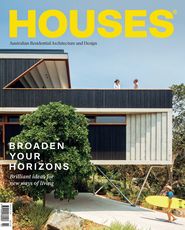 Related topics