While Garden House nestles unassumingly into its eastern Sydney suburban context, it unfolds on entry with surprise, discovery and allure. The bold, simple, L-shaped form of the house is located at the rear of its sloping site to create the maximum possible consolidated area of tiered garden frontage. It then presents to this landscape and the street beyond as a large, textured, folded brick facade in the background, which lifts to connect living areas to the garden and distant views.
Internally, the house flows with clear planning logic, which is enriched by highly imaginative volumetric manipulations and carefully considered detailing. The main bedroom is perched on the upper level to make the most of its views. It is separated from the secondary bedrooms by the living areas, which all in turn connect directly to the garden environment.
Moving through the house is a memorable experience of unfolding spatial events. The house is a confident display of the way fluid volumes, captured and ever-changing natural light, elegant finishes and sculptural connections to outdoor spaces can enrich the otherwise often predictable patterns of day-to-day living.
– Jury citation
Broad and north-facing, the site was naturally beautiful and easily big enough to accommodate the clients' brief. We began by siting the house and its garage as far back from the street as possible, to make a large stepped hillside garden – a shared benefit for the house and the street. The rational plan of the house settled easily in an irrational garden, conceived of as a native, cottage landscape and designed with Sue Barnsley Design. Someday this magnificent garden will completely hide the house. This project doesn't chase views, but explores the exuberant freedom of designing a garden house. This project is about the luxury of spaciousness, not space, and a house totally immersed in a garden.
– Durbach Block Jaggers Architects
For a full list of awarded projects see 2011 National Architecture Awards – the winners and for more awards discussion see Rachel Hurst and Rory Hyde's responses to the awards and the jury overview by Karl Fender.
Credits
Architect

Durbach Block Jaggers Architects
Sydney, NSW, Australia
Project Team

Neil Durbach, Camilla Block, David Jaggers, Lisa Le Van, Stefan Heim, Joseph Gretch, Deborah Hodge, Brigitte Thearle
Consultants

Acoustics Acoustic Logic
Builder GNC Quality
Consultancy planner Mersonn Pty Ltd
Mechanical engineer ITC Group
Structural engineer SDA Structures

Site Details

Location Sydney, NSW, Australia

Project Details

Status Built
Category Residential
Type New houses

Source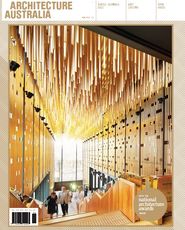 Issue
Architecture Australia, November 2011
Related topics