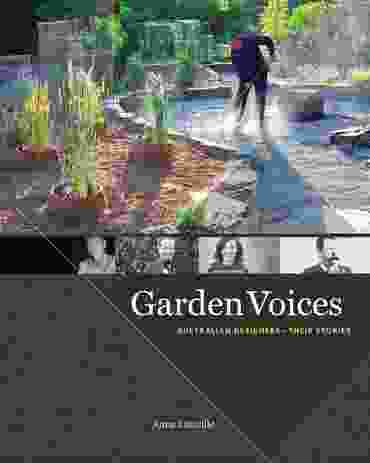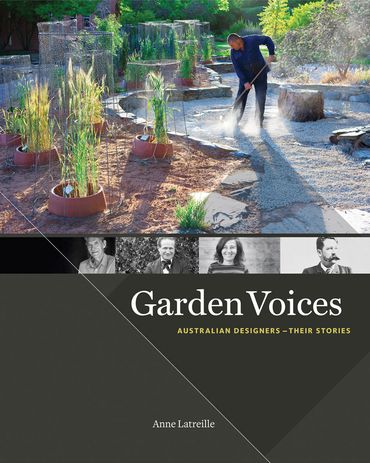 Those of us in the thrall of Australian landscape design eagerly await publications that reveal new creative works: gardens and broader landscapes that respond to place and are boldly contemporary, with inventive planting overlaying an effective structure.
Australia's extraordinary prosperity in the period 1990 to 2010 brought into play new wealth and its ability to commission and maintain new gardens and landscapes. While no publication has, as yet, comprehensively explored the outcomes of this flourish of activity, Anne Latreille's new volume Garden Voices: Australian Designers – Their Stories brings into view some of the key endeavours of those two decades.
Anne Latreille is well known to Melburnians through her columns for The Age, and more recently to a wider audience through her books on influential gardeners Joan Law-Smith and Dame Elisabeth Murdoch.
Her new book considers the work of nineteen Australian landscape designers. Some are truly historic, like William Guilfoyle, whose Royal Botanic Gardens in Melbourne (of which he was the curator from 1873 to 1909) drew on first hand appreciation of the majestic forests of the New South Wales north coast; and Karl Langer, who brought European sophistication to Queensland gardens in the 1950s. Others, more recent, initiated the landscape architecture profession in the 1970s. Their pioneering works enhance the public domain, and include Marion Blackwell's Harold Boas Gardens in Perth's CBD (1974), with verdant trees and shrubs enfolding lawns, ponds and cascades; and Bruce Mackenzie's sandstone platforms and restored coastal heathland in waterfront parks in Sydney (1970s).
While these historic chapters are important, it is Latreille's presentation and analysis of contemporary talent that gives the book its landmark status. In Garden Voices she writes evocatively of each individual landscape designer or practice, and gives the essence of their life, their work and their "message," as conveyed by their deeds and their words. We gain a very personal insight – one that is not often found in such accounts.
Seven of the contemporary designers stand out as showing a distinctively Australian direction in their work. Sydney-based Craig Burton's deep understanding of the evolution of landscapes over time provides him with a sound basis for highly considered designs, which is evident in the integration of a new house atop a Blue Mountains cliff edge (1998–2002), or the formation of an amphitheatre subtly folded into sloping ground at Bradleys Head on Sydney Harbour (1998–2000).
Another very thoughtful designer is Tasmanian Torquil Canning – his eloquent use of walls and water is clearly evident in the very moving Port Arthur Memorial Garden (1999–2000). A permanent reminder of the 1996 massacre, "It is an agent of peace, in a visually gorgeous public place whose history is one of intermittent violence, brutality and suffering."1 The materials are austere: stone, gravel and cement; with a partially destroyed building aligned with a rectangular pool. Canning states: "A reflecting pool gives you a block of light in a garden. This is marvellous in deepest darkest winter, or on a grey day with overcast skies."2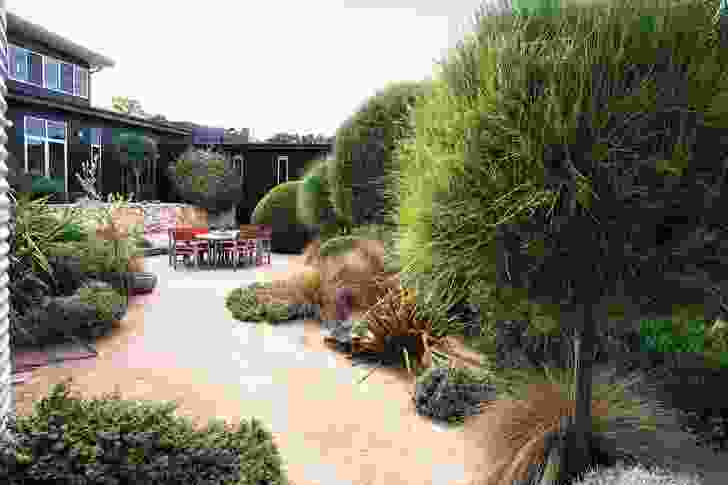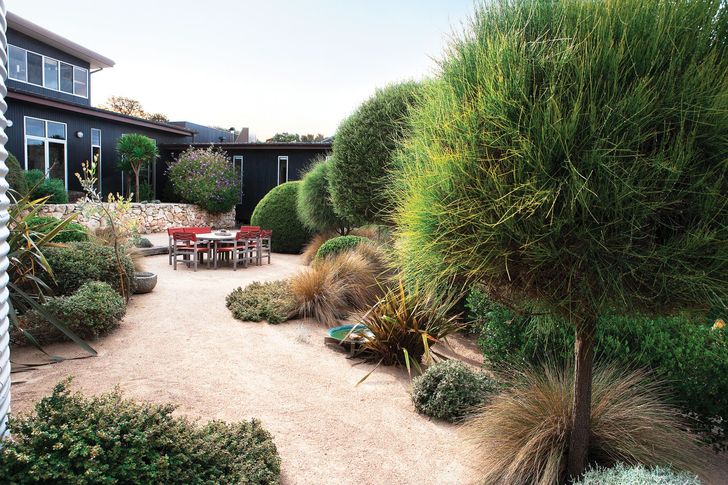 The well-known exemplar of coastal gardening is Fiona Brockhoff's Karkalla (1995), located on a windswept tract of land on Victoria's Mornington Peninsula. Arranged around a dark-hued house are garden walls of random stone and hardwood, gravelled terraces and clipped shrubs – the latter typically natives, yet interspersed with tough Mediterranean succulents and echiums. The garden celebrates the use of tough salt-hardy and drought-resistant plants.
The late Kevin Taylor, with Kate Cullity and Perry Lethlean (TCL) achieved international significance through their design of major projects that are responsive to existing site conditions, yet expressive of powerful new landscape concepts. The red earth of central Australia is recognized as a symbolic colour and material, and its use permeates a number of important projects. It forms pathways threading towards the Uluru Kata-Tjuta Cultural Centre (1990–1995), and is used for a sandy landscape at the Australian Garden (1995–2012), a central focus of the Royal Botanic Gardens at Cranbourne, Victoria. Here the desert is evoked as a red plain set with abstract ground patterns of low shrubs, and fringed by crescent-shaped hillocks. Strong and effective land shaping is evident at Cranbourne and at the National Arboretum in Canberra (2005–2012), the latter a massive achievement of forest groves and shaped hillsides, capitalizing on vistas along Lake Burley Griffin.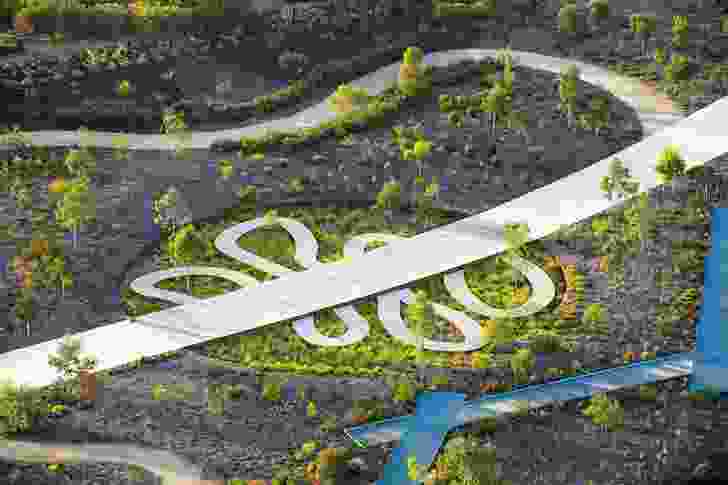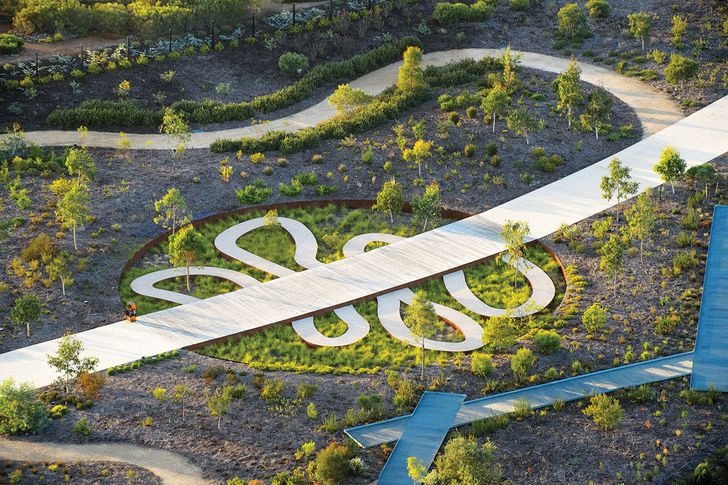 Landscaping can be a form of abstract art, and this is readily visible in Melbourne-based Jim Sinatra and Phin Murphy's (Sinatra Murphy) arrangement of rocks, gravel, grasses and random patterned pavements, often countered with a lattice of strongly trunked trees. One senses the expansive, primeval landscapes of northern Australia, and Indigenous paintings of land patterns as influences on both TCL's and Sinatra Murphy's work.
Tropical Queensland provides a completely different palette. Port Douglas-based John Sullivan's work is distinctive, using fan and lipstick palms, ginger, philodendron, pink grevillea and the Gardenia scabrella native to Cape York to achieve lush green landscapes with coloured accents, all carefully managed to balance design considerations with rampant growth.
Bernard Trainor, an Australian designing landscapes in California, reveals the expanding horizons for local talent, sharing with the US West Coast his particular skills at understanding special context and the use of sustainable planting.
In reviewing such a book one always reflects on the inclusions and exclusions; in this case, two designers with European sensibilities. Vladimir Sitta is included, his hard-edged sculptural mode once filmed by a German/French television team for a program called Garden as Stage3; yet Anton James's massive and unusual achievement, the Mount Penang Gardens (2000–2003) near Gosford in New South Wales, awaits its rightful place in a record of contemporary Australian landscapes.
Garden Voices, while offering a historical context, provides an informed preview of what the future can hold, as Australia recognizes the importance of conserved and created landscapes as a counterpoint to our increasingly urban lives, and the contribution of talented designers in defining the twenty-first century.
Anne Latreille, Bloomings Books, 2013, hardcover, 252 pages, rrp $59.95.
1. Anne Latreille, Garden Voices: Australian Designers – Their Stories (Melbourne: Bloomings Books, 2013) 44.
2. Ibid., 45.
3. Ibid., 156.
Source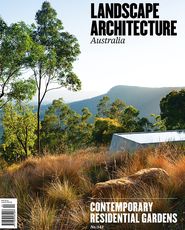 Issue
Landscape Architecture Australia, May 2014
Related topics