For visitors to Tasmania, the City of Glenorchy might seem a brief flash of suburbia as you sweep north towards the midlands. You can still buy the average house in Glenorchy for near enough to half what you'd pay in Hobart. Unemployment is a little higher than the Tasmanian average and most folks are earning a little less. It's the kind of place where you're not meant to find something remarkable, but you just might. Glenorchy Art and Sculpture Park (GASP) is one such instance. To understand how and why this has come about, it's necessary to look beyond Room 11's authentically beautiful architecture to examine the collective efforts that enabled this remarkable project to emerge.
A couple of doors down at MONA, David Walsh and Fender Katsalidis Architects have installed a rabbit hole in the navel of Roy Grounds' Round House and buried an incendiary trove of artworks beneath it. This act would constitute a seismic cultural blast in Paris, Tokyo or London, let alone Tasmania. It's perhaps unsurprising then that MONA's instructive ripples started to spread. Around the time that MONA was coming into being, a casual conversation between Walsh and then mayor Adriana Taylor planted the seed for an art-inspired scheme on the Glenorchy foreshore. Cut adrift from the city proper by the thrust of the Brooker Highway, this elongated strip of land fronting Elwick Bay might easily have received the usual council kerbside treatment. But in 2005 a small group of civic and business leaders, led by Adriana Taylor and Madeleine Ogilvie, lent their collective resolve to the task of envisaging something far more memorable.
A significant milestone for the project came in 2008 when artist, project manager and design consultant Pippa Dickson was appointed by the Glenorchy City Council to develop a business plan. With little interest in overseeing a mediocre public art project, Dickson began working to raise the bar. The project initially met with frustration when two applications for stimulus funding proved unsuccessful. However, subsequent refinement of the conceptual ideas behind the GASP concept led not only to funding being secured, but also to greater community confidence in the venture.
Matters of procurement are not often discussed in architectural writing – after all, critique of the built outcome and architectural virtuosity is a lot more fun. However, as architects should be well aware, the value of a strong framework for the procurement of a project is vitally important. It could be argued that a building's DNA is set long before the architectural commissioning stage. Furthermore, realizing any kind of vision, no matter how ambitious (or otherwise) it may be, demands community commitment, political backing and financial underwriting, not to mention trust, respect and empathy. GASP is very much a story of enabling a team of designers and artists to deliver a project for a community, a public gesture.
In 2008 Dickson (now CEO of GASP) was appointed as GASP project development officer. She engaged a group of architects including Jerry de Gryse (who had undertaken the Wilkinsons Point Master Plan in 2007) to investigate ways of creating a cohesive gesture to unite the bay. Community feedback placed importance on how the scheme might respond to the bay's edges. People saw value in simple daily rituals like walking, providing places where kids could learn to ride a bike and engaging with the natural setting and its birdlife. Dickson recalls an early community consultation meeting in which an elderly woman was in tears because it had been so long since such a public project had been discussed in Glenorchy. One clear theme that emerges from revisiting the community consultation process is that this civic act was deeply personal.
Distilling this intensive procurement process into built form and finding means to express the manifold economic, political, social, cultural and topographical considerations must have been an extremely challenging task. It is therefore commendable that the architectural and landscape design has been executed with such authority. Room 11's structures allow you to have an intimate moment with the Tasmanian landscape. They also reclaim the foreshore for the local community. Central to this achievement is a clearly defined masterplan strategy.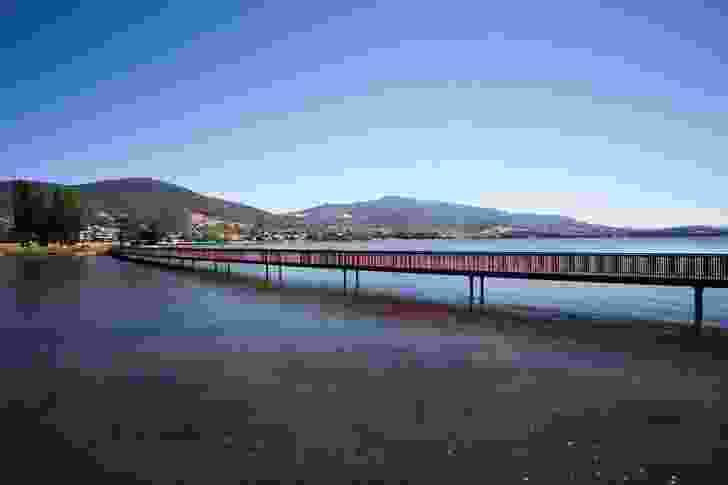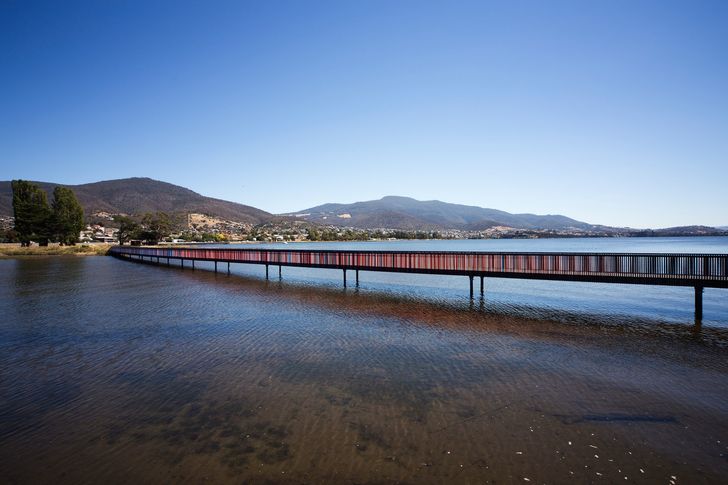 The "giant arc" concept around which GASP is structured was first envisaged in a design esquisse held prior to the limited design competition that was used to select the architects. Room 11's winning scheme brought formal clarity and tectonic delight to this elegant organizational principle. The two completed stages of the project have seen this conceptual framework emerge as a beautiful collection of structures.
In stage one of the GASP project, the arc ultimately became a gently curved path incorporating two elevated sections of walkway that extend out across the water. Simply built with interlocking timber balusters, these elements are enlivened by flashes of colour sandwiched between the timber blades. The arc links a series of pavilions and provides a structure around which "art bombs" can be collected. It also permits the natural beauty of the setting to take precedence over the architecture, a notion that sits at the core of the design team's conceptual approach. Given the success of this initial scheme, it is delightful to see that the original architects have been retained for stage two.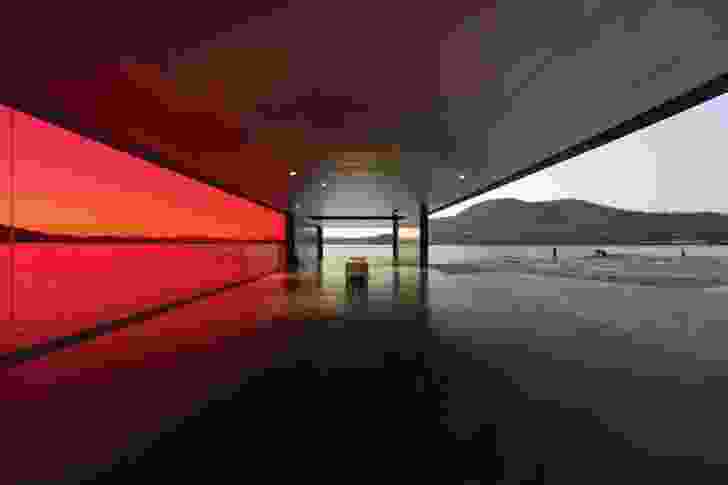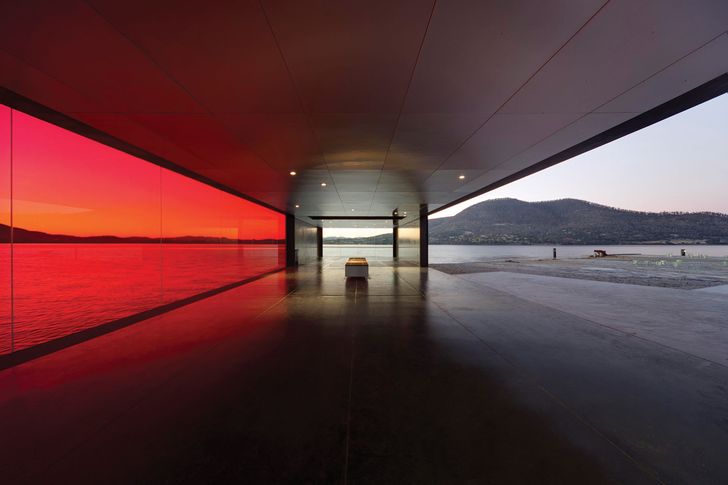 The second stage of the GASP project is located at the extremity of the bay, on Wilkinsons Point. Again, the structures are elemental, an essay in the fundamentals. A set of blade walls establishes a pavilion and a courtyard. Select openings frame views of the surrounding landscape.
It seems the project is characterized by strong datum lines. The walkway datum hovers over the tide, allowing you to transgress the limits of terra firma to skim across the water. The balustrade datum is a tactile point of human-scaled contact in the vast amphitheatre of the Derwent Basin. The blade wall datum connects the setting with the surrounding distant mountains by editing out residual traces of suburbia. This spare architectural language, the isolation of the facility and the ruin-like remnants from the site's former use as a staging point for the construction of footings for the nearby Bowen Bridge all contribute to a heightened sense of calm and repose.
What we weren't able to experience was the capacity of the space to explode into life as a venue for performance. Reports of Domenico de Clario's "all night" musical performance at Tasmanian art event Dark Mofo illustrate the potency of such a setting as a venue for contemporary art. This is the dynamic and elusive "unknown" in the midst of Room 11's authoritative architecture: the capacity for art to subvert and surprise.
Room 11's work at GASP is admirably silent – but also appropriately delightful. The venue continues to facilitate a world-class succession of artistic ventures. GASP was conceived and realized by a dedicated team working in consultation with an engaged and appreciative community. It's little wonder, then, that the local architectural fraternity are proud of what's been achieved here. We ought not to be too surprised.
Places like Tasmania, supposedly on the periphery of the cultural and artistic discourse of the major capitals, might be said to offer an equivalent opportunity for creative and intellectual freedom, not to mention commercial opportunities, which are often difficult to procure in the maelstrom of the big smoke. Perhaps this is one of the lessons of GASP, that the ability to execute a meaningful work is only part of the task. Rather, it is the provision of a framework for excellence and the propensity to advocate for delight where little or nothing has been expected that permits this work to excel.
GASP Stage 1 by Room 11 Studio received a 2013 Urban Design Award from the Australian Institute of Architects.
Credits
Architect

Room11
Australia
Project Team

Thomas Bailey, Megan Baynes, James Wilson, Henry Beresford, Ryan Cawthorn, Nathan Crump, Aaron Roberts
Consultants

Electrical engineer Andrew Sutherland Consulting Engineers
Landscape architect McGregor Coxall
Structural engineer Gandy and Roberts Consulting Engineers

Site Details

Location Hobart, Tas, Australia

Project Details

Status Built
Category Landscape / urban, Public / cultural
Type Culture / arts, Parks

Source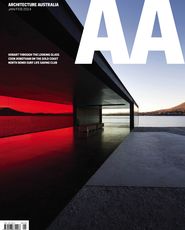 Issue
Architecture Australia, January 2014
Related topics