Geberit has opened of the door to a number of design opportunities with Supertube, an advanced building drainage system launched at the recent World Plumbing Conference in Melbourne.
Despite its minimalist design (the tubes have only a 110 millimetre diametre), Supertube's high fluid capacity is robust enough for a wide range of settings.
Abdullah Öengören, Head of Basic Sanitary Technology for Geberit, said, "At Geberit, we are very interested in innovation and new products. There was a big need from the plumbing industry for a high capacity product for high-rise buildings and keeping that in mind we started developing the Supertube system."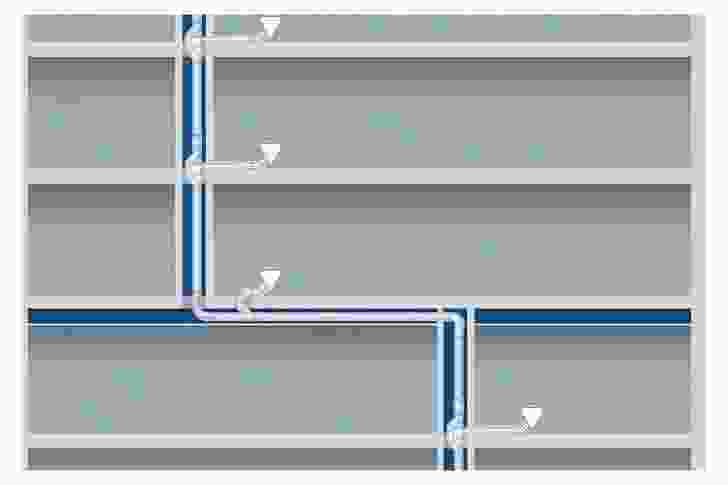 The system is based on the interplay between four components particular to Geberit: a Geberit HDPE discharge pipe, Geberit HDPE Sovent, Geberit HDPE Bottomturn bend and Geberit HDPE Backflip bend.
The Geberit HDPE Sovent guides the discharge into the stack and sets it in rotation, creating a continuous column of air and facilitating a discharge capacity of 12 litres per second – a rate of drainage similar to that of conventional draining. Geberit HDPE Bottomturn bend changes the flow direction from annular to layered and maintains the continuous column of air, whilst the Geberit HDPE Backflip bend changes the layered flow back into a vertical annular flow with the air column intact.
The creation of a continuous column of air in the much narrower, 110 millimetre diameter pipe removes the need for a separate parallel ventilation pipe, which reduces spatial requirements in both the vertical stack and the horizontal cavity.
For more information, visit the Geberit website.