Geelong Performing Arts Centre redevelopment approved
Victoria's planning minister Richard Wynne has approved the $38.5 million redevelopment of the Geelong Performing Arts Centre designed by Hassell. 
The redevelopment will see the creation of a new building and almost 2,000 square of additional spaces, including two new foyers, a bar area, two new rehearsal spaces additional spaces for use by creative practitioners and organizations. Accessibility will be improved by providing universal access to the centre's largest performance space, the 745-seat Playhouse Theatre.
The Geelong Performing Arts Centre stretches between Little Malop and Ryrie Streets and is located within the Geelong Cultural Precinct, which is also home to the Geelong Art Gallery and the Geelong Library and Heritage Centre by ARM Architecture.
The new building will have a new entrance on Ryrie Street, replacing the existing Mechanics Institute and Band of Hope buildings, which were largely removed, with the facades retained, when the performing arts centre was first built in 1981.
It will also reveal the walls of the historic former Steeple Church, which is currently used a small performance space. The church building is hidden from the street by the facade of the Band of Hope building. The form of the new building will cantilever over the church.
"The church will be more visible as part of an integrated composition of the performing arts centre building," Mark Loughnan, a principal at Hassell, told ArchitectureAU in 2016.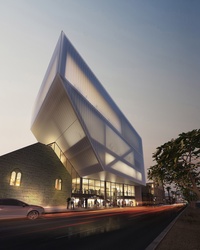 "The idea for the facade … is that it's an active facade, so it has a translucency, a sculptural form, so it has some drama at night, or during the day it kind of has a different appearance." 
The Geelong Performing Arts Centre has undergone a number of redevelopments and refurbishments since it was first built. The Ryrie Street redevelopment is the second stage of a two-stage project, following the refurbishment of the Playhouse Theatre by Studio 101 Architects in 2010.
The redevelopment and expansion of GPAC is part of the Geelong Cultural Precinct Masterplan, which began in 2003. The ARM-designed Geelong Library and Heritage Centre was also developed under the masterplan.
The project is slated for completion in late 2018, with the announcement of the construction contractor expected in mid-August.