The Western Australian government development agency LandCorp has unveiled an innovative new housing project, designed by David Barr Architect, that comprises three apartments but appears as a single dwelling.
The Gen Y Demonstration Housing Project is designed to appeal specifically to potential home owners born between 1980 and 1995. The project is located at WGV at White Gum Valley, LandCorp's sustainable residential development that is anticipated to be home to 150 people.
David Barr Architect won a 2013 design competition for the project, which called for sustainable infill housing concepts tailored to Gen Y.
The winning design consists of three one-bedroom apartments on a small, 250-square-metre site at the corner of Hope Street and Mouquet Vista. David Barr said the primary driver of the design was home ownership and housing affordability. Hence, the project dubbed Step House is intended to give would-be Gen Y home buyers a step onto the property ladder.
The apartments vary in plan but each is between 47 and 50 square metres and has its own a kitchen, dining and living rooms, bathroom, laundry and access to outdoor space. They are strata titled, allowing them to be independently owned and sold in the future, on the assumption that an owner could financially leverage the equity in the property.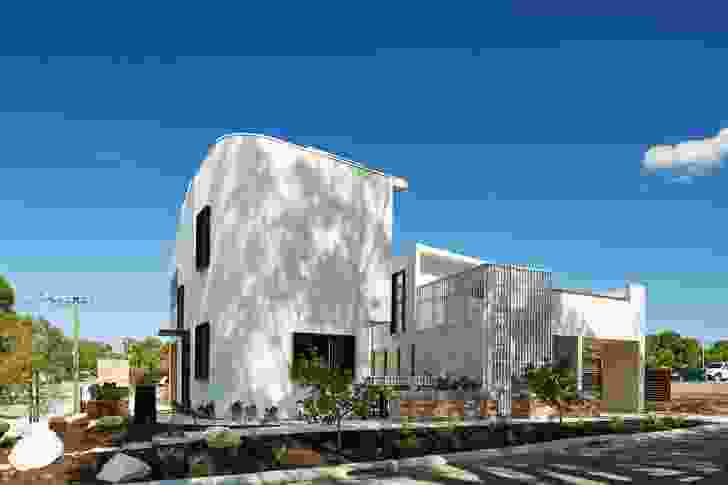 The apartments are arranged as three interlocking units, "like a Tetris puzzle" as Barr describes – a formation that enables each unit to access natural northern light and cross ventilation. The house is also designed to engage with the street by eliminating fences. Instead, brick planter boxes wrap around the edge of the site.
"Its overall appearance is just like a single residential home," Barr said. "It's almost like 'stealth density' (to paraphrase something I read) where it appears like it could sit quite harmoniously within the context of the rest of the street."
Barr also said the project is unique in that it applies WA's Multi Unit Housing Code in this context. This strategy is essentially what the NSW government is proposing with its draft Medium Density Housing Guide and ideas competition titled The Missing Middle.
"We feel this is already in that model of the 'missing middle,'" Barr said. "We haven't been able to locate anyone else who's done something like this using the Multi Unit Housing Code. So we're pretty excited by the fact that this is something that's quite unique and testing new ground."
The house is constructed using a simple timber frame clad in robust and low maintenance materials such as Colorbond sheeting. Internally, the apartments are universally designed so that it could be fitted out for people with disabilities. "It's something that we feel could be rolled out with most homes," Barr said.
The project is also energy and water efficient with a solar electricity and battery storage system shared between the apartments and a rain water tank.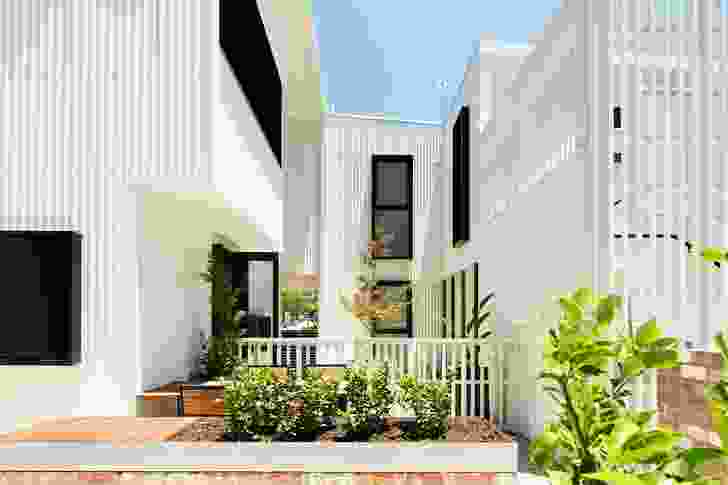 "The Gen Y House represents a departure from the traditional old-style brick and concrete triplex developments with isolated homes, replacing this with a clever, climate-responsive design that delivers more for less," said Frank Marra, chief executive of LandCorp. "Multiple sustainability initiatives have been implemented at the house, including the use of lightweight building materials, solar passive design, a shared underground rainwater tank and the installation of a ground-breaking trial of a shared solar battery storage system. "These initiatives will ultimately achieve high levels of water and energy efficiency, saving residents up to $1,200 per year in ongoing running costs."
The house is also designed to be flexible and adaptable. Despite being targeted at Gen Y, it could be occupied by anyone.
Landcorp believes the project could transform the way small lots are developed and provides a demonstration of how to create multiple dwellings in established suburbs.
"This has the potential to be replicated at other developments throughout Australia," Marra said.
The Gen Y Demonstration Housing Project will be offered for sale, targeted at first home buyers. It is open for inspection until February 2017.
WGV at White Gum Valley is an 'innovation through demonstration' project currently under construction on the site of the former Kim Beasley School in White Gum Valley. The precinct also includes the co-housing development inspired by the German Baugruppen model, led by former WA government architect Geoffrey London.
Related topics