This fresh-faced suburban building is playing a game of deception. What from the outside looks like a single detached house is actually three stowaway apartments concealed by a cloak.
The building occupies a corner site at White Gum Valley, a short drive from Fremantle in Western Australia. It's a typical established suburban setting characterized by modest single-storey bungalows and leafy streets. The apparent "house" has two street faces and the only indication of the building's real occupation is the three letterboxes in a red brick plinth.
The white, two-storey building is a standout in its context – but so it should be. It's the first project completed as part of the "innovation through demonstration" development WGV at White Gum Valley, initiated by the Government of Western Australia's land and development agency, LandCorp. The demonstration project will deliver more than eighty homes in a range of models.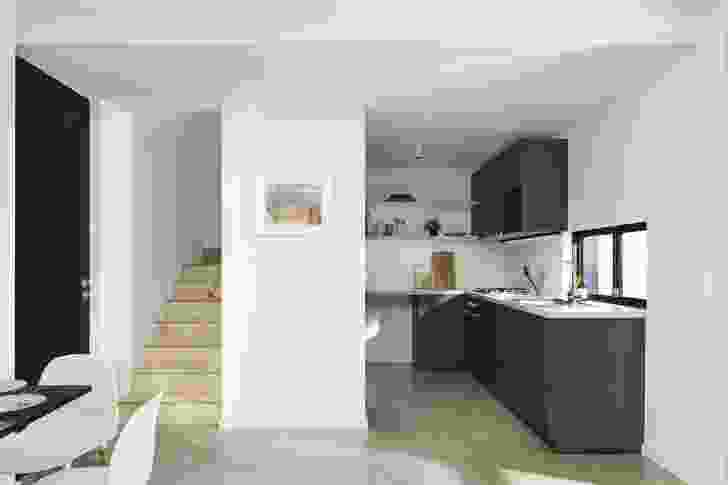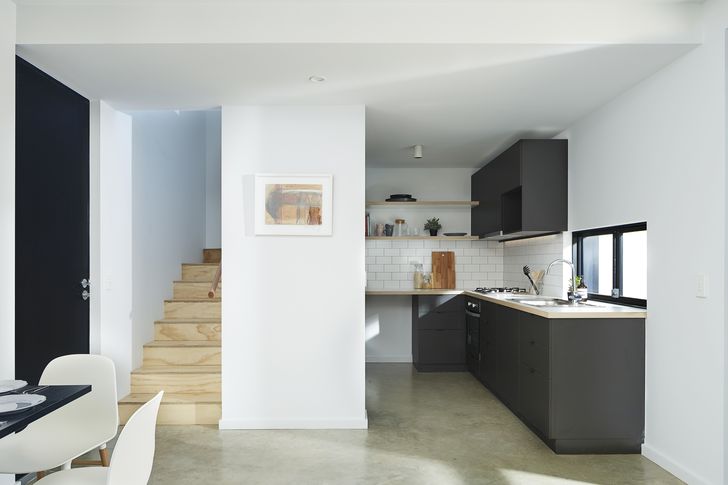 This building is an innovative model for density in the suburbs. Dubbed Gen Y Demonstration Housing, it's the result of a 2013 design competition conducted by LandCorp, which challenged the state's young architects to design housing to suit the lifestyle of their generation. The winning practice, David Barr Architect, proposed three one-bedroom apartments that interlock with each other and had the overall appearance of a single residential home blended harmoniously within the context of the street. He calls this approach "stealth density" a phrase borrowed from US-based practice Bestor Architecture with recent similar affordable housing projects.
The average floor area of a new, detached house built in Australia in 2015/16 was 231 square metres, and in Western Australia it was 227 square metres (CommSec, "US overtakes Australia to build biggest homes," Economic Insights, 31 October 2016). The Gen Y Demonstration Housing project, by comparison, is designed to accommodate up to six adults in less than 150 square metres of floor space (less than 25 square metres per person) on a 250-square-metre site (one quarter of a quarter-acre block).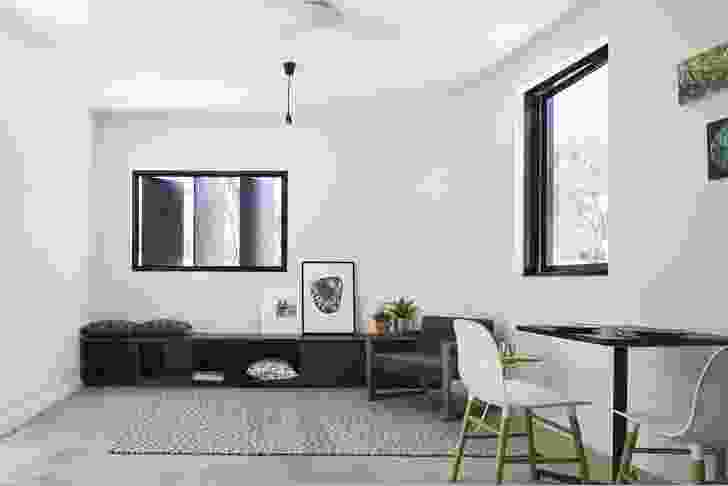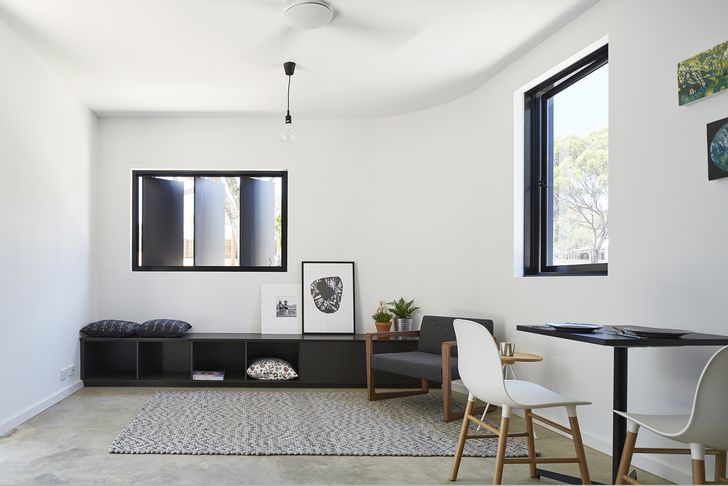 For David, one of the primary issues in designing housing specifically for generation Y is the affordability of home ownership. Hence, the approach was to create individual apartment that are strata titled, "which is something more widely recognized by banks and therefore, you can leverage equity in the future and start to grow your wealth," he says.
Part of what drove the interlocking arrangement was to give every apartment access to natural northern light and cross-ventilation, in spite of their diminuitive sizes 47 to 50 square metres. One apartment occupies a portion of the ground floor, facing a courtyard at the northern corner of the site. The second is a two-storey apartment with a ground-floor living space, and its own north-facing courtyard and a bedroom and bathroom above. The third apartment, accessed via a set of external stairs, is directly on top of the first and wraps around the upper storey of the second, like a cordial hand around the shoulder. Each apartment has its own private outdoor space as well as access to a communal outdoor space with a shared barbecue. The building presents a friendly face to the street, with no fences and a raised productive garden along its site edges that will be continued along the whole precinct.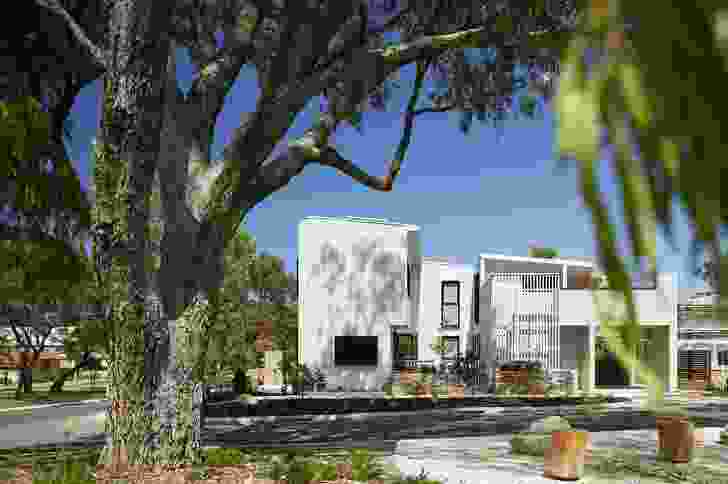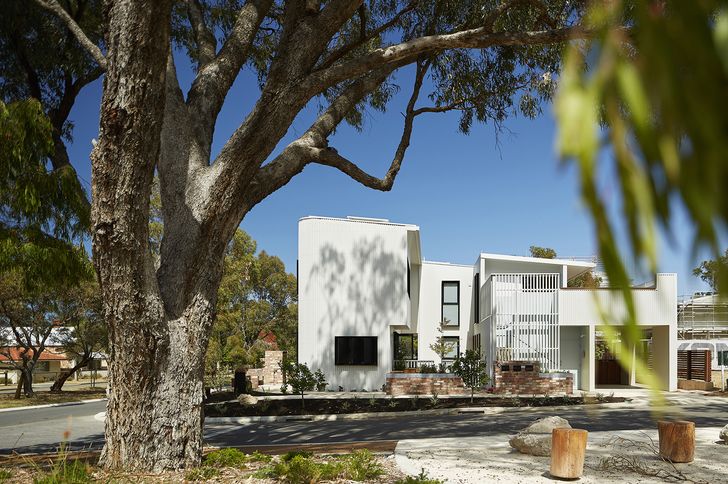 The complex way the three apartments are arranged around one another reveals sophisticated thinking about multiple occupancies on suburban sites – it avoids creating a "dud apartment" that faces south and stares blankly at a fence. Here, each apartment is equally light and airy. And the unique arrangement creates a sense of bespoke-ness, which, again, is rare in multi-unit developments. Imagine apartment living without the sense that your neighbour next to, above or below you lives in an identical space.
The interiors are basic yet perfectly liveable. This is something to be expected from a three-unit housing development built for $550,000 (base build). But even in its basic state, it could be considered preferable to alternatives for a potential generation Y occupant, who may otherwise be living in a share house or a rented apartment.
There are delightful elements inside, such as the vaulted ceiling and light well over the stairs of the two-storey apartment. It's simple yet sculptural and also serves to draw out hot air from the apartment through louvres in the skylight, providing passive cooling. In the bedroom, the ceiling is raked to create a sense of volume in a modestly sized space. "We're not trying to make low-cost housing, we're trying to do affordable housing, within a certain bracket, that's also really beautiful to live in," David says.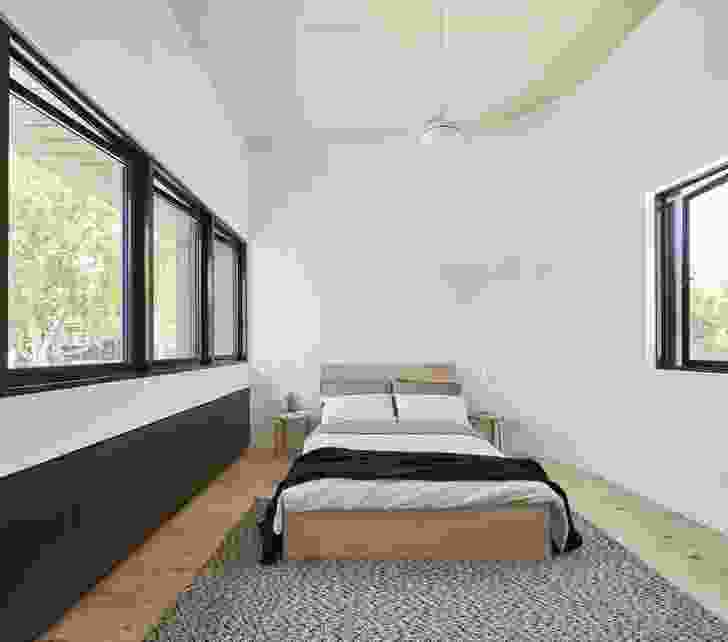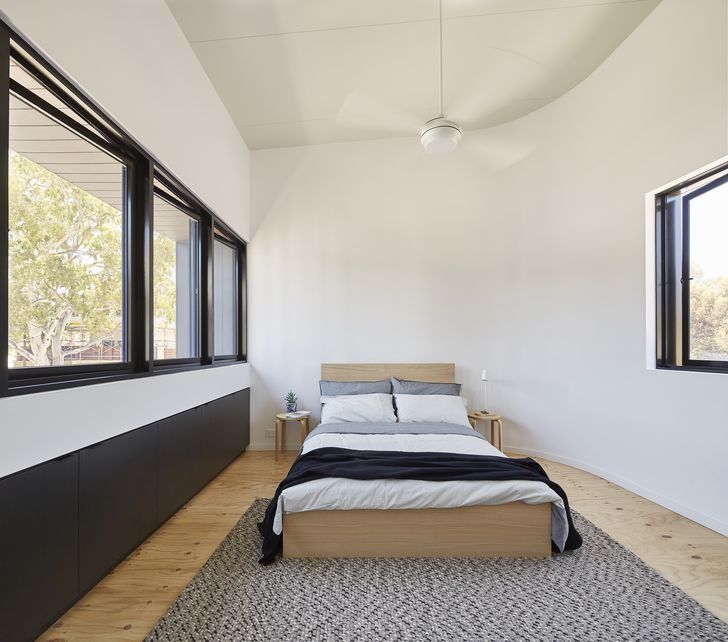 The apartments are designed to meet the "Liveable Homes" essential criteria and can be adapted for accessibility requirements. The design also encompasses multiple sustainability initiatives, including solar panels, a battery storage system and an underground water tank, which are all shared. These water and energy efficiency initiates could result in cost savings of up to $1,200 per year for residents.
The three apartments were offered for sale to prospective buyers of generation Y for between $350,000 and $400,000, which is well under the median price of one-bedroom apartments in the Fremantle area of $438,500 ("Fremantle: Western Australia 6160," Realestate.com.au).
The project is a demonstration of affordability by design. It uses design thinking to offer a solution to an economic problem relevant to a specific generation, around two-thirds of whom do not own a home, according to the 2011 census data from Australian Bureau of Statistics. It is both housing to be lived in, with good amenities, and a potential asset, designed to be a financial leg-up for a comparatively disadvantaged generation in the property market. But perhaps most importantly for the built environment, the project is emblematic of a generational shift in thinking about housing – one that could stealthily and harmoniously densify the sacred suburbs.
Products and materials
Roofing

Bondor SolarSpan Insulroof in Colorbond 'Surfmist'.
External walls

Lysaght Custom Orb in Colorbond 'Surfmist'; James Hardie Axon cladding in Dulux 'Terrace White'.
Internal walls

CSR Gyprock in Dulux 'Lexicon'.
Windows and doors

SV Glass Carinya Suite aluminium doors in black powdercoat.
Flooring

James Hardie Scyon Secura flooring; Holcim Ecomax concrete; Big River tongue-and-groove timber flooring in polyurethane matt finish.
Lighting

Brightgreen D900 LED lights.
Kitchen

Melamine door fronts in 'Cinder' and tall cabinets in 'Polar White,' and laminate benchtops in 'Polar White,' all from Polytec.
Bathroom

Original Ceramics light grey mosaic tiles.
External elements

Trex Transcend decking in 'Island Mist'; Graf Plastics rainwater tank; recycled red bricks.
Credits
Architect

David Barr Architect
Fremantle, WA, Australia
Project Team

David Barr, Stephen Hicks, Tom Smith
Consultants

Builder Perth Builders
Electrical Balance Services Group, Best Consultants
Engineer Instruct Consulting Engineers
Hydraulics Ionic Design
Landscaping Josh Byrne and Associates
Life cycle assessment eTool

Site Details

Location Perth, WA, Australia
Site type Suburban
Site area 250 m2
Building area 145 m2

Project Details

Status Built
Design, documentation 9 months
Construction 9 months
Category Residential
Type New houses

Source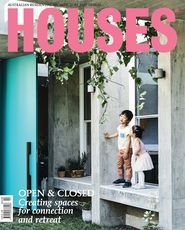 Related topics