Genton, Techne to reimagine former tobacco factory as business and retail hub
Genton Architecture will transform a former Phillip Morris tobacco factory in the southeastern Melbourne suburb of Moorabbin into a mixed-use retail, hospitality and commercial hub. The practice is working in consultation with Techne Architecture and Interior Design on the development's interiors. 
Eight former manufacturing buildings currently occupy the 6.2-hectare site. Marc Debney, Genton director, told ArchitectureAU that the design will open up the closed, defensive form of the factory, which was designed by Yuncken Freeman in 1962.
 "The site itself […] was previously a secure manufacturing facility – closed off from the surrounding streets," said Debney."We knew our design approach had to open up the buildings and internal street networks to create a permeable site where the new users could connect with the surrounding activities."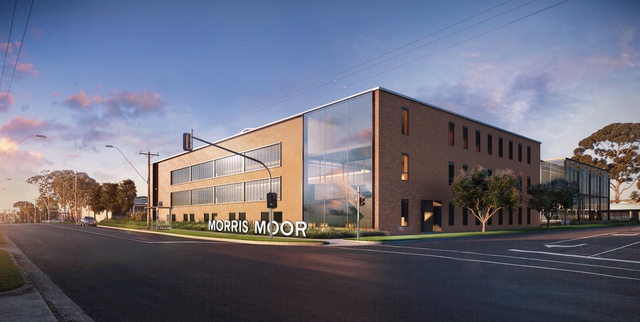 Debney said that the architects hope to "celebrate and retain" the original architecture, with the buildings on site representing significant examples of industrial architecture "which we view as one of the key attributes of the site." 
"Our design approach has been as much about stripping back subsequent additions to the original buildings as it has been about creating new elements," Debney said, with new architectural elements "designed to be contemporary and to contrast with the original architecture in a way that enhances the bold rationality to the original design.
"A key design consideration was to develop a cohesive site wide landscape and urban design language to unify the site to create connections between buildings without losing the character of the original industrial architecture." 
The design locates office and commercial space to the site's periphery, with retail, food and beverage spaces at the centre. Developers Up Property said in a statement that the focus would be on attracting and accommodating tenants that have an element of on-site production in addition to retail.
"The placement of food and beverage uses in the centre of the site was a deliberate strategy to provide an activity node that was central to the site and provide an area for more intensive use and activation and additional amenities that services the surrounding offices, co-working spaces and more."  
Construction of the first stage of the project, which comprises a prominent office building on the corner of the site and upgrades to the existing facade, has commenced and is due to be completed in early 2019. This will be followed by the construction of the hospitality precinct, which the developers hope will be complete in late 2019.