A popular superstition envisions design as a mysterious occupation carried on by a scattering of peculiarly gifted people. The truth is that design is a very ordinary activity, almost as old as sex and food gathering. Everyone indulges in it to some extent." —George Nelson
Walking
into the George Nelson: Architect, Writer, Designer, Teacher exhibition is like taking a step back in time. The vast, darkened space allows the viewer to leave the twenty-first century behind and brings into focus the mid-twentieth-century world of the renowned US designer. It's a time rich with hope and possibility – the beginning of a modern era of work, leisure and home life.
Nelson is regarded as one of the most important American designers of the twentieth century, and this retrospective brings to life the man and his visionary work. On display are many of the pieces that made Nelson famous and have since become design icons. The Coconut Chair, Marshmallow Sofa, Bubble Lamp, Platform Bench and Ball Clock are all proudly exhibited as part of his oeuvre. Seeing them together in one space, beautifully displayed and unusually laid out so that they can be viewed from new, often illuminating angles is a true design treat.
However, the real beauty of this exhibition comes from seeing these iconic pieces in the context of Nelson's long, prolific career. As is evident from the exhibition title, Nelson skated across disciplines with enviable ease and success. We see all aspects of his work on display – furniture, lighting, exhibition and workplace design, along with architectural models, films, written works and corporate design projects.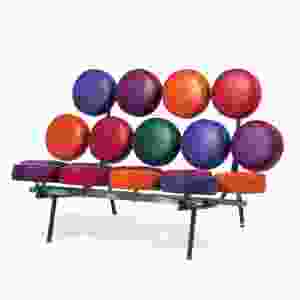 Nelson trained as an architect at Yale, but began his career as an author and journalist. In the early 1930s he won the Rome Prize, and while based in Italy travelled throughout Europe meeting and interviewing architects, designers and modernist pioneers. When he returned to the US Nelson juggled work as a designer, writer, critic and lecturer before publishing the revolutionary book Tomorrow's House with co-author Henry Wright in 1945.
The book focused on the need to plan and design homes to meet the specific spatial requirements of modern living, rather than rehashing outmoded architectural styles. The publication sold well and captured the attention of D. J. DePree, president of furniture manufacturer Herman Miller. DePree hired Nelson first as a furniture designer, then as design director – a role that Nelson held for nearly three decades.
While design director at Herman Miller, Nelson not only designed numerous pieces himself but also acted as a magnet, attracting other outstanding designers of the era. Luminaries from Ray and Charles Eames to Alexander Girard designed at Herman Miller under Nelson's directorship. It's notable that full design credits are given throughout this exhibition, which has come to Sydney's Powerhouse Museum from the Vitra Design Museum, Germany.
Concurrent with his time at Herman Miller, Nelson also ran his own New York City design firm, George Nelson Associates. A multidisciplinary practice, Nelson and his collaborators worked on design projects across the board. At the same time Nelson continued writing and lecturing. In this work he critically examined the role design played in the physical, economic and social environment of his time. It was this academic thinking that flowed into the development of conceptual design frameworks and helped him solve everyday, project-based design problems.
Looking at Nelson through the lens of the twenty-first century it's fascinating to see the work of a man whose pieces have both stood the test of time and altered the way we work and live. This exhibition shows us that Nelson not only created furniture, clocks and lighting for the home, but also conceived the family room as we know it. He didn't simply design a work table, but re-imagined it as the L-shaped desk and the Action Office, the forerunners of the modern workstation. Nelson is a most impressive man and this exhibition a real insight into his world.
The George Nelson exhibition opens in Hong Kong 14 March to 2 June 2014.
Source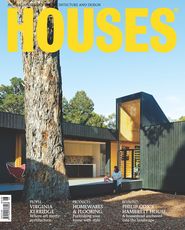 Issue
Houses, December 2013
Related topics