'Ghettos of the future': Waterloo housing proposal slammed
Sydney mayor Clover Moore has delivered a stinging rebuke of the state government's plans for a massive housing precinct in Waterloo, labelling it a "planning disaster" and "a significant threat to Sydney's future economic growth and liveability."
Under the plans for the site, the Waterloo public housing estate will be transformed into a high-density housing precinct, with towers of up to 40-storeys and a target of 30 percent social housing and 5 percent affordable.
The current 2,012 social housing homes in the estate would be replaced by up to 7,200 dwellings, built over 20 years, making it one of the highest density housing precincts in the country.
Clover Moore stated that the government's plans for site ignore city planning controls and provide no detail about how the area will cope with the development.
"The reality is that the pretty pictures in the government's brochures will turn out to be the ghettos of the future," she said.
"Tall dark towers next to overshadowed parks and streets gridlocked by congestion."
The minister for social housing Pru Goward unveiled three options for the development on 3 August, titled Waterloo Estate, Waterloo Village Green and Waterloo Park.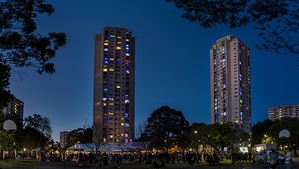 Each option includes 75 locations for business, community and retail space, while the number of dwellings range from 6,700 to 7,200, with the target of 30 percent social housing and five percent affordable housing uniform across the options.
As Moore notes, this means that at most the number of social housing will be increased by 148 houses, while at worst it could be decreased by 62.
"At a time when social and affordable housing is at crisis point – these proposals do shockingly little to address the urgent need for more," she states.
"[…] And for this thousands of public housing tenants will be forced out of their homes."
The housing precinct would be abutted by the proposed Waterloo "Metro Quarter" development, which will include four residential towers of 14, 23, 25 and 29 storeys built around a new railway station planned as part of the Sydney Metro project.
The Waterloo public housing estate was first earmarked for development in 2016, when the government proposed to overhaul the area by knocking down existing towers and substantially increasing density.
Amid outrage from residents, community groups and the City of Sydney, those plans were waylaid, with the mid-2017 date originally tabled for tenant relocations pushed back to mid-2018.
The campaign against the proposal has continued in earnest, with residents of the Matavai and Turanga public housing towers lighting up their windows with colourful lights in protest, as part of a public art project titled We Live Here in 2017.
Housing minister Pru Goward said all current social housing residents would have the right to return to the estate. The three masterplan options will be "tested with the community and other key stakeholders" from September to October 2018.
Goward said the feedback of residents during an extensive consultation helped shape the three options.
"The Waterloo community told us they want to live in a mixed community of private, affordable and social housing, and each option reflects this with different types of housing distributed evenly across the precinct," she said.
"They also emphasised the importance of communal and open space, Aboriginal heritage and local employment opportunities. Now we want residents, business owners and any other member of the community to have their say on these redevelopment options."