Emerging architecture practices need to be creative about the way they promote themselves to potential clients. Edwards Moore ran a free architectural advisory service called Ask an Architect , where it opened its door on Thursday evenings for free thirty-minute sessions. Local newspapers and websites promoted the offer, and the practice found its schedule was quickly filled each Thursday.
Another initiative, the New Architects Drinks – first established by Jeremy McLeod of Breathe Architecture and Eugenia Tan, who was with Breathe at the time – is an informal gathering at which young, emerging architects share their ideas and business cards.
The Ghost Town exhibition is about the promotion of emerging practices in Melbourne to an even wider audience. Located at the Platform gallery in the Degraves Street Subway – an ideal spot for attracting a large number of commuters – Ghost Town promotes not only the exhibited practices, but architecture itself.
Although the pop-up gallery is already firmly part of Melbourne's contemporary culture, there is a lot of merit in the choice to hold the exhibition in this space. Melbourne does not have a dedicated architecture and design gallery, so this type of transient gallery space is particularly important to the profession. In some ways, the pop-up gallery space, as opposed to a traditional gallery space, might be more effective in promoting architects to a broader audience. Up until this point, Platform Public Contemporary Art Spaces has been focused on providing an engaging contemporary art program to public audiences, while also promoting emerging artists. The Ghost Town exhibition extends the gallery's role to include the promotion of emerging architects.
The concept for the show, which is organized by John Doyle and Laura Mártires of Index Architecture, is about giving a life to the dead-end, rejected projects that are inevitably part of any architectural practice.
This unbuilt work comes from unsuccessful competition entries, preliminary iterations of built work that have been discarded through the design process, and even exploration and experimentation for the centerpiece of an upcoming wedding. The brief for the exhibitors was to present something three-dimensional to "animate the unbuilt work" – as opposed to the presentation of a sea of architectural renders (which tends to flood online publications, blogs and other websites).
Of the eleven practices represented (plus student work), there is great variety in the installations. Index Architecture's unbuilt project came from an entry to a competition to design a city library in a medium-density city in Korea. A sectional model takes over the entire cabinet, giving passers-by a glimpse into what this building would have been like to inhabit if it had been built.
Bild Architecture's Catalogue of Splendid Failure presents a cabinet that is filling up with models of unbuilt work (ninety-six so far) that records their past four years of testing ideas. Architect Ben Milbourne says that although each of these design ideas was not used for the particular project for which it was originally intended, together they have created a "catalogue" of design ideas that may be drawn on in future projects.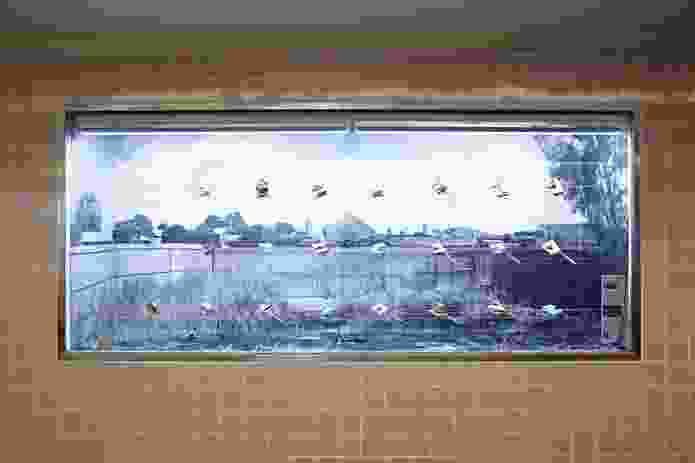 Searle x Waldron Architecture also presents the physical testing of design ideas in a series of 1:200 scale models of a house set on a battle-axe block in Melbourne's inner west. These models test "an emerging choice for Australian homeowners who wish to be part of the city. Buy a bespoke site, embrace the idea of a little house and use good design to capitalize." Here, there is a bigger statement being made about urban density and sustainability within Australian cities.
Tessellate's mesmerizing, angulated sculpture was born in 2006 from the preliminary formal investigations for the practice's first residential project. The clients had video taped an object of interest, and the footage was processed with motion-tracking software with the resultant geometry used to generate a plan. As it turns out, the clients weren't happy with the angular form, and opted for a more orthogonal solution. The exhibited object is clad in gold leaf on one side, representing the purity of the idea. It is intended that mould will grow on the other side, altering the quality of the surface until it eventually degrades – "a relegation of another idea to the shelves."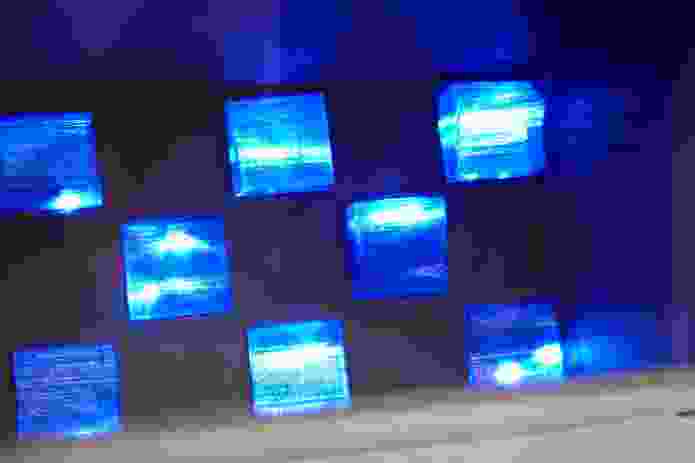 Slightly more abstract is Freadman White + L'Abbattoir de Plastique's installation that explores the possibilities of 3-D printing technologies in the design of a centerpiece for the wedding of the practice's directors – Ilana Freadman and Michael White. Their explorations relate to the relationship of the built form and natural terrain and evolve into a colourful composition of crystal-like forms.
Other practices included in the exhibition are Wowowa, Edmund Carter and Catherine Ranger, And Projects, Branch Studio, Musk Studio, Architecture Architecture with Tom Ross @ Brilliant Creek, and Kart Projects.
Walking through downtown Melbourne's Degraves Street Subway, it's interesting to watch people engage with the installations. The underpass is a busy thoroughfare, but many people stop to take a look at what is within the cabinets. This type of pop-up exhibition is not only integral to the cultural fabric and landscape of Melbourne, it's vital to the promotion of architectural ideas to the general public.
See Ghost Town at Platform until 2 March 2013 (weekdays 7 am–7 pm).
Related topics