Putting "fur" and "interior" in the same sentence brings to mind indulgent, quirky, modish images - think Ken Adam's James Bond sets, John Lautner's bachelor pads, Kelly Wearstler's Hollywood Regency style or, closer to home, the funky New Acton East penthouse by Fender Katsalidis with Nectar Efkarpis and Pamille Berg. Given the furry cuteness and exotic nature of its occupants, the giant panda enclosure at Adelaide Zoo by Hassell might initially prompt such playful associations. In actuality, the project is not a superficial scene setting. Rather, it is all about first-principles design research, rigorous performance criteria and integrated multidisciplinary practice. Though its spatial kernel is comparatively modest - paired day rooms, holding pens and outdoor enclosures - the project generates much more environmental benefit than is usual for such a singular set of interiors.
As the implications of accommodating the "rockstars of the zoological world" were realized, the original project expanded from an already aspirational brief. The increase in anticipated visitor numbers demanded a complete rethink of the Adelaide Zoo's masterplan, resulting in a new, relocated entrance building. Furthermore, the potential for research, breeding and education spawned an additional, separate conservation centre and strengthened diplomatic connections with China, while the landscaping challenges have rejuvenated the zoo's secondary role as a horticultural centre. These substantial components of the project merit closer review in another forum, however their origins are essentially an interior problem.
Visitors are lead in a series of focused "pulses" through the various viewing stages, moving through a sequence of rooms, both outdoor and enclosed. This allows staff to manage the four hundred people per hour and to imbue each "room" with its own experiential qualities, from the narrow mandarin duck water glade to circular amphitheatre spaces where mature planting creates enclosure.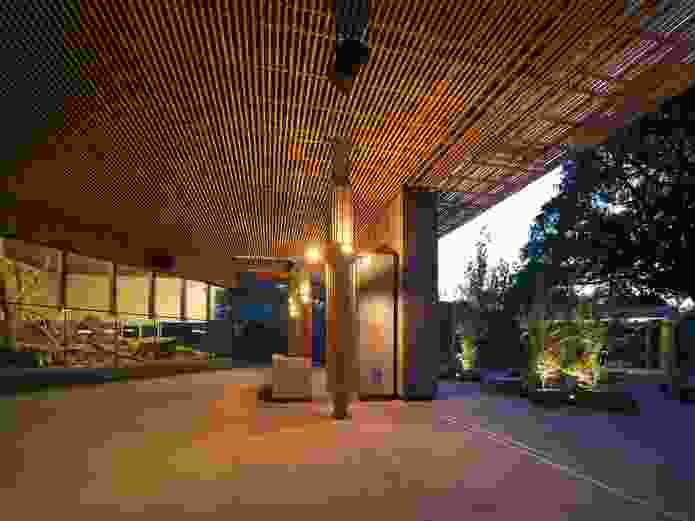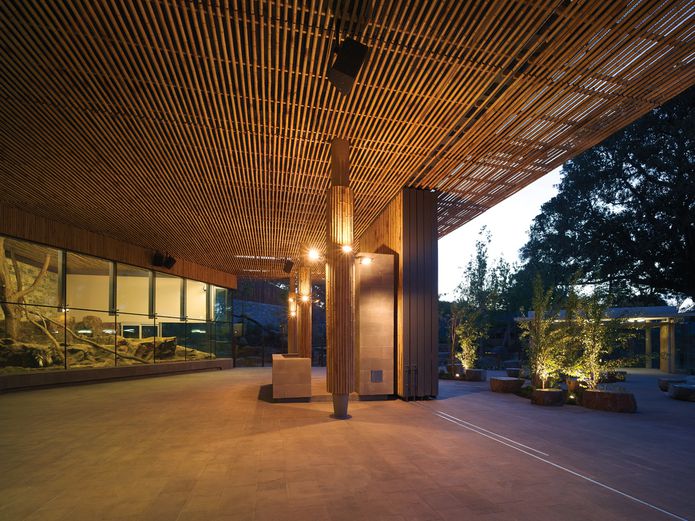 All the spaces were designed to ensure the pandas, Funi and Wang Wang, are healthy and relaxed, thus promoting the chances of breeding on the five days a year when it's possible. Maybe analogies with the seductive spaces of Lautner's bachelor pads are not so far-fetched after all? Each panda has its own tiered day room and outside terrain (oriented to allow them to "chase the shade"), so while they are in view and scent of each other, they only occupy the same space during the crucial breeding period. The rest of the year they are carefully coaxed by their keepers from day room to outer enclosure to the gleaming, agriculturally sturdy back-of-house holding dens and, eventually (ideally!), to the cubbing den and nursery space. Acoustic separation in these areas is paramount and, from behind the double glazing of the doors, the pandas are unlikely to hear a whisper from the throng of people beyond.
The two wings are separated by a spine that leads into the research offices and massive food store for the forty kilograms of bamboo required daily. The symmetrical geometry serendipitously accords with traditional Chinese aesthetics and is one of a number of instances where the design makes allusion, rather than literal reference, to the giant pandas' cultural and geographic context. The most direct is the use of bamboo in the lofty movable curtain wall, underslung canopy and wrapped columns of the public viewing terrace, where it feathers the edges of the rectilinear bulk of the building and echoes both Kengo Kuma's and Alvar Aalto's use of this appealing golden material.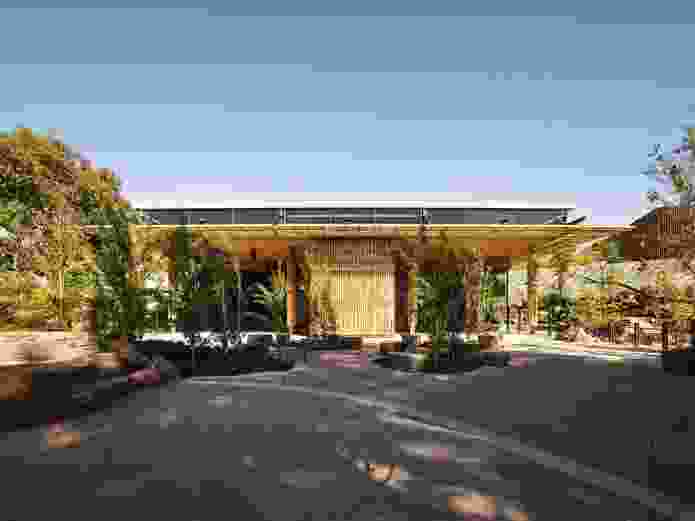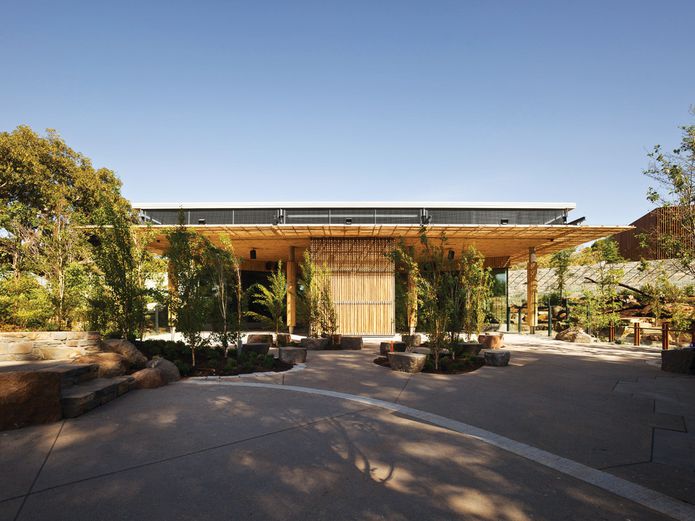 Considering its robustness as a public space, the terrace is surprisingly lofty and delicate. It includes a volunteer station which doubles as a function bar, a suspended digital screen, and a seating ledge as close to the pandas as the glazing will allow. Over five metres high, the section responds to the vertical topography of the day rooms, designed to keep these naturally arboreal bears climbing and fit. The whole complex is an exercise in thoughtful sectional relationships and sight lines - between staff and visitors, pandas and observers - where the animals need to be higher than the viewer to curb their flight-or-fight instinct. The tactic is particularly successful in the freestanding viewing pavilion, where its scale and articulation blur boundaries with the landscape. A chilled rock cunningly straddles the ground of the outdoor enclosure and pavilion, setting up an almost sofa-like intimacy between a reclining Wang Wang and the children who cluster on the other end of the rock.
Wild animals, however, remain wild no matter how cuddly they appear, how much we anthropomorphize them, or how much excitement they generate as rare specimens. The giant panda project negotiates the tensions all contemporary zoos face - between conservation and commodification, between research and revenue - with sensitivity and specificity. As I leave I have a startling, almost transcendental moment when I catch Funi's beady, impenetrably black eyes, staring into mine from only half a metre away, and I wonder what this beautiful creature makes of what she sees.
Products and materials
Walls

Treated bamboo, spotted gum Australian hardwood, bluestone, natural rockwork from Black Hill.
Windows

Double glazing with low-E coating to day rooms.
Doors

Custom hot-dipped galvanized and stainless steel mesh.
Flooring

In-situ concrete slab, sealed.
Lighting

High-efficiency dimmable compact fluorescent lamps. Custom LED lighting by Cida Group.
Roofing

Fielders Kingsklip 700 with acoustic and thermal insulation.
External elements

Exposed aggregate paving with exfoliated granite edge and granite sets, honed bluestone tiles and dressed spotted gum to duck pond bridge. Chilled rock. Solar access and orientation to summer shade. Misters in trees. Feature streams and waterfalls for bathing. Mature trees for shade and climbing. Caves for shade and shelter. Fallen logs for climbing. Saw cut and polished seating rocks. Interpretive wayfinding supplied by Adelaide Zoo.
Credits
Design practice

Hassell Adelaide
Adelaide, SA, Australia
Project Team

Sharon Mackay, Timothy Horton, Nicholas Pearson, Alex Hall, Andrew Schunke, Aislinn Dainer, John Wright, Josh Palmer, Amy Reed, Hugh Fraser, Luis Jimenez-Dominguez, Maciek Furmanik
Consultants

Acoustic engineer Sonus
BCA Katnich Dodd
Cost consultant Rider Levett Bucknall Adelaide
Disability access consultant Disability Consultancy Services
ESD, mechanical, electrical and fire BESTEC
Giant Panda exhibit design Jon Coe Design
Green roof and walls consultant Planning SA, Graeme Hopkins, Jeff Lugg (Zoos SA)
Hydraulic engineer BESTEC
Managing contractor John Hindmarsh
Project manager Arup Adelaide
Structural and civil engineering Wallbridge & Gilbert
Water Feature Waterforms International

Site details

Location Frome Road, Adelaide, SA, Australia
Category Interiors
Type Culture / arts, Exhibitions

Project Details

Status Built
Design, documentation 8 months
Construction 16 months
Website http://www.zoossa.com.au/

Client

Client Giant Panda Bamboo Forest Adelaide Zoo
Website zoossa.com.au

Source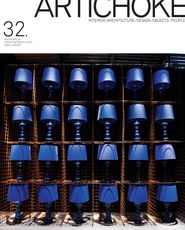 Issue
Artichoke, September 2010
Related topics