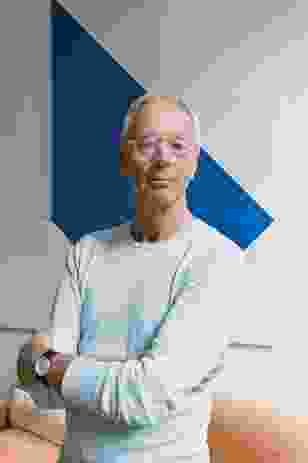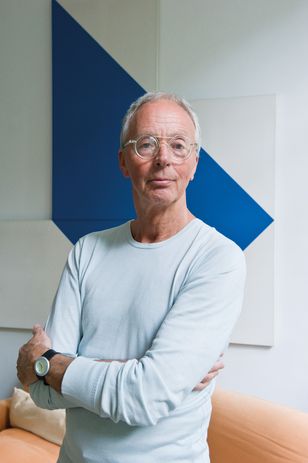 Gijs Bakker's career spans fifty years and not one of them dull. His first piece, Golden Onion, a sperm-shaped bracelet designed in 1965 was the beginning of a rich, varied and invigorating output that shows no sign of slowing down today. Bakker refers to himself as a "jewellery designer" and since the Dutch aren't big on disingenuousness, I have to take him at his word. But of course he's much more than what might be seen as a mere bijoutier. His adhesion to the mantle is in part to reinforce his challenge to our preconceptions. "Never assume," is a recurring "Gijsism."
"What I love about jewellery is that it is totally unnecessary," he smiles. Bakker smiles a lot – the way I imagine a cardinal might smile, knowingly. I can never quite tell if that's empathy or irony crossing his lips. Did I mention Gijs Bakker is Dutch? Bakker was born in 1942, two years after the Luftwaffe Blitz of Rotterdam and the annihilation of the Dutch resistance. Dire as it was, it was most certainly a tabula rasa. The old world had gone and everything was up for grabs.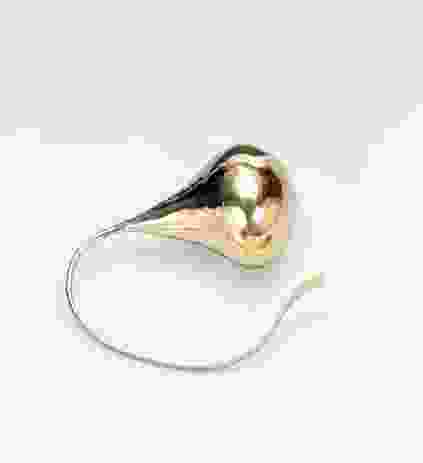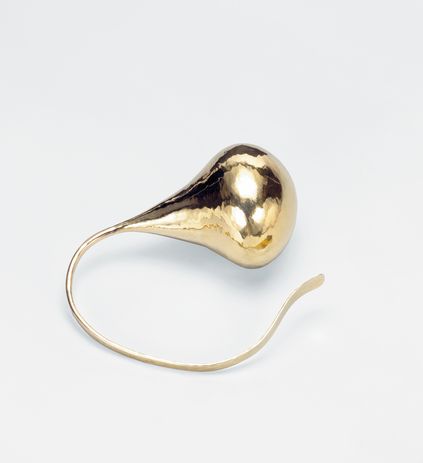 He studied at the Gerrit Rietveld Academie, which was then essentially a school of applied arts "since design education didn't even exist," as Bakker says. "We were very poor. Things were very grim." Nonetheless, the Rietveld Academie fostered functionalist thought and a critical approach to society and class, heavily influenced by the Bauhaus and De Stijl. There is no separating Bakker's creations from the context in which they are created. "In the late 1960s, things started to become more exciting. There was more wealth, a confidence was returning." Although it would be a while yet before that confidence segued into optimism.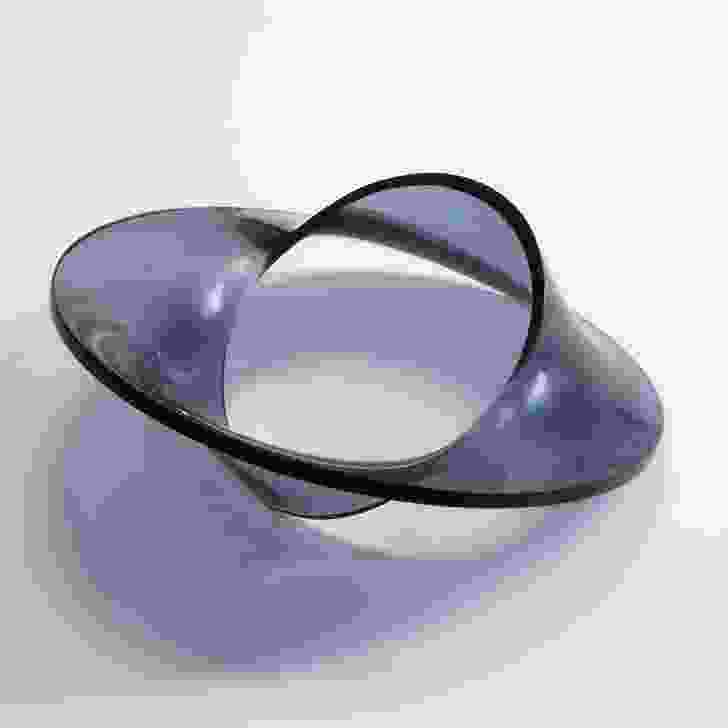 In the meantime, Bakker met another Rietveld jewellery student, Emmy van Leersum. They graduated, married and began working together under the moniker G+E (Gijs + Emmy). "We were very different. She was functional and analytical in the step-by-step development of ideas, whereas I have a more intuitive approach. An excellent combination." Indeed. Their articulated aluminium neckpieces and bracelets of the late 1960s were in perfect synch with the space age aesthetic, in many ways anticipating Pierre Cardin and Courrèges, and may well be the influence on the parodic catwalk scene in William Klein's 1966 classic film, Who are You, Polly Maggoo? Their Circle bracelet of 1968 remains among Bakker's most cherished designs. "It was simply made from the idea of punching a hand through a solid sheet of metal or cardboard," he says. "The result is this very beautiful, very perfect disc. I think it is lovely." The Circle announced the introduction of a certain kinetic element to Bakker's work.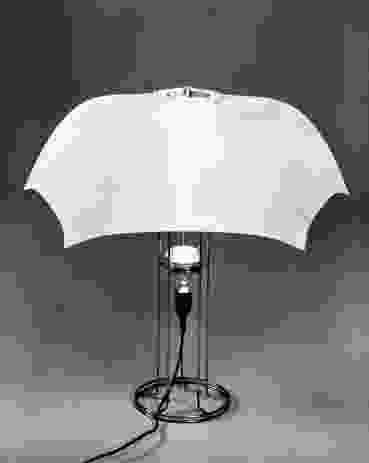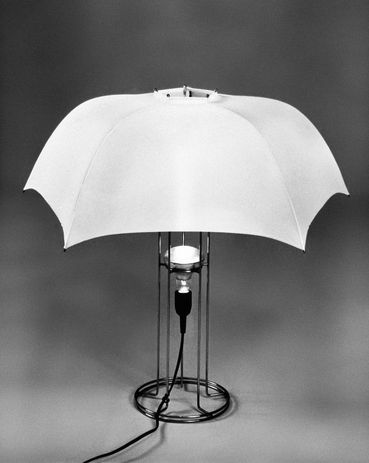 By the early 1970s he'd begun experimenting with furniture, including pieces such as the poetic Umbrella lamp (1973) made from a standard nylon umbrella hood mounted on a wire frame, and the Strip chair (1974), made from strips of laminated beech. The Webbing chair (1978) is a square of industrial webbing stretched across a rather pert metal frame. The titles indicate process or material, and those materials, if not poor as such, are certainly rather ordinary. That beauty can be found in the everyday was a new concept then, and is still – let's face it – contested today.
One thing that is certainly not contested today is the significance, if not the actual definition, of Dutch design. In 1993, Bakker and art historian Renny Ramakers decided to put on a show upstairs at the cult but kitsch Paradiso nightclub in Amsterdam. "It was snowing, it was cold, but all of Amsterdam was there," Bakker says. Italian architect and designer Andrea Branzi also happened to be there, dragging in his wake a bevy of journalists and other design aficionados. What they saw was the birth of an amorphous design ethic (not, Bakker would insist, an aesthetic), glibly dubbed droog, or "dry." Designers such as Hella Jongerius, Jurgen Bey, Marcel Wanders, Tejo Remy, Maarten Baas, Saskia van Drimmelen and dozens of others would all become grouped under the banner over the years. If their work shares an ethic, it is one centred on careful conception and hand-marked creation, a knowing wink at contemporary issues and a sense of humour that is, well, kinda dry. That it came to share an aesthetic was a problem.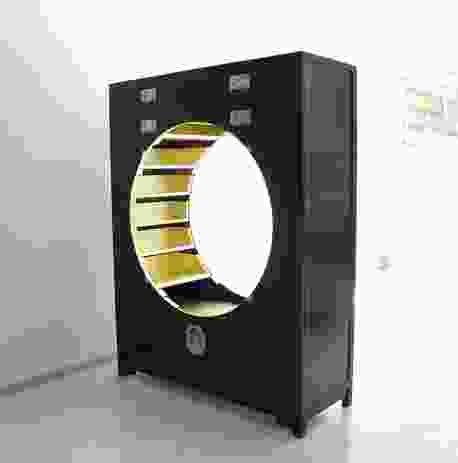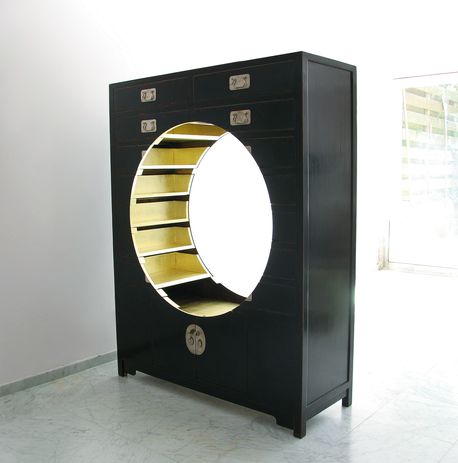 "Dutch design has taken up a position of its own," says Bakker, carefully choosing his words. "And it is partly being adopted. That leads to the development of a kind of aesthetic that covers the product, which in turn results in a kind of uniformity. Once a set of ideas becomes a style, it is finished."
From 2000 until 2012, Bakker was head of the masters program at the Design Academy Eindhoven, overseeing the budding careers of such alumni as Tord Boontje, Dror Benshetrit, Job Smeets of Studio Job and Sydney's Henry Wilson. If you look at the work of any of these designers, you may sense an undercurrent running through their output. To my mind, it's something to do with not proposing resolute "solutions" to parent "problems." Their work is open-ended, often transformative, even incomplete, subtly insinuating themselves into a life rather than shouting their arrival.
Today, I swear I can spot a graduate of Design Academy Eindhoven – there's a style about it, a certain approach that overlays the work. Is this perhaps the reason – or the result – of Bakker's resignation? Bakker looks, goggle-eyed through his trademark glasses designed for Polaroid in 1972, and smiles. Just smiles.