The Glebe House was my first house, and so it was an opportunity to explore many ideas and, most importantly, to be involved in the actual construction. It would be hands-on, over two and a half years. I remember being aware of many sets of eyes watching what I was doing with "my own money," and wondering whether I would pull it off.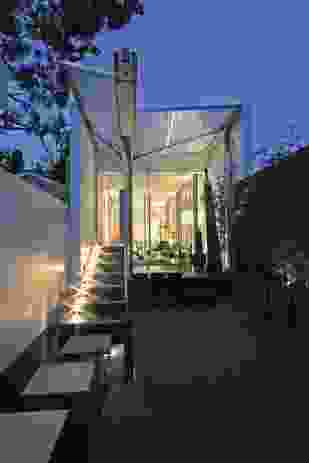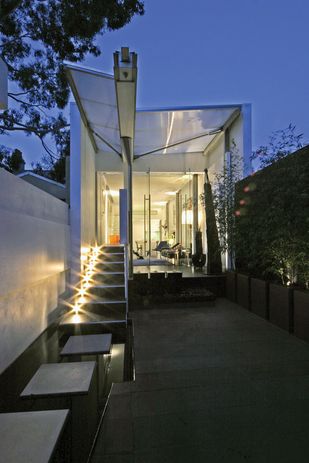 In my mind I was preparing to start my own studio, so I also saw the house as a test of what I believed in and the ideas that I was developing. Would those values be proven to be relevant and appropriate, or were they nothing more than mental flotsam?
To mark the first ten years of our practice Fitzpatrick + Partners, we recently commissioned Australian architectural writer Philip Drew to undertake a critical assessment of our work. The Glebe House was one of the projects he chose to examine. Philip also worked with us to define the key principles of our work. It is interesting to see how many of these principles developed out of this early project.
The design of the house was based on a questioning of the inherited definitions and functions of home spaces, be they bathroom, kitchen, front door, bedroom, study or balcony. The process of this questioning and exploration created functional spaces that really worked and were beautiful to be in. Principle: the first requirement for architecture is that it should be rational.
I have always had an interest in the change of plane from horizontal to vertical, and particularly in how these planes can interweave to define spaces and, more interestingly, begin and complete spaces. The Glebe House was entirely constructed of planes of material, all intentionally separated and interweaving. This is perhaps the strongest link to our current projects, but perhaps the least recognizable, in that it tends to be overpowered by the strength of the structural expression of our buildings. It's the balance of these that is the fun area in which we are now playing. Principle: change of material, change of plane – two different materials must never collide, they must be expressed in alternative planes. Likewise, a change of plane requires a change of material.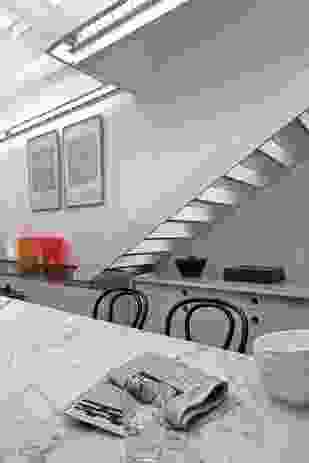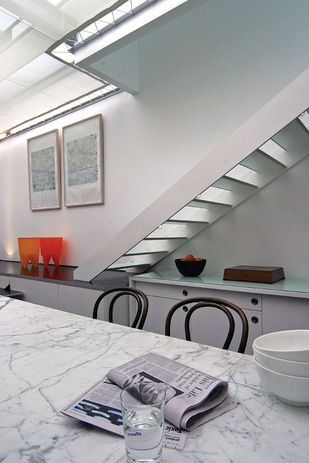 The exploration of the detailing and the method of construction were also very important in this project, particularly as it was to be built with limited skill and tool sets. The base essence of structure and construction has an inherent beauty to it, formed from its logic and visual order. This approach to detailing has developed such that we now talk about allowing each material to speak and carry signs of the "builder's mark." Principle: the act of building creates sufficient decoration; there is no need to apply more.
The Glebe House has a beautiful quality of light. There are areas with intentionally high glare levels, areas that let in dappled light, and shady and dark spaces. Combined, these differing light plays allow time to pass in a beautiful way, whether it is the moving light patterns across the translucent ceiling or the subtle changes in temperature marking the end of the day. There is also acoustic play: the sound of the cooling water misting system on the roof, the bubbling water pots. These help to drown out the busy road rumble, which clearly marks the two peak traffic times.
The lovely thing about this when I lived and worked in the house was that you chose a space related to the activity and time of day. This is something we try to bring to every project. Even office spaces need not be monotone. It is the play of light and shade, loud and soft, open and closed. You then choose the space that responds to you and your needs.
There were a few things about the house that didn't work. Deciding not to worry about council approval, then basically only leaving the front wall and roof standing, was a good idea at the time but not at the end. It created lots of opportunity to develop the design and construction process on the go, but cost quite a lot in time and money to correct when I went to sell the property. I now realize the importance of getting council approval from the outset!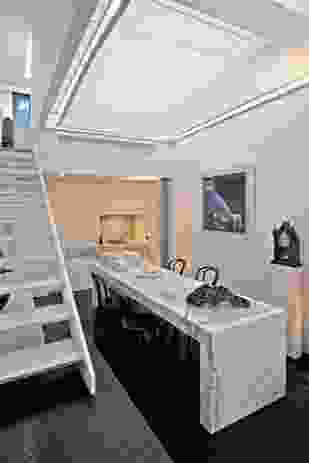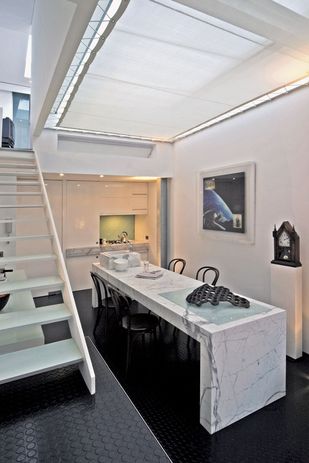 The second issue was what I now call patterns of use. While the light and temperature within the house was beautiful to live amid, it became a problem as the house also served as the first studio for Fitzpatrick + Partners. The heat load created by three people, a couple of computers and printers and a huge photocopier made the space rather warm in summer but didn't seem to warm it much in winter. Ben, who joined as a graduate, worked on the marble kitchen bench under a beach umbrella in summer and with a heater warming up the marble in winter.
Once the office moved, and the house truly became a home, the twenty-four-hour habitation ceased. It was then easy to cool by opening doors and windows, or to spot heat the living spaces. It was appropriate and pleasant. I now understand the importance of anticipating the patterns of use as much as the function before you start.
I sold the house several years ago, and it was particularly nice to have the new owner recently write to me expressing that after living in the house for several years, he "still loves coming home to this house every day."
We are about to begin construction on a new family home this year. The design of this house has developed over the past two years and is a further experiment in, and questioning of, the ideas and thoughts around "home." It will be interesting to look back and compare the new house with the ideas underpinning the original.
This project was first published in Houses 85 as part of the First House series where architects revisit their first built commission.

Products and materials
Roofing

Danpalon multi-celled roof sheeting; membraned decks with skylights.
External walls

Masonry common walls; VitraPanel; cement render.
Internal walls

AGP Permasteelisa glazed walls; plasterboard, painted Dulux 'White on White'; Pattons Awnings mesh fabric ceiling.
Windows

AGP toughened assemblies; laminated glazing; timber shutters; Silent Gliss perforated fabric roller blind.
Doors

Upholstered solid MDF sliding door on Centor exposed track; Madinoz hardware.
Flooring

Pirelli black stud rubber flooring; French limestone; laminated glass on steel plate treads to staircase; Feltex 100% wool carpet.
Lighting

Low voltage quartz halogen lights; Philippe Starck Rosy Angelis floor lamp.
Kitchen

Volpato Stone Carrara marble benchtops; Civardi Furniture joinery; Smeg oven and cooktop; Fisher and Paykel integrated fridge.
Heating/cooling

EcoSmart fire from The Fire Company; Speedheat under-carpet heating elements
External

Sandstone from Gosford Quarries; bluestone slabs; ground-top concrete pavers.
Credits
Architect

Fitzpatrick + Partners
Sydney, NSW, Australia
Project Team

James Fitzpatrick
Consultants

BCA consultant BCA Logic
Builder James Fitzpatrick
Glazing Mick Stark
Precast wall panels Mick Stark
Roofing Mick Stark
Steel fabrication Northern Structures
Structural engineer Taylor Thomson Whitting

Site Details

Location Glebe, Sydney, NSW, Australia
Site type Suburban
Site area 107 m2
Building area 83 m2

Project Details

Status Built
Design, documentation 30 months
Category Residential
Type New houses, Workplace

Source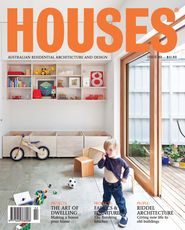 Related topics