An evolving brief and like-minded clients: this is the story of every architect's dream, and was the case at Glebe House by Nobbs Radford Architects. What started out as a commission to design new outdoor areas, including a garage, grew into the complete renovation of a freestanding Victorian house in Sydney's inner-west, with a new two-storey addition housing an open-plan living space and a main suite above.
"It wasn't the clients' original intention," admits architect Sean Radford. "They thought they had enough bedrooms, but when we started talking about the interface between the new garage and the back of the house, it became apparent that they were really looking for more space. From there it grew into exploring what kind of house they actually wanted to live in."
At a time when large expanses of glazing opening onto gardens is the norm, the addition's rear elevation of concrete forms with recessed vertical openings is unusual: a response to both a north-west orientation and an imposing, 1970s liver-coloured block of flats on the other side of the back lane. The new two-storey extension can't be seen from the front of the house and can only be partially glimpsed from the lower rear lane, but it references the original house's solid masonry walls and tall sash windows. "The flats behind are partially why we have the form that we do," explains Sean. "We wanted to limit the size of the openings to deal with both sun and privacy, and explore the architectural form that came from that."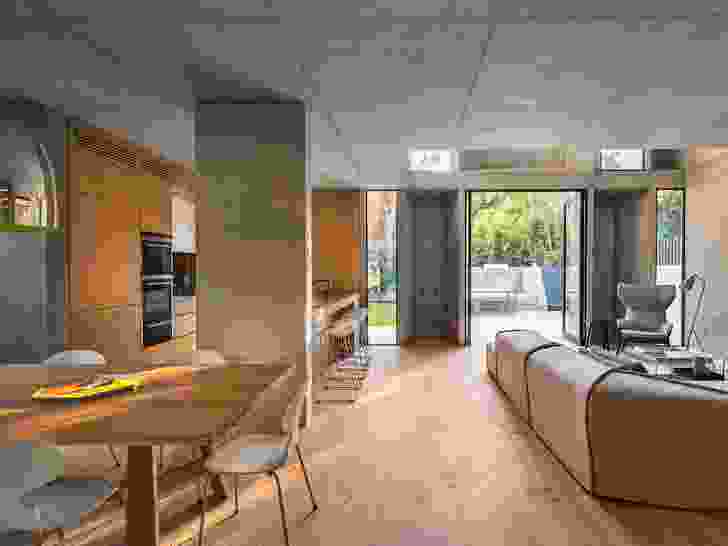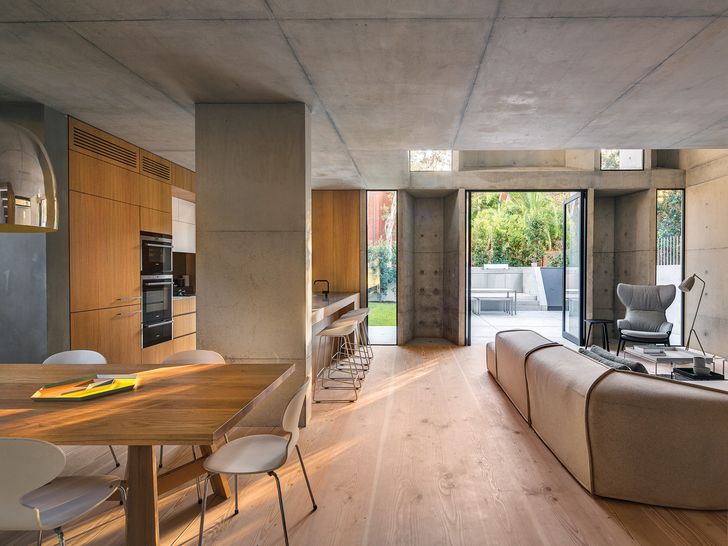 The result is a striking composition of stacked, raw concrete elements that were cast in situ, punctuated by triangular niches and tall windows with deep reveals. At night, in-ground uplights both inside and out highlight the architecture.
"Initially we looked at using precast forms, but then we thought it would be nice to actually grow something on the site, rather than make it in the factory and bring it here," says Sean. "This is a one-off and I like that."
Complementing the velvety softness of the concrete's surface is Douglas fir timber flooring, which was continued through into the original part of the house. The timber (a Danish product chosen for its long lengths and thicker planks) has been finished in a traditional method using lye and then soap, which enhances the grain of the timber but gives it a pale, limed appearance.
The pared-back aesthetic extends throughout the house and has resulted in the clearing out of some of the detail in the front section. Fireplaces, which weren't original, were removed from the two formal rooms, and custom-made, wall-hung shelving and storage units were mounted on either side of each chimneybreast. Ceilings and walls were painted a monastic white. "The clients wanted a Scandinavian reference … so throughout there is that kind of raw materiality," Sean says.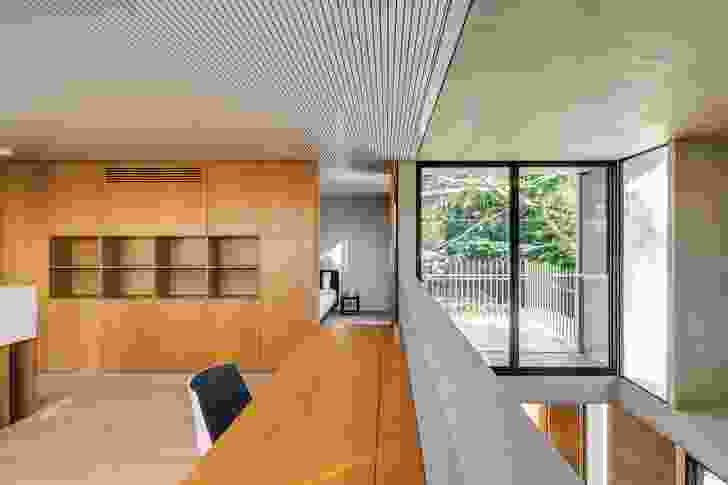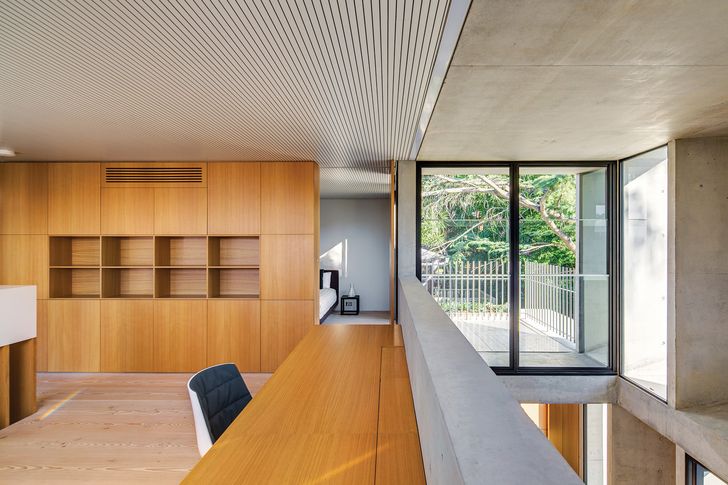 Towards the end of the central hallway four steps lead down to the new extension. Overhead, a dropped ceiling of exposed concrete heralds what is to come. On one side of the hallway a small room that would have been the original bathroom now houses a playroom, with a pull-down bed for guests and a mezzanine space accessed by a set of timber rungs. Opposite this room is a glamorous new bathroom, its walls (and even the rear face of the entry door) tiled in pale-white micro mosaics from Japan.
The kitchen, fitted out in sleek European oak joinery, sits on one side of the new, rear living space, with a double-height void above the sitting area. Afternoon sunlight streams in through the vertical slot windows overlooking the garden, and filters down from the mezzanine study area above through a beautiful staircase designed as a series of floating boxes.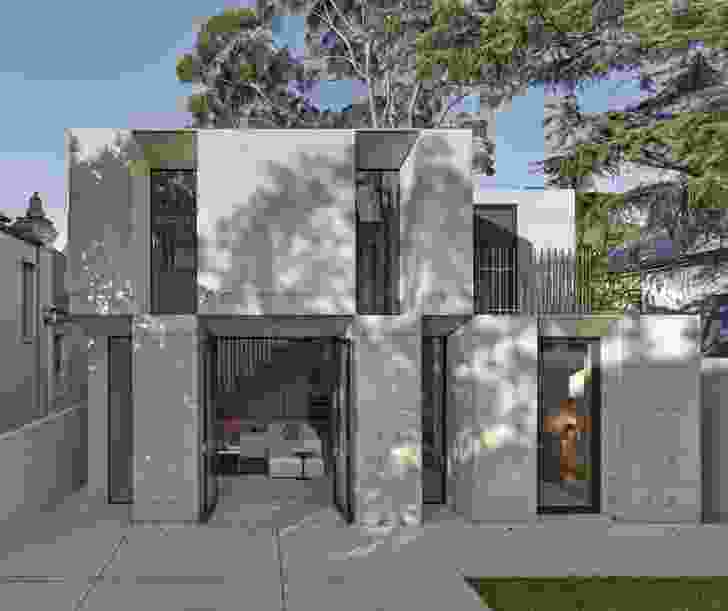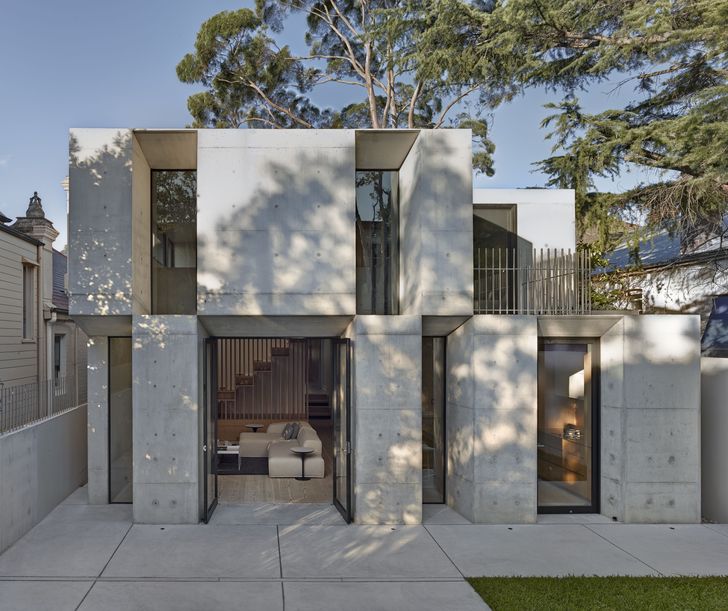 Despite all the potentially hard surfaces – concrete, bare timber and rendered walls – the atmosphere in the house is remarkably quiet and hushed; the space almost ethereal. "I was a little concerned during construction because of all the hard materials, and I kept wondering how it was actually going to be," admits Sean. "But both the clients and I have found that the house is very peaceful. Despite all the concrete it's not intimidating at all."
Sean is now a committed fan. "Concrete has such a history in architecture and building in general," he says. "But you have to be rigorous with it. You can't think 'we'll work that out on site,' you have to think about it [beforehand]. When we got to the end I thought, 'next we'll do a timber-framed house!' But now that a few months have elapsed I think, 'no, I really like this material.' I've invested so much in understanding it, and it's a material you can do so much with."
Products and materials
Roofing

Concrete roofing.
External walls

Hanson Precast off-form class 2 concrete.
Internal walls

Boral blockwork; CSR Gyprock plasterboard.
Windows

G. James Glass and Aluminium black anodized frames; Aneeta Windows sashless windows; bespoke black-painted steel window hoods; Viridian EnergyTech glazing.
Doors

L'Invisibile doors.
Flooring

Dinesen Douglas fir timber flooring finished with soap and lye.
Lighting

LTS Licht and Leuchten linear recessed lights and Modular Duell external wall lights, both from JSB Lighting.
Kitchen

Siemens pyrolitic oven, combi-steam oven, warming drawer, wok gas and induction cooktops and fully integrated dishwasher; Qasair rangehood; Fisher and Paykel fridge.
Bathroom

Astra Walker black tapware; Brodware black powdercoated towel rails; Catalano basin from Rogerseller; Parisi bath; Academy Tiles Nature series matt floor tiles and Micromosaic gloss white wall tiles.
Heating / cooling

Daikin VRV multi-split airconditioner; Brivis Australia ducted gas heating
External elements

Artedomus travertine paving; Carmelo Bagnato tessellated tiles.
Other

Custom-designed dining joinery; stair and loft by Civardi Furniture; kitchen and robe joinery by Dacora.
Credits
Architect

Nobbs Radford Architects
Sydney, NSW, Australia
Project Team

Sean Radford, Alison Nobbs, Trevor Black, Laura Bagnato
Consultants

Builder Yuncken Construction Group
Landscaping Bates Landscape Services, Nobbs Radford Architects
Lighting JSB Lighting, Nobbs Radford Architects
Structural engineer Partridge

Site details

Site area 385 m2
Building area 245 m2
Category Residential
Type Alts and adds, New houses, Residential

Project Details

Status Built
Design, documentation 7 months
Construction 18 months

Source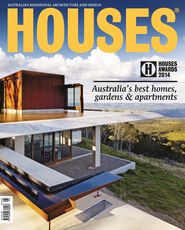 Issue
Houses, August 2014
Related topics