Glenn Murcutt to speak at the 2017 National Architecture Conference
Glenn Murcutt, Australia's only Pritzker Prize laureate, will appear at the 2017 National Architecture Conference in conversation with Helen Lochhead, dean of the Faculty of the Built Environment at the University of New South Wales. 
Murcutt is Australia's most recognized architect internationally, despite not having a large firm or practice outside the country. He works by hand at an office in his Sydney home and does not use email.
The keeping with the theme of the conference, "Praxis," the discussion will explore the processes of thought, engagement and action in the creation of architecture, focusing on how Murcutt has been able to maintain the integrity of his work in the face of rapid technological change. It will also ask what role small practices like Murcutt's will have in the future. 
The conversation will also unpack the importance of collaborations and teaching to his work. Murcutt is currently a visiting lecturer at the University of New South Wales. He has also taught extensively through the Glenn Murcutt International Masterclass, which has hundreds of alumni from around the world.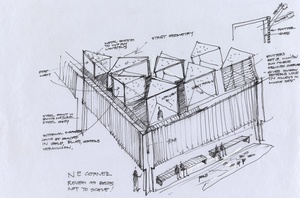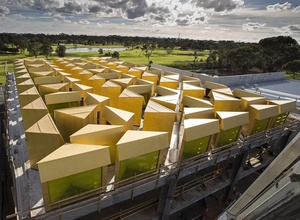 Murcutt's most recent work is the Australian Islamic Centre in the Melbourne suburb of Newport, in collaboration with Elevli Plus Architects. The mosque was almost entirely funded by the local islamic community, with donations solicited from the public in 2016 and is still under construction.
Aside from the Pritzker Prize, Murcutt has won a number of other high-profile awards, including the Gold Medal from the Royal Australian Institute of Architects (1992), the Alvar Aalto Medal (1992), and the American Institute of Architects Gold Medal (2009). He was appointed an Officer of the Order of Australia in 1996. In 2016, he was appointed chair of the Pritzker Prize jury.
The Praxis conference will be held in Sydney from 4 to 6 May 2017 at the newly completed International Convention Centre designed by Hassell and Populous. For more information and to purchase tickets, click here.