The Australian Opal Centre in outback northern New South Wales has unveiled the design of a proposed $34 million museum building by Pritzker Prize laureate Glenn Murcutt and Wendy Lewin.
The museum will house "the world's most comprehensive collection of treasures from Australia's opal fields." The building will be located on a 3.1-hectare site adjacent to the disused Three Mile open cut opal mine in Lightning Ridge. The region is the source of almost all Australian black opals.
Murcutt and Lewin's design includes subterranean spaces that will take visitors deep into the opal field. A gently sloping ramp will lead towards a space suspended inside of an open-cut mine, with its geological strata exposed for visitors to see.
The path will then descend even further, leading to exhibitions of opals, fossils, mining machinery and the opal miners themselves.
The museum will also include an underground "Gondwanan garden," which will feature Wollemi pine trees, ferns, cycads and other plants with a long fossil history.
A two-storey, 100-metre-long, 30-metre-wide building will sit at ground level. It will be sustainable and self-sufficient by generating its own power from solar panels and collecting its own water from the roof.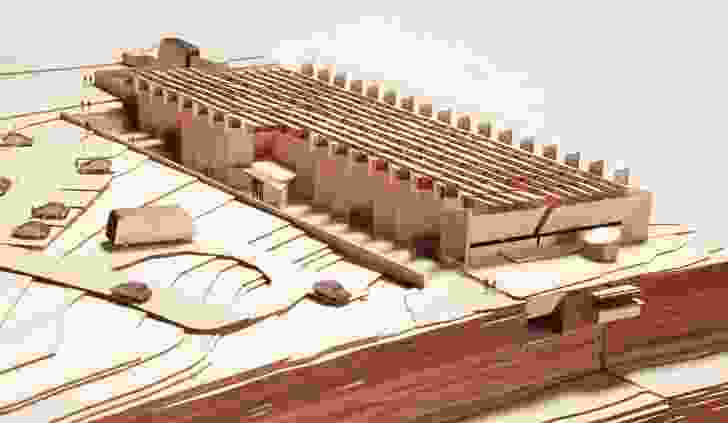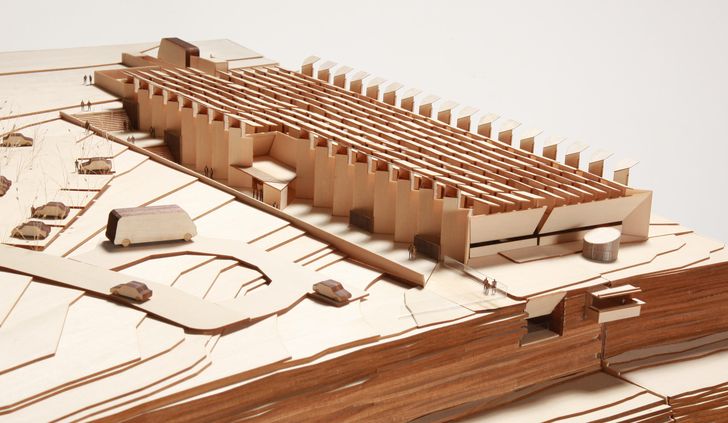 "The site is off the grid and without any town services. We have designed the building to generate its own power, made provision for the collection, storage and recycling of water, on-site management of waste systems and passive heating and cooling systems," said Wendy Lewin.
"The structure will be 'in and of' the site. Being substantially embedded allows us to take advantage of the earth's thermal mass and we will use some of the excavated material in the off-form concrete structure."
"Our ambition, and that of our clients and their community, is for this to be an exemplar of site appropriate, autonomous architecture. We believe it will be unique and culturally significant, globally."
The new museum will have spaces for permanent and temporary exhibitions; curatorial facilities; education and learning facilities; a library; workshops for opal cutting, carving and jewellery making; research laboratories and theatre spaces for events and conferences.
The building will also act as a study site for Lewin and Murcutt's students from the University of New South Wales.
"This is a bold and exciting project for all of us," said Glenn Murcutt. "We have worked with the remarkable community in Lightning Ridge for over 13 years, and now to be able to realise the new Australian Opal Centre in this iconic Australian landscape is just wonderful."
Approval for the development of the site was granted in 2008 and the site was excavated in 2013. The Lightning Ridge Opal and Fossil Centre Incorporated (LRODC Inc) is seeking private donations and more than $20 million in public funding through the NSW state government's Regional Growth - Environment and Tourism Fund and the federal government's Building Better Regions Fund to finance the construction of the project. Completion is expected in 2020.
Related topics