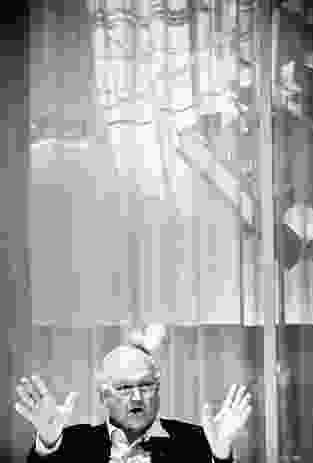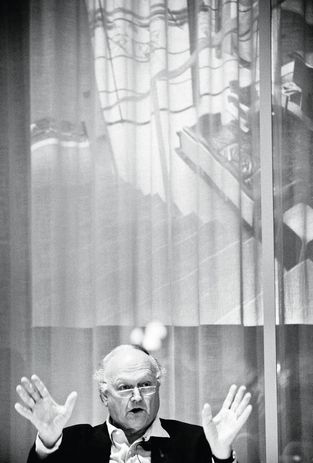 Thanks to Vola, Architecture Media and dedece, I had the opportunity to attend a delightful evening of food, wine and conversation at dedece in Sydney in November. The guest of honour was Glenn Murcutt. "Icon" is an overworked word but surely Glenn is our own (reluctant) hero. Certainly in much international consciousness, the 2002 Pritzker Prize-winner is Australian architecture.
This was the first in a planned series of similar gatherings. Guests from across Australia – architects, builders, engineers, writers, publishers and designers, many of whom were already old friends – chatted over oysters and champagne and then moved to the dining table to continue the conversation.
Images of Glenn's works, glimpsed through diaphanous curtains, hovered behind him – an illuminated backdrop to the conversation. While enjoying a procession of glorious dishes, we had the opportunity to gently probe Glenn, to engage him in dialogue and to ask some burning questions.
The master of elemental, place-responsive architecture, the interpreter of the Australian rural idyll, the maker of the beautiful shed, the proponent of "touching the earth lightly," gave us a glimpse into the genesis of that sensibility. He recounted how his early childhood in Papua New Guinea awakened in him an interest in the basic, the vernacular. It is clear that early experience of the intensity of direct human/space/place/climate relationships has been with him ever since. Later in Sydney, his dad's joinery shop exposed him to craft and tectonics. That direct understanding of the making of things later became another powerful element of his architecture.
Glenn's works are the landmarks of a life discovery, of singular, clear focus and uncompromising practice. Working largely in sole practice on individual residential commissions (for committed and patient clients who may have queued for years) has enabled Glenn to give his deep personal attention and time to each project and to remain true to his art and philosophy.
Glenn's mode of practice and chosen work are hugely fascinating to other practitioners, who may feel they occupy a parallel universe of architectural endeavour – of large urban and social projects, of deadlines, of "value management" and compromise. It seems Glenn has largely eschewed that world and this was the subject of a number of questions around the table. Is he interested in that work and those challenges and can we translate Murcuttian learnings to the complexities of contemporary life and the pressing urban and social challenges now confronting us?
Although revealing a palpable distaste for working directly in the compromised world of "development," Glenn Murcutt is an intrinsic participant – his architecture and teaching so deeply affecting us and permeating our cultural consciousness.
Source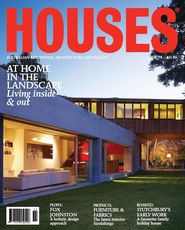 Related topics