Tania Davidge and Christine Phillips, the architects, academics and provocateurs behind Melbourne-based practice Openhaus, aren't interested in hiding behind the often impenetrable language of architectural discourse. Nor are they interested in debating issues of the urban realm solely from within the cloistered world of academia.
Instead, they strive to start real conversations about architecture and urban space with the public, to provoke people to think about the built environment around them in a meaningful way.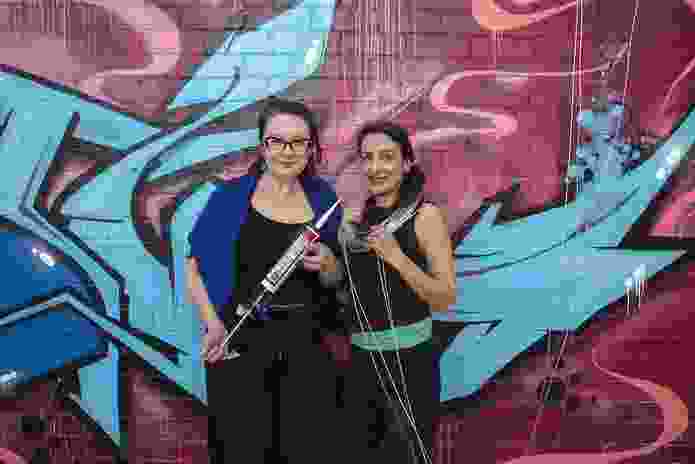 Image: John Gollings
Glow: Monarch Lane, an installation held as part of the Melbourne Fringe Festival, saw Openhaus explore this preoccupation by literally shedding light on an urban space in St Kilda.
Over four nights on the last weekend of September, Davidge and Phillips created an ephemeral light sculpture, using illuminated fibre optic cable, that transformed Monarch Lane, a street art-covered laneway located just off the newly pedestrianized Ackland street, between the famous Monarch Cakes and Toscani's Restaurant.
"It's a way of talking about public spaces in a way that you don't often think about," said Phillips of the project. "Also, the urban realm is kind of layered; we don't all see it in the same way. So we're trying to highlight something we see in a space so that other people can come and enjoy it."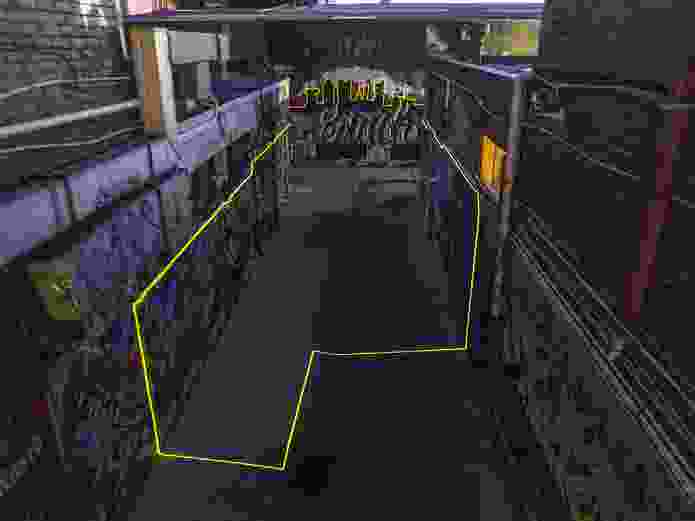 This project followed similar experiments on St Kilda Beach and in Lorne for Sculpturscape at the 2016 Lorne Sculpture Biennale, where a length of electro-luminescent wire with a 12-volt power source was used to explore the lines of the beachside landscape.
The appeal of Monarch Lane for this latest installation, Phillips explained, lay in its scale and intensity, as well as its relationship to the vibrant suburb of St Kilda.
"It's a very busy laneway, it gets lots of different types of people coming through at different times," said Phillips. "And of course, here we've got some really beautiful graffiti art, so it was very much about drawing on the art that's there and literally highlighting that to create a frame, using that existing fabric."
The first night of the exhibition saw a steady stream of interested bystanders enter the space framed by the glowing cable, while children were given the chance to draw with light to create their own paintings, which were captured by photographer John Gollings.
A free drawing workshop held a weekend before had also seen children propose their own ideas for the space. Involving children in the exhibition, Davidge explained, helped to break down barriers and create a more informal space to explore ideas.
"The kids are fantastic," she said. "We had one kid draw a three-storey pool and we had slides and bowling alleys and relaxing spaces, and all sorts of other crazy things they could imagine in this space. It was fun. We'd love to have adults too, but adults are a bit more reticent to commit to drawing."
While the lighting up of a laneway with a glowing cable may at first appear to have only a tangential relationship with architecture, both Davidge and Phillips have been architects for around twenty years, and approached the project with a decidedly architectural sensibility.
"I'm quite interested in the act of drawing," Davidge said. "Not drawing as in documentation drawing, but as kind of a sketch – that initial conceptual sketch that you draw as an architect – or a drawing that becomes something.
"And this is drawing the city. The idea [behind the installation] is to create a space that can be occupied. It's not just about the flat walls, it's about something you can be in."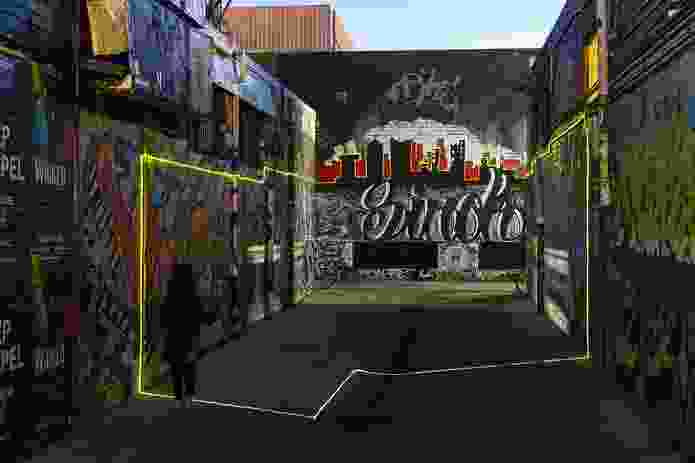 Openhaus was founded in 2009 with the idea of approaching a broader understanding of architecture – it is a practice "interested in the culture of architecture rather than the business of architecture."
Davidge and Phillips are both focused on using the potential of urban spaces to engage people in conversations about their communities and surroundings. Phillips hosted a weekly radio show on community radio station RRR, "The Architects," for five years, and recently completed a PhD focusing on leisure and play in architecture through an examination of modern waterside public swimming pools.
Davidge is undertaking her own PhD research at the University of Melbourne also looking at "play" and how it can encourage public engagement with architectural thinking. She explained that the ways in which the public interact with architects are quite limited, and generally contained within the planning process.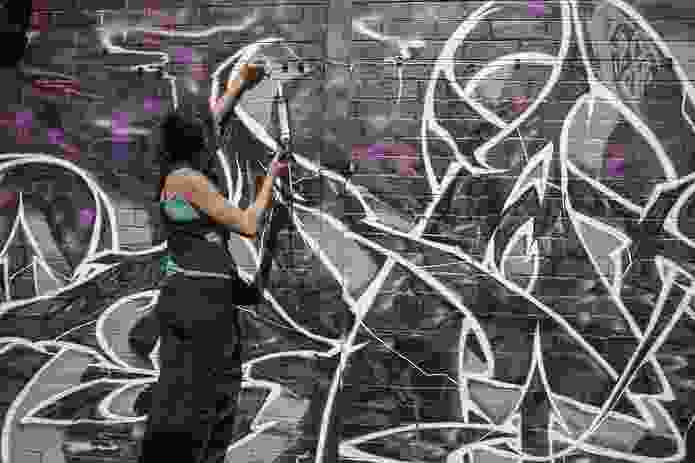 "It's usually adversarial, it's not a positive thing," she said. "Unless you're Jeremy McLeod and you get hundreds of letters of support for the Nightingale [project]; but that's not a typical scenario. "So I suppose [we're] looking at strategies, or developing strategies, to look at [the built environment] in a positive way, and not 'oh I hate what my neighbour is building next door.'"
An informal space, within a street art-adorned laneway in the heart of St Kilda, was the perfect place to have those conversations, Davidge said.
"It's not behind a veil of professionalism – we are quite professional – but it doesn't have that vocabulary," she said.
"You can't hide behind big words and language. You actually just have to talk to people."