Go Away and Come Back exhibits a diverse collection of creative works by emerging and established architects, both local and international. Curated by Robyn Creagh and Shannon Lyons, the thirteen works address the varied narratives of travel, reflecting the shifts that occur personally and professionally from departure to return.
Each work frames the experiences and contemplations of focused travel through the specific lens of the exhibitor. The pieces collectively interrogate the nature of architectural education; confronting the changes imposed by the proliferation of technology, mass media and digitalization, the ease and convenience of air travel and the shaping of global economics.
The idiosyncrasies of the venue – Moore's Gallery, a heritage-listed former trade warehouse in Fremantle's historic west end – created conceptual ties to the exhibition themes of place, temporality and change. This aesthetic correlation enhanced the reading of the exhibitors' enquiries, observations, reflections and revelations – expressed through a diverse range of media, including photography, drawing, projection and installation.
A Meeting-place for Architecture by Shane Winter addresses the disjunction between visual representations of notable architectural works and the roundedness of their lived experience. Presented as a series of photographs laid unadorned on a trestle table, each photograph is concealed by a blank cover page stating: Date, Time, Location.
Visitors are encouraged to physically interact with the work to reveal each photograph and connect with Winter's personal memories. Differing from media photography that prompts a distanced, visual apprehension and sparks our imagination of what that place may be, Winter's work is a tangible trigger to the authentic memory of that place – its context, atmosphere, material and structural composition, grounded in the reality of his personal, lived experiences.
Collected in a room of the gallery, are three disparate films. The first, To Measure Pompeii by Eva Prats and Ricardo Flores, featured a traditional slide projector flicking through fragmentary drawings of four houses completed by students of ETSAB, Barcelona on a field trip to Pompeii. These artefacts physically record aspects of the houses that intrigued the observer, palpably and progressively outlining the process of documentation as each slide appears.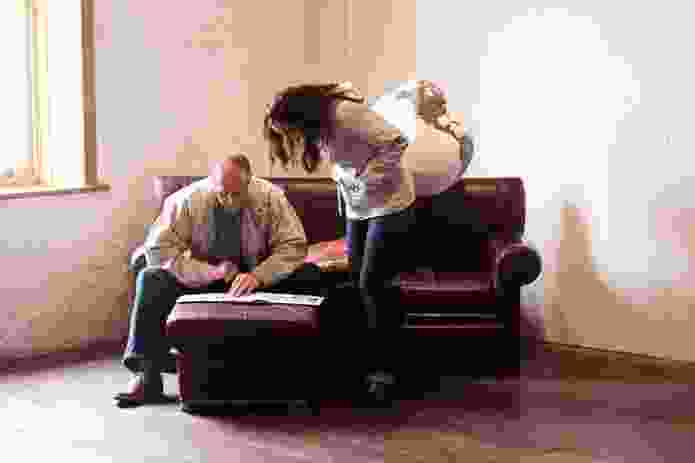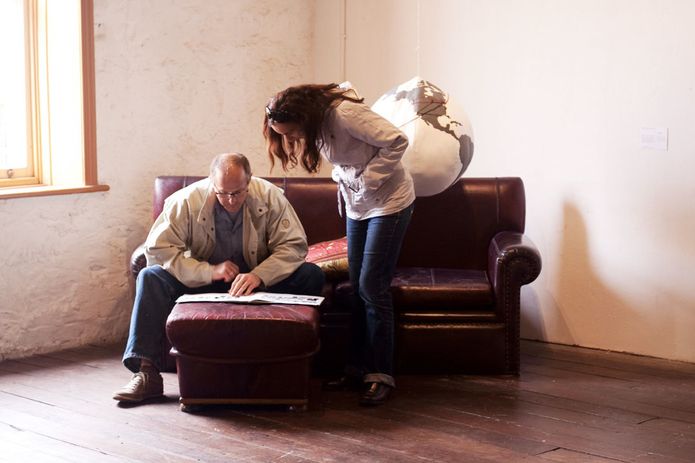 Adjacent was Mimi Cho's stop-motion film Travel in Time: an architectural journey of shifting perceptions, narrating expectation, anticipation, experience and contemplation of architectural travel. Experimental, fast-paced and playful, this mixed-media film offered a personalized depiction of travel, whilst addressing the shifts in perception that occur before, during and after such journeys.
Lastly, Lynn Churchill's I think where I am not and I am where I do not think involved the digital projection of fragmentary and ephemeral images. The work reflects the contortion of our understanding of place, as our encounters are inevitably distorted by the human sensorium. The obscurity of the images, which bleed, become overlaid and fade into the walls beyond, provided an intriguing contrast to the jolted animations of Mimi Cho and the somewhat archaic temperament of Prats and Flores' slow and sequential slide projections.
Exhibitor Alexandra Mackenzie states "I understand design as a series of comings and goings, phases of gathering and binding, and architecture as a solidified point on that contiuum." The works of Go Away and Come Back suggest architecture as an entity dependent on our fleeting and transactional exchanges with it. Creagh questions, "How do we bring back, communicate and make useful these travel experiences?" The selected works offer multiple glimpses into personal travel documentation. The experiences depicted, with their various architectural agendas, have been coded, revealed, distorted and, at times, omitted. Go Away and Come Back addresses the complex thinking inspired by "elsewhere" or "between places." As Creagh states "we're always moving, between, connected, contingent."
Exhibitors: Mimi Cho; Lynn Churchill; Ryan Dunham; Hannah Gosling and Lucy Fuchsbichler; Amanda Hendry; Shannon Lyons; Alexandra Mackenzie; Lara Mackintosh; Sarvenaz Norouzy; Eva Prats and Ricardo Flores, Barcelona; Jane Samules, Manchester; Simon Venturi; Shane Winter.
Go Away and Come Back was held at Moore's Gallery, Fremantle, 12–20 October 2013 as part of WA Architecture Week. The exhibition was supported by Peter Hunt Architects, the Australian Institute of Architects (WA Chapter), Architecture Week, Faculty of Humanities and School of Built Environment, Curtin University, and By Word of Mouth Catering.

Related topics