The 2014 MPavilion designed by Sean Godsell has been shortlisted for a 2015 World Architecture News (WAN) Award.
The 12-by-12-metre structure with unfurling automated panels was commended by the judges for its "strong, simple" concept and its reference to nature.
"The dynamic changing form gives added interest to visitors not only in the final composition but also in the transitional stages," said jury member Pascal Wensink.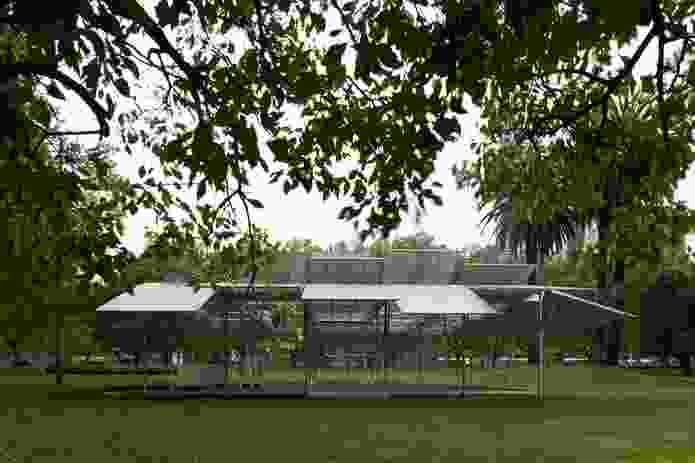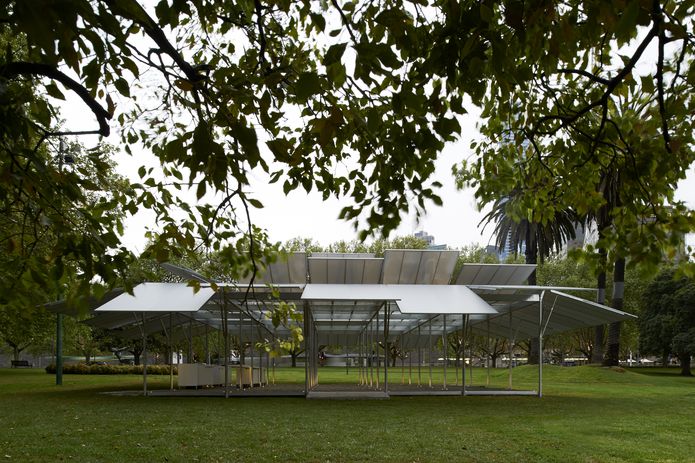 Godsell's MPavilion is up against five other finalists in the inaugural Temporary Spaces category.
Camera Chiara by Annabel Karin Kassar Architects. A pair of telescopic pavilions containing a mobile shelter and a cinema.
RAW: Almond Restaurant on Ice by OS31. A fine dining restaurant made from scaffolding and tarpaulin on a frozen river in Winnipeg, Canada.
The Hybrid Hut by Rojkind Arquitectos. A winter shelter, part of Winnipeg's Warming Huts annual competition, made with a combination of computer modelling and artisan craftsmanship.
Landscape to Contemporary Urban Development by SLA Architects. A landscape approach to urban design that aims to use the temporary landscape to create conditions for urban life before the new town of Fredericia in Denmark is planned and built.
Hy-Fi by The Living. A zero carbon emissions tower commissioned for the Museum of Modern Art (MoMA) and MoMA PS1 in New York. The 13-metre tower is made from 10,000 compostable bricks which were disassembled and broken down to create soil for local community gardens.
On the jury were: Je Ahn (Founder at Studio Weave), Wolfgang Buttress (artist who conceived the UK pavilion at Milan Expo 2015), Pascal Wensink (director at EPR architects) and Albert Williamson-Taylor (academic).
The winner will be announced on 7 July, 2015. See all the finalists here.
Related topics