Going Public: Kjetil Thorsen of Snøhetta interviewed by Timothy Moore
Snøhetta's Kjetil Thorsen elevates public experience by providing opportunities for heightened sensations in his designs – whether it's standing on the roof of the Oslo Opera House or meeting the gaze of reindeer through a national park pavilion window. His up-front generosity amplifies this approach.
Speaking about the Snøhetta office, Thorsen states: "We generally go home at 5 pm. It's only architecture; it's not important." Only hours after stepping off a plane in Brisbane for the National Architecture Conference, Thorsen sat under a fig tree outside the Brisbane Convention and Exhibition Centre with Architecture Australia editor Timothy Moore, sharing his ideas about the acute nature of the public realm.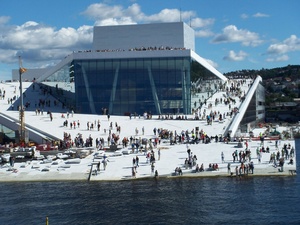 Timothy Moore: Looking at the trajectory of your career, there are many places that appear in its search engine – Oslo, Graz, Innsbruck, New York City, Cairo – and now we can add Brisbane to the list. One continuing thread in Snøhetta's work is the notion of what constitutes the public realm, and your position on it is extremely public. This changing nature of "public-ness" is seen in the Oslo Opera House, where the roof is a plaza that city dwellers can use. It is a very public element without commercial compromise, or balustrades. How has your position changed over the past two decades? What does it mean to go public?
Kjetil Thorsen: Society has changed significantly over the last quarter of a century. Among the important things that you see is that the definition of architecture in its public setting had lost its way. If you look at the change from modernism into postmodernism in the late 1960s, there was a loss of faith in architecture that resulted in a more open-minded relationship between the creation of architecture and the public. This, in turn, increased public awareness of this change in the following years. Architecture resolutely changed in its relation to the public. And it had to as you follow the basic demands of democracies. Democracy is no longer just the involvement of the bourgeoisie, but it is everyone who has generated enough time to get involved. The level of engagement acted out and demanded by the public must be reflected in architecture.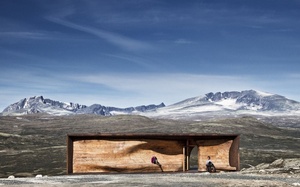 TM: The Norwegian Wild Reindeer Centre Pavilion is a strange reversal of what it means to be public. Within the curved timber core of the pavilion we find the public realm has been interiorized. The engagement between the reindeer and human beings is mediated by tough glazing.
KT: It is a reversed situation. This mirrors the fact that in large sequences of the public domain, there are security issues or risks that need to be controlled and managed. For example, we could be filmed right here and now as we talk. We have no place to hide. With the reindeer pavilion, the strict control of the national park visitors to a small footprint was a part of the brief that drove the project. This reflects the idea that free spaces that we are looking for as humans may just become interior spaces.  
TM: The extreme public expression differs from a commonly held viewpoint in architecture that space should be a series of sequential and hierarchical spaces with a driving narrative of experience. The experience here is heightened, stark and pure. Furthermore, there is no strong differentiation between the interior and exterior.
KT: We call the reindeer pavilion a keyless project within the office – it is literally without keys and is open twenty-four hours a day. This allows for the interior to become public. The Nolli plans of eighteenth-century Rome are very close to how we perceive relationships between public and non-public spaces within the office. In the [Nolli] plans, you see the division in black and white between private and public. There is no differentiation between interior and exterior public spaces. The interiors of the churches are the same colour as the streets. It reveals something about the way we can think in terms of distinguishing inside and outside.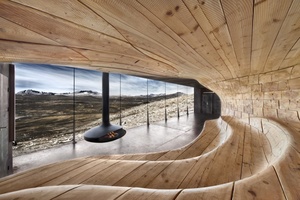 TM: The reindeer pavilion also experimented during the construction process, where there was an artful move back and forth between digital and analogue means to the point where this division is proven to be quite banal. 
KT: Throughout the process, architects have to be in control of production. The digital world allows you to move from a 3D model to the production line. When I control the computer, I control a product. There is nothing in between. With the reindeer pavilion, we began with a 3D model, which we then printed out. This was then sculpted and remodelled and read back into the computer. A robot arm then carved out the timber. It was a fascinating move between sculpture and aesthetics in the digital world, which then again is produced in analogue with digital means. Architecture is holistic but complex. There is a relationship between intuition and knowledge and how you gather it. At Snøhetta we do something that we call transposition. This is also reflected in the teams working on Snøhetta projects. We work in teams that are not predictable. If you only get specialist feedback you only get feedback from experts that they think you need to know. Many of our small keyless projects are experiments that work out these ideas that are later used at bigger scales.
TM: You have also had a lot of opportunity to experiment in competition. Kerry Hill once mentioned that his office was in competition against Snøhetta for a project in the Middle East. He iterated the fact that Snøhetta has a dedicated competition team that is run as a very strict business model. In this case, the deadline for the competition was extended by a few extra weeks. However, the Snøhetta team had to move on according to the office program; they packed up and left.
KT: We are surviving by making money. We do risk calculations. We look at the possibilities of getting a financial result out of it. You can do a lot of things that go nowhere. This way of thinking is passé for us.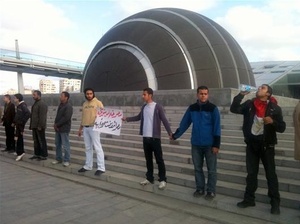 TM: Through competition, you have found work in vastly different locations. The competition that propelled Snøhetta to international acclaim was the Bibliotheca Alexandrina, which won an Aga Khan Award for Architecture in 2004. How do you translate place?
KT: In the recent upheavals of the Arab Spring, the library was protected by a group of citizens who organized themselves. They all linked arms and formed a chain around the front of the library. (We had to fight hard with the clients to not have a fence put up around the library during its construction.) This demonstrates the value in working abroad, but also the importance in having the public take on and receive one's work. We work with local practices. Sometimes you can get locally blinded by certain issues. It helps to come from outside as you take on the banalities where locals may think it isn't an issue, because it is banal. We are not afraid of going in and reorganizing. 
TM: One place you have been involved with over your life is Austria. First, during your training in Graz, and later as a professor in Innsbruck. 
KT: I was the Professor of Innovation at the Institute for Experimental Architecture in Innsbruck. We experimented with anything you can experiment with. The idea was to challenge everything. We would move into situations where we were not wanted, and actively scouted for projects. For one project, we went to Chernobyl, into the zero zone to look at how nature has deteriorated and to look at positive ways to regenerate a place like that. Another time, we redid the whole institute – took down all of the walls and put up a kitchen, so we could cook together. 
TM: You were also involved in other radical undertakings in Graz. You were involved in Architecture Must Burn! in the 1970s, led by Wolf Prix of Coop Himmel(b)lau. 
KT: Yes, I was there for the first time. The first exhibition I did when I returned to Oslo was of a cuckoo clock. I deconstructed it into several parts and called it Architecture Must Cuckoo. I told Prix about the project, which began a debate on the seriousness of architecture. When you say something must burn, that's Leidenschaft in German, a state of anger or rage. Architecture is more than just a result of emotion, and not always so serious. During this period, I also made some paintings of angels stuck in mud up to their waist. They were real angels but they would never be able to fly.
TM: Are you more optimistic now?
KT: Yes, I am more optimistic now, but living in a polarized society like Austria made some impact. There is so much opposition and contradiction at play, for example, that German society is partially Balkan.
TM: Then there is dealing with the period of the Anschluss [the annexation of Austria into Nazi Germany].
KT: They don't deal with it. But Austria has an amazing capability to maintain things as they are. You find the best jazz stages in Europe today, and back in the 1970s, including Norwegian jazz. On one hand, it's extremely conservative, but on the other hand, it is extremely radical. There is no other comparable country for basic experimentation over the last century. Take Huntertwasser – even if you like him or not. It's this intensity you must have to build up when you lack the ocean.
TM: Your office is very much between oceans: Oslo and New York. How do you find your social democratic nature shift as it confronts a North American culture?
KT: We have tried to expand the Oslo practice in New York, starting with maternity leave. And actually taking holidays.
TM: And providing milk for lunch?
KT: Exactly. It is taking hold in the New York office, but not like in Oslo. In the USA, one has enormous respect for authority, which we have really broken down in Nordic countries. It is important to the culture of Snøhetta as it has value to the way we design. Because, when you design, you design with your whole body. It is the way you are bought up; it is in the culture. It is not generated by the things you have read from the age of eighteen onwards. It goes much further back into your own history. 
Kjetil Thorsen was a speaker at the 2012 National Architecture Conference, held in Brisbane.