A timber-clad house designed by Andresen O'Gorman and hidden in an inner suburban Brisbane gully has been listed for sale.
The Rosebery House, completed in 1997, is sited on a 846-square-metre block in Brisbane's Highgate Hill and surrounded by steep bushland which slopes towards the Brisbane River.
The house is long and linear in plan and is perched on the ridge line of the hill overlooking the gully.
The house consists of three pavilions linked by open decks and covered walkways and is clad in an expressive timber screen. The bedrooms are located at the northern end of the house with the kitchen-dining areas in the centre and a sitting room to the south, each separated by an outdoor deck.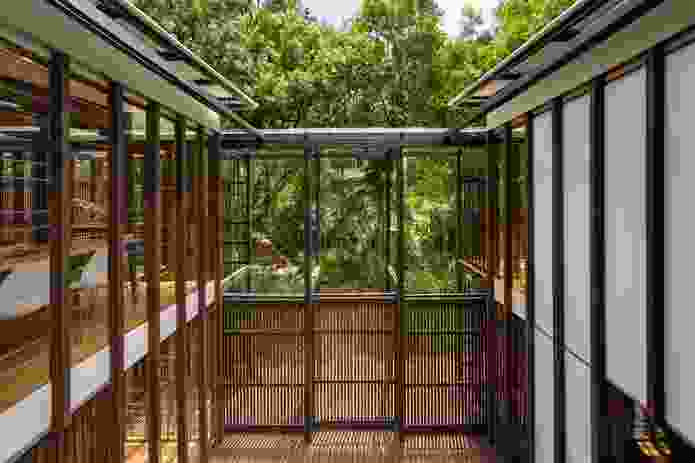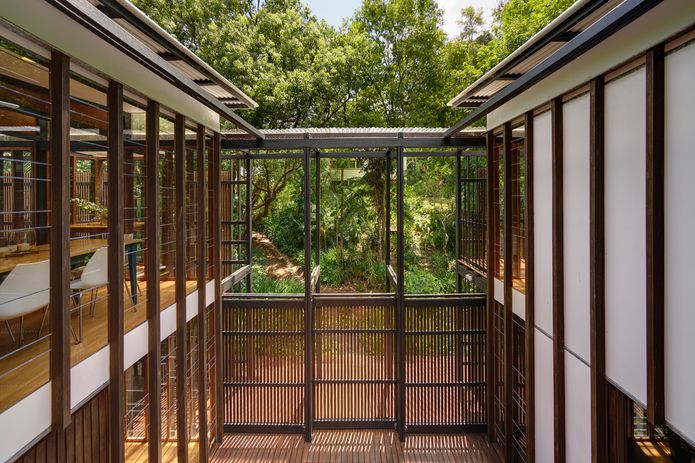 "It's a daring thing to do," said Brit Andresen, who in 2002 became the first female recipient of the Australian Institute of Architects's Gold Medal. "We made sure to contain those outside areas, so no one could just walk in. There's a perimeter screen all the way around – really to stop the animals from getting in."
The long timber screen also masks and frames key views from the house – principally towards the river, the entry path and to the sky.
The house is oriented west towards the Brisbane river and along the eastern edge of the house, corridor lined with storage provide the circulation throughout.
Rosebery House is widely acclaimed and published in more than 15 international architectural journals and publications. Writing for Architecture Australia in the 1998 September/October issue, John Mainwaring commented, "The house feels like it's there, but not there, in this magic yet mysterious fragment of old, overgrown property … an environment which conjures thoughts of slatted ferneries and memories of Brisbane's now-extinct suburban nurseries, with their transluscent hessian walls and roofs."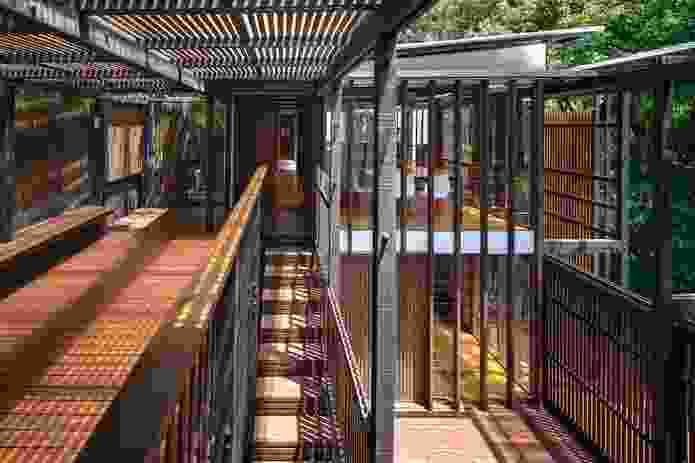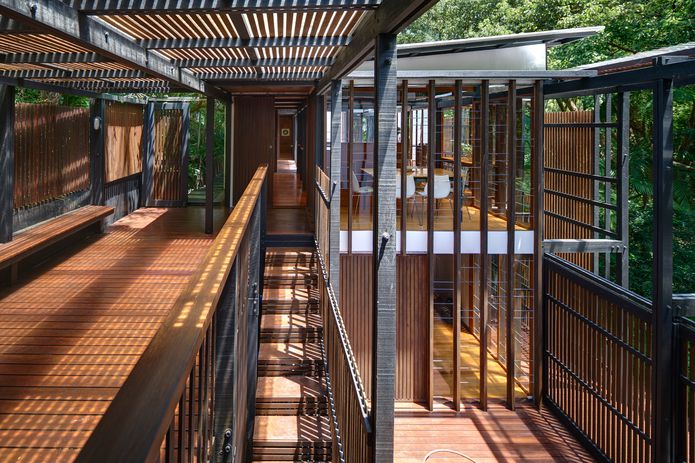 The house's highly layered experience of spaces intentionally intensifies the experience of the landscape from its heavily planted arrival path to the upper deck that projects out into the gully.
"The important thing is that you're five kilometres from the centre of town," said Andresen. "It's a city home, but you feel like you're in a sanctuary."
The current owner of the house said, "When I first walked onto the property, I fell in love with the gully – it made me well up. And [when] we went into the library and saw a glimpse of the river, we always imagined that we'd sit and enjoy that view."
Rosebery House is being sold by Modern House, a specialist real estate agency for architect-designed residences. To view the listing, click here.
See an upcoming issue of Houses magazine for a revisited article on Rosebery House.