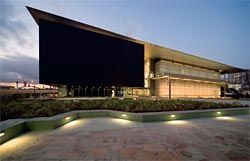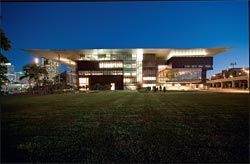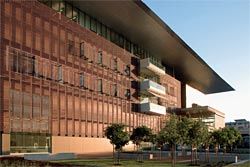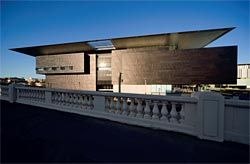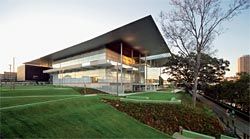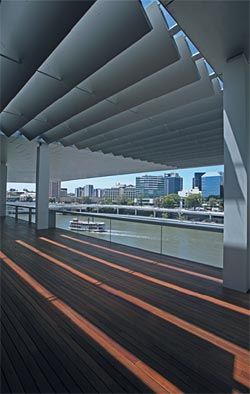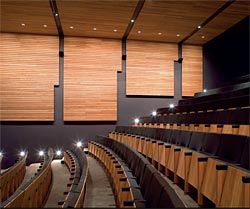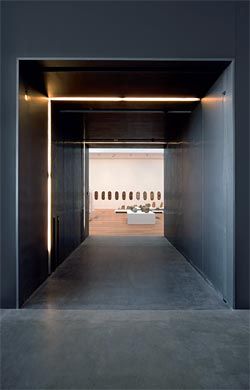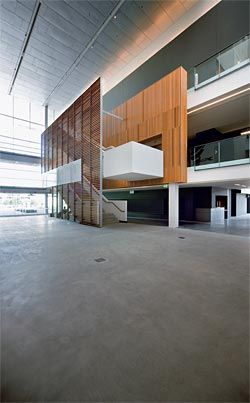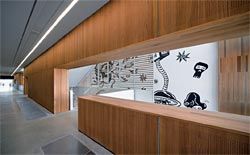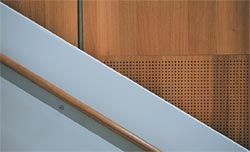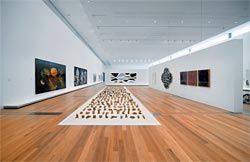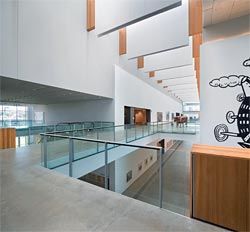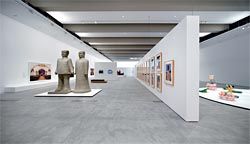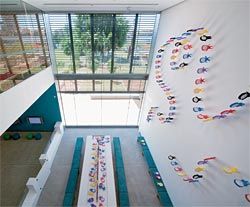 Jane Jacobs, Toronto's legendary writer on cities, would have appreciated this Australian regeneration. Eighteen years after Brisbane's Bicentennial Expo 88, Queensland has transformed its former South Bank wasteland into a splendidly urbane precinct.
South Bank was rescued from serious planning errors by a late-1990s Denton Corker Marshall master plan, which now exposes what could have been done to make Melbourne's Docklands and Sydney's Darling Harbour more integrated with nature, more fun for families, more stimulating for the culturati, and more neighbourly and walk-friendly for local apartment and hotel dwellers. As a Jacobs-style 24-hour village, albeit a subtropical version, it deserves its applause.
At the north-west end of this strip, Queensland's new Gallery of Modern Art (GoMA) is yet another reason for sophisticated visitors to focus on the opposite side of the river from Brisbane's CBD. It dramatically counterpoints Robin Gibson's early 1980s Queensland Art Gallery of spreading, part-sunken masonry with a wide-eaved and elegantly up-curved aerofoil blade roof topping a generously glazed, four-to-five-storey cubic form. This Miesian Parthenon also contrasts the spaces and slices-versus-solids complexity of the adjacent new State Library by Donovan Hill with Peddle Thorp.
Despite significant design involvement by Tasmanian architect James Jones when he worked at Architectus's Sydney office in the early noughties, GoMA will be seen as a triumphant Queensland homecoming for Lindsay and Kerry Clare, the Buderim architects who led, with John Mainwaring and Gabriel Poole in the 1980s and 1990s, the Sunshine Coast style of light-edged residences and small pavilions. Forced southwards because they could not then grow their small office into government work requiring quality assurance, the Clares now lead Architectus in Sydney, and are working increasingly on large national and international projects.
You can't build a cultural icon without attracting controversy – GoMA is no exception, although its architects clearly have sought to avoid the storms of antipathy (since calmed) which attended the Lab/Bates Smart design of Federation Square in Melbourne. That riverside "anti-icon" complex, including the National Gallery of Victoria's new contemporary gallery, was being completed when Queensland's library and art gallery competitions were held in 2001. And the design approaches – at a time of massive, trans-millennial confusion about the meaning and future of architecture – couldn't be more different.
Lab's Peter Davidson and Don Bates, then based in London, threw all their Architecture Association-fuelled artistic passions and critical intellects at a Fed Square scheme that violently shattered the twentieth-century modernist-socialist ideal of the glass box. In effect, Lab was screaming: Modernism is smashed! Create a new urbanism inspired by recombinance in genetic science.
Architectus, on the other hand, has been accused by some architects of producing a "boring and conservative" glass box akin to 1990s examples by Norman Foster, Jean Nouvel and their many large-practice Australian emulators. GoMA combines the classic principles of Modernism's post-1950 International Style with the Clares' and Jones's pragmatic responses to the particulars of the river-bend site and its subtropical climate. With their provincial upbringings in areas dominated by natural landscapes and the ocean, all three of Architectus's lead designers also have a natural empathy with Brisbane's preference for practical achievements rather than cranial pretensions.
Given the Clares' early claims that their work is not stylistic – and later that their style results from an astutely considered suite of consistent conceptual strategies and practical answers to the challenges of each project – it is reasonable to ask: what makes GoMA different from, say, Hassell's similarly proportioned (albeit smaller) blade-roofed box containing the National Institute of Dramatic Art in Sydney?
One building fronts a busy arterial road, the other an urban river. The Sydney glass box is elaborated with a staircase reminiscent of Jacobsen in Copenhagen, a roof cantilever à la Nouvel in Lucerne, sculptural roof elements reminiscent of Piano in Noumea and a central auditorium pod seemingly inspired by Foster's Reichstag in Berlin in form and, internally, by the wood panelling of mid-twentieth-century Scandinavian auditoria.
The Brisbane gallery is elaborated externally by a range of sun-responsive devices and materials – metal panels, timber slatting, projecting balconies and a timber-decked dining terrace – that are markedly different on every facade for evidently logical reasons.
Considered from a walk around its confined site (partly due to a government-decreed demarcation line between the gallery and the adjacent library) and from the cross-sections, GoMA strongly alludes, at a much larger scale, to the Clares' and many other Queensland houses. Like traditional Queensland public buildings, these were characterized by light, open edges intended for occupancy. They were built at a time when many Australian modernists were quoting the ubiquitous regional architecture theme: "genius loci … sense of place." At GoMA too, at much larger scale, the architects have incorporated many thoughtful devices that allow flexible interactions between the architecture and its atmospheric conditions. For example, roof eaves incorporate substantial rotating fins to mediate the sun's internal impacts at critical times of the day.
Almost impossibly thin-edged, the riverfront illusion of a flat roof is dispelled by a subtle shift of gradient along the eaves of the perpendicular facades – an optical illusion that recalls the almost imperceptible entasis curvatures of ancient Europe – but which the Clares describe as a practical response to a change in ground level (requiring the extended eaves to be raised to avoid truncated river views from the top floor interior).
Certainly Architectus was responding to local conditions when it decided to contradict the competition siting brief and twist the building in plan to open a vista to the river from nearby Montague Road, to "coincidentally" align the building to terminate river views (dramatically foreshortened) from Tank Street in the city, and to set up a notional axis with the distant 1828 Windmill Tower, Brisbane's oldest structure, on the Wickham Terrace ridge. This rotation also opened up more of the site to enlarge Kurilpa Park between the north-west facade and the river.
GoMA's most memorable quality, as unanimously noted by hordes of astute Australian art patrons at the opening of the Asia-Pacific Triennial, is its spatially generous and atmospherically delightful interior. Compared with most international art galleries of the late twentieth century, this succeeds as a creative yet rational integration of floor plans and cross-sections, with intimate "black boxes" provided for the cinematheque (two cinemas), media lounge, shop and storage areas on the south-west side of the building; large, lofty, white galleries; foyers and vertical voids in the central zone (all with bright but glare-diffused daylight); and balconies and terraces to the north-east.
Functionally, the interior includes many intelligent floor cavity, sliding wall and ceiling-fixture systems to allow "a secret life" where curators can hang and illuminate exhibitions, receive and move artworks in temperature-controlled conditions, and use the convenient storage areas in wall cavities around the main galleries – all without being seen by visitors. True to the Clares' reputation for meticulous detail, all lighting tracks are recessed, the floor air grilles and ceilingmounted sound system components are precisely flush, and the gallery doors incorporate extremely deep, zinclined reveals that allow art to be stored in the cavities of adjacent double walls.
In terms of its external aesthetics and lack of high-theory allusions, it is possible to deny that GoMA's tightly budgeted structure is a twenty-first- century artistic statement. Except – and this is a crucial exception – it incorporates two major external walls of Starphire translucent glass, which allow dynamic light and video shows to transform the prime north-east and south-east corner of the building (as seen from the city and adjacent library). If a proposal to commission American artist James Turrell to create a work for GoMA's opening had gone ahead, then the architecture would have been recognized as providing literally a digital canvas for media art that could regularly be refreshed to suit new occasions and Zeitgeists.
Six years into the third millennium, it seems relevant for an important cultural monument to anticipate a future of being dressed in different, flickering, digital draperies. In a sensible yet technologically advanced way, Architectus has designed GoMA so that it highlights today's shift of conceptual emphasis from mechanistic structures to digitally-enabled cities … from ostentatious architectures to sensory and healthy atmospheres.
And, in respecting a highly detailed and intelligent brief written by gallery experts Doug Hall (director), William Fleming and Michael Barnett, it's one of the world's few examples of an architect-designed public art gallery that's really about appreciating the art, rather than usurping it.
Images: John Gollings
Credits
Architect

Architectus Brisbane
Brisbane, Qld, Australia
Project Team

Kerry Clare, Lindsay Clare, James Jones, John Norman, Adrian Esdaile, Ali Johnston, Alison Brookbanks, Aurelio Marano, Barbara Flynn, Belinda Pajkovic, Blair Johnston, Britta Siggelkow, Christine McLennan, Darrin Rodrigues, Deirdre Coffey, Felix Winter, Geoffrey Way, James Jones, James Pilcher, Jason Jondreau, Jason Tsai, Jiang Bo Wang, John Jeffrey, John Norman, Kathy Kralj, Kerrie Campbell, Leonardo Arias Galarz, Mark Curzon, Martin Chan, Michael Harris, Petrina Moore, Renee Clare, Richard McEwen, Richard Travis, Rodd Perey, Rosemarie Gidaro, Sandy Strazds, Sarah Blacker, Simon Zou, Stefan Van Moll, Stuart Murchison, Thilo Nuessgen, Valeria Buccheri, Vanessa Gribben, John Grealy, George Saldais, Ian Thomas, Clark Ingram, Keith Allen, Allan Rielly, Michelle O'Leary, Ray Smith, Jon Percival, Michael Ray, Ashley Beckett, Chloe Comino, Peter Roy, Caleb Smith, Kirstin Tocker, Mark Medcalf, Clair Keleher, Liz Park
Consultants

Accessibility consultant Disability Access Consultants
Acoustics Bassett Acoustics
Building services WSP Lincolne Scott
Cinema technical consultant dBLux
Construction manager Lend Lease
Environmental engineer Built Ecology (previously Advanced Environmental)
Fire engineer WSP Lincolne Scott
Geotechnical Arup
Landscape Edaw
Landscape concept design Stutchbury & Pape Landscape Architecture
Quantity surveyor Rider Hunt
Signage dotdash
Structural, civil & facade engineer Bornhorst and Ward
Wurlitzer restoration/installation consultant Tonal Resources

Site Details

Location Brisbane, Qld, Australia

Project Details

Status Built
Category Public / commercial

Source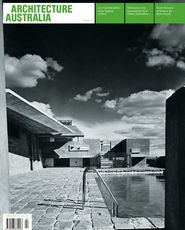 Issue
Architecture Australia, March 2007
Related topics