The recent conversion of the historic Goods Shed North at Melbourne Docklands rises like a phoenix from the ashes, a renovation of a building that had been derelict for thirty years. An abundance of architects have been involved – the base building conversion was by Elenberg Fraser Architecture, the fitout by BVN Architecture, and Lovell Chen was the heritage architect. You can still see what they started with – the southern half exists unchanged, split from the northern half with the construction of the bridge that extended Collins Street and opened Docklands to the city grid. Unapologetically, the building is a shed built in 1889 using a system of mass-produced components: lightweight wrought-iron roof trusses, heavy cast-iron columns and brick outer walls. Arranged in three top-lit bays, the central one is larger to form a kind of nave with aisles. Few people today would disagree that the sheds are beautiful. Though to get a sense of how they might have been viewed by people 120 years ago, think of the industrial precincts that skirt our cities today, places like Dandenong, filled with utilitarian sheds. "When you're working in such a beautiful shell," says Ninotschka Titchkosky, principal of BVN Architecture, "you don't have to throw money at things like you might in a typical office building. It already had atmosphere – we just had to enhance it, achieve functionality and make sure the bits we put in work with it."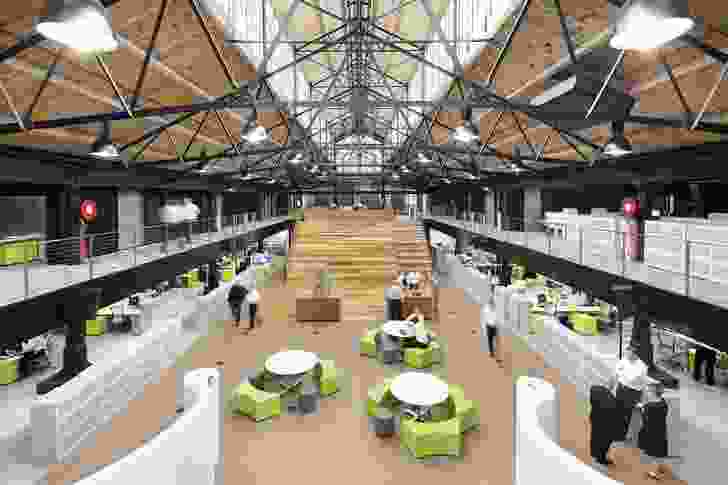 It had space and light, but definitely not thermal insulation. The first tenant to sign up was VicUrban, and it was prepared to pay developer and builder Equiset the extra rental premium to achieve a 5-Green-Star base building and a 6-Green-Star interior. The base building achieved a 5-star rating partly because of extreme measures like an onsite gas-fired electricity generator, called "tri-generation." VicUrban was closely followed by the Victorian Building Commission and Plumbing Industry Commission, which opted for a 5-star rating in its northern section of the building.
What makes all this environmentally sustainable design so much more impressive is that it was all done within stringent heritage controls. There was a requirement to maintain views down the length of trussed roof, and a stipulation to keep the external fabric intact – no new penetrations. The first constraint required any partitions to be glazed above truss-level, a tricky thing to achieve and to coordinate with mechanical services. The ductwork for the chilled beam radiant cooling panels, for example, had to penetrate double glazing. A further complication was that the ten-year plan for the site is as a shopping centre, not offices. This means that the airconditioning plant needed to be divided across the building, rather than in one centralized location. This blocked windows and meant Green Star points were lost for daylight and views.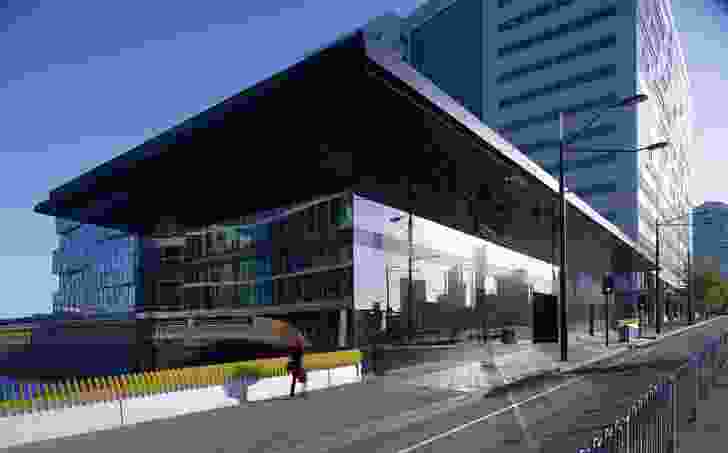 To get six Green Stars in the VicUrban fitout, there could be no more than 15 percent built space added to the interior. To achieve this, a landing to the stair doubles as the ceiling of the library. Indoor plants are arranged in vertical "walls" to double as partitions. Perforated metal screens around offices slide on tracks and don't go to full ceiling height, thereby avoiding being counted as "built space."
A lantern building by Elenberg Fraser creates the entry from the Collins Street bridge. BVN makes the most of the drama of entering from up high and descending to the work space. The fitout makes full use of the width and height of the space, leaving the central area open to function as an internal meeting and public presentation area with tiered seating. The unusual absence of external views and the abundant top-light creates a private, secluded working space, focused yet relaxed. Both companies were willing to change their organizational structures to suit the old shed – the unique fitout made the task of persuading staff to switch to open-planned offices much easier.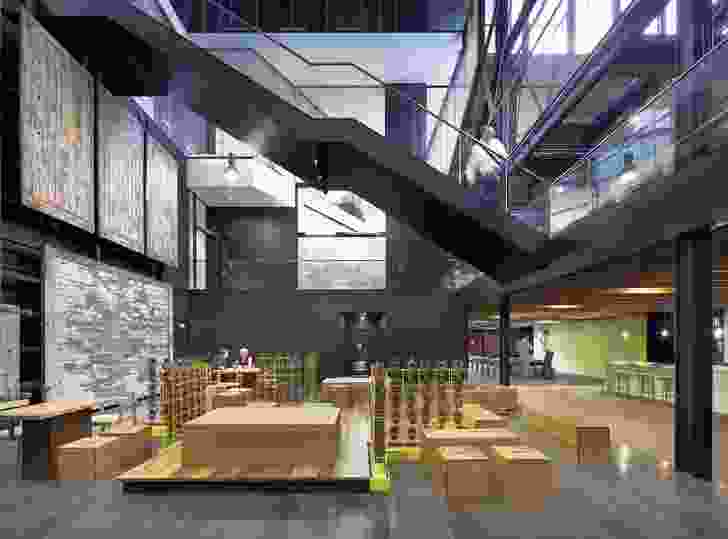 Separate design teams within BVN handled the VicUrban and BC/PIC designs. The BC/PIC space is slightly narrower because the whole east bay was reserved for retail and hospitality facing the side street, and BVN's response to this was to emphasize the verticality. This time entry is from the ground floor – Elenberg Fraser's canopy hovers low, an inversion of the lantern on Collins Street. BVN installed meeting rooms in the form of two-storey towers, each with a different expression. The "tree house," for example, is clad in timber.
Nineteenth-century industrial remnants, the Goods Sheds have become a quirk in the Docklands – their generic utility an oddity. The project pushes where the profession needs to push hardest – at existing building stock. But is there also a lesson here for new building design? Bays of identical section, repeated over an incredible length – 385 metres before it was split by the roadway. "It's the kind of building that can lend itself to lots of different functions," says Titchkosky. "The success of the project was the result of like-minded people who came together to revitalize a goods shed. Everyone played their part." And credit is also due to the Victorian Railways architects, for their flexible building design all those years ago.
Credits
Fitout design practice

BVN Architecture
Melbourne, Vic, 3000, Australia
Consultants

Base building architect Elenberg Fraser
Base building services and ESD Norman Disney Young
Builder Equiset
Building surveyor Gardner Group
Developer Equiset
Heritage architect Lovell Chen
Structural engineer WSP

Site Details

Location Docklands, Melbourne, Vic, Australia

Project Details

Status Built
Design, documentation 6 months
Construction 23 months
Category Interiors
Type Workplace

Products and materials
Walls and ceiling

Panelwall demountable partition systems. Recycled Messmate. Woven Image Echopanel. Low VOC paints.
Doors

Panelwall solid core timber doors. Criterion double-glazed doors. Gunnebo security gates. Lockwood door hardware. Reflex polyester film applied graphics.
Flooring

Bolon flooring. Whitecliffe Fletco carpet. Bluestone paving.
Lighting

Herman Miller Leaf lights. Catellani & Smith Stchu Moon. Louis Poulsen AJ table lamps. Vibia Sigma floor lamp.
Furniture

Formway Life task chair from Zenith. Wilkhahn Aline stackable chairs and trolleys, and Confair tables. Catifa chairs and Dizzie tables from Stylecraft. Mark Tuckey furniture. Toro chair, Tangier, Stealth metal storage and vertical garden walls from Schiavello. Coast ottomans and sofa from Jardan. Icon stool from Living Edge. Vitra MVS from Unifor. Groove, Transformer and Kaak tables from Interstudio. AC tables from Koskela. Laminate lockers from Interlock. Shelving from Rack & File. Cobra bike racks.
Kitchen

Electrolux refrigerators. Fisher ∞ Paykel refrigerators and dishwashers. La Cimbali coffee machines. Smeg microwave. Stuart icemaker. Lanco oven. Abey sinks. Dorf Kytin taps. Häfele waste bins.
Credits
Project Team

Ninotschka Titchkosky, Trudy-Ann King, Kylie Robinson, Megan Ronnfeldt, Peter Richards, Nikhat Karim, Alice Chow, Alice Penna, Priyanki Sharma, Kate Grenville
Consultants

Acoustic engineer Watson Moss Growcott
DDA Morris Goding Accessibility Consulting
Design practice BVN Architecture
ESD and services Aurecon
Project manager Basso Project Management
Quantity surveyor Rider Levett Bucknall – Melbourne

Site Details

Location Docklands, Melbourne, Vic, Australia

Project Details

Status Built
Category Interiors
Type Workplace

Products and materials
Walls and ceiling

Recycled Messmate. Dulux low-VOC paints.
Floors

Ontera carpet. RC∞D carpet. Neoflex rubber flooring. Designer Rugs.
Lighting

Tolomeo table light supplied by Artemide. Temperature Design Tripod floor lamp.
Furniture

Miles side chair and 050 Conference chair from Schamburg + Alvisse. Vitra Joyn workstations from Unifor. Horizon lounge, Barri chairs, Flynn and Sabi tables from Jardan. Eames furniture from Living Edge. Smooth tables from Corporate Culture. Freefold screens, planters and storage units from Planex. Formway Life chairs from Zenith. Johan Larsson shelving from Anibou.
Kitchen

Smeg microwave. Fisher ∞ Paykel dishwasher and refrigerator.
Credits
Project Team

Ninotschka Titchkosky, Trudy-Ann King, Megan Ronnfeldt, Ulrike Bauerle, Peter Richards, Nikhat Karim, Peter Bonfig
Consultants

ESD Sustainable Built Environments
Project manager Russell Harvey
Services Meinhardt

Site Details

Location Docklands, Melbourne, Vic, Australia

Project Details

Status Built
Category Interiors
Type Workplace

Source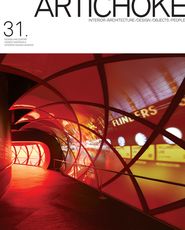 Issue
Artichoke, June 2010
Related topics