Housing developments play a major role in Singapore's economic growth. With 7,500 inhabitants per square kilometre,1 Singapore is close to twenty times denser than Sydney.2 Today, around 82 percent of Singaporeans live in high-density public housing estates.3 Strong economic growth in the mid-1990s, spurred by the government's support of private housing development, attracted foreign talent and fuelled a rapid increase in the number of private luxury residential developments. The scarcity of land, low tax benefits and an increasing demand for housing catapulted prices to an average of US$800 per square foot.4 In 2013, faced with a hot and highly speculative market and the danger of a real estate bubble, the government introduced measures to cool the market – increasing buyer's stamp duty, raising the minimum cash down payment for second or subsequent loans to 25 percent and tightening loan-to-value limits on housing loans for second or subsequent properties.5
In December 2013, the Singapore economy recorded a 2.6 percent average rate of inflation.6 However, the housing market seems to have reached a plateau in its eleven-year cycle. The Urban Redevelopment Authority estimates another 95,000 private units will be on the market in the coming five years, which could cause the private vacancy rate to rise from 5.6 to 9.9 percent.7 The possibility of residential property market improvements in the next two years is rising, with a forecasted decrease in housing prices of between 5 and 15 percent. How, then, can architects design for this saturated market of premium condominiums?
Architects in Singapore face the challenge of designing for a densely populated city with a harsh tropical climate, and local firm WOHA Architects specializes in modern tropical architecture. Using a mixture of open spaces, cross-ventilation, green facades and design elements that could be called "tropical baroque,"8 WOHA co-founders Richard Hassell and Wong Mun Summ weave buildings into the landscape and fuse interior and exterior spaces. Lush hanging green gardens, wide open spaces, staged void decks and a degree of spatial porosity bond the tropical context to the contemporary architectural forms, producing permeable, leafy buildings that WOHA calls "breathing architecture."
WOHA's innovation in resort and hotel design can be seen in its designs for the Alila Villas in Uluwatu, the Alila Villas in Bintan and the Intercontinental Sanya Resort in Hainan. The firm's recent hotel project, Parkroyal on Pickering, explored ideas of an urban resort. But can we see a similar influence in WOHA's latest residential project?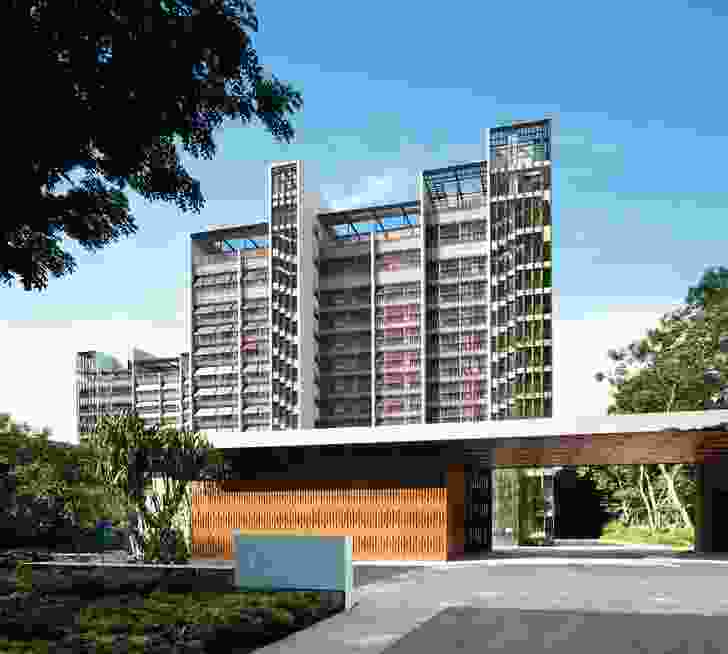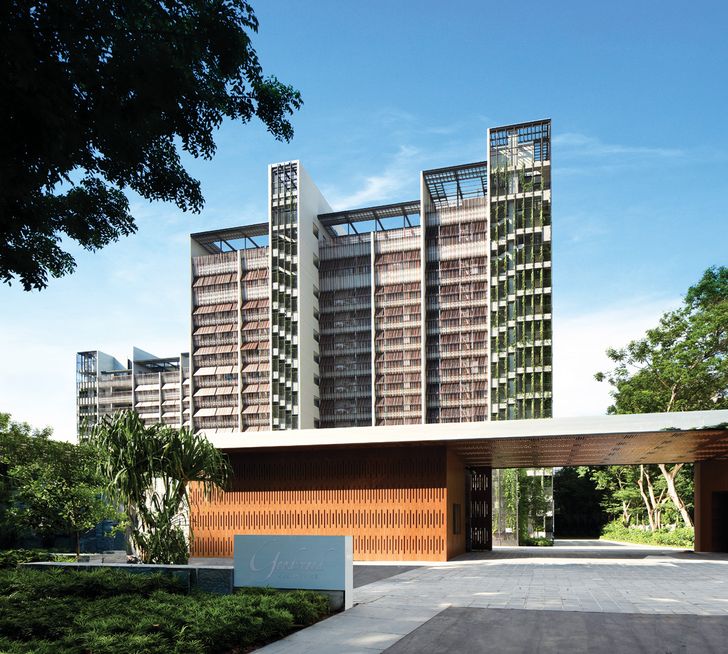 Goodwood Residence is a stacked, modular design. WOHA's expertise in resort design has been translated into a residential complex – an urban representation of seclusion that masters the boundaries between public and private, function and features. In a prime location on 261 Bukit Timah Road, the condominium is five minutes from Orchard Road and fifteen minutes away from the Central Business District. Mun Summ says the building "was intended to set new standards for environmentally conscious design with seamless integration between nature, humanity and architecture."
Two interlocking L-shaped buildings embrace 2.5 hectares of tree-planted lawn. Each of the 210 units, ranging in size from two to five bedrooms, is afforded a visual connection with the neighbouring Goodwood Hill, a 20-hectare site typified by colonial-style black-and-white bungalows and spacious grounds. The twelve-storey residential blocks, slightly offset from one another, feature a series of courtyards and green signature walls. The site borders a tree conservation area and many of the existing trees from the site have been retained, creating a park-like oasis for the development. The landscape also extends vertically, rising 1,700 square metres up the building to serve as natural insulation for sunshading as well as an acoustic buffer from the noise of traffic on the busy Bukit Timah Road.
Entering from the main road, access is along a promenade that extends towards the reception and drop off zone. A wide walkway covered with a Miesian roof weaves through lush landscaping and water gardens and provides welcome privacy, while Luis Barragán-inspired linear stone walls and layers of green lead residents on a tropical journey.
A generously scaled manicured lawn, an Olympic-size swimming pool and a clubhouse are located at the heart of the ensemble. The two-storey, porous facilities building is the backdrop of the area and creates a focal point for the pool deck, playground and surrounding landscape. Tropical plants, raw stones and water features surround private dining terraces and a private spa, gym and club lounges. Working in collaboration with landscape firm ICN Design International, WOHA has used these features to foster a calm respite from the frenetic energy of a modern city.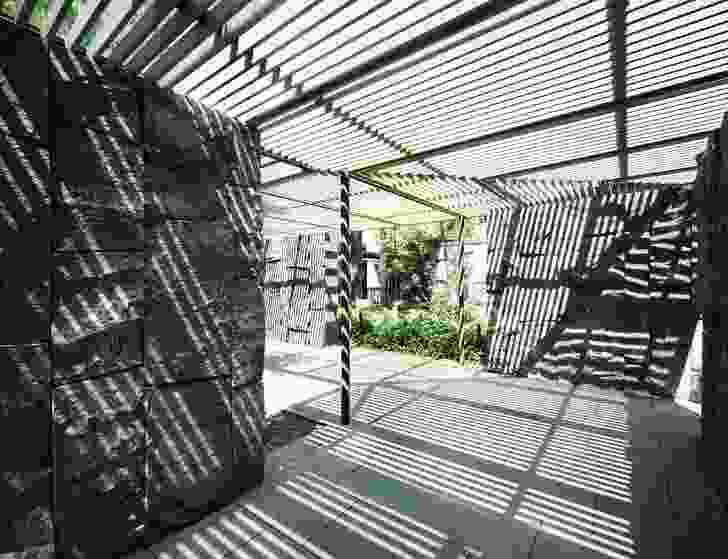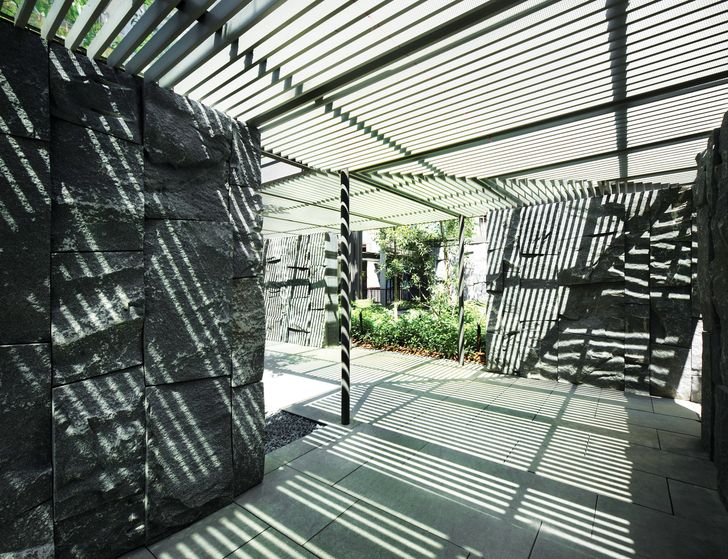 Twelve storeys house up to eighteen units per floor. The main structure is built using cross-wall construction with columns. Two apartments share one core with private elevator access. Ground-floor apartments exhibit elements of WOHA's Alila Villa designs: extra high ceilings, a private mosaic pool and generous outdoor timber decks. Sliding gates dissolve the boundaries between private and semipublic space and allow exterior and interior living spaces to coexist in the broader landscape.
Fifteen apartments on the second and third floors are connected to raised conceals. Conceived as treehouses, these decorative cabanas provide complete privacy overlooking the central lawn while offering relaxing lounge spaces in the lush treetops. Apartments on the upper floors have wide balconies. High-end interior finishes such as silver travertine in the main living areas, American walnut flooring in the bedrooms, floor-to-ceiling glass in the bathrooms and stainless steel in the open kitchen areas combine to offer an expression of luxury living equipped with all the latest conveniences.
Tropical architecture requires porosity for natural insulation. A thin cross-section of permeable exterior covering enhances cross-ventilation and makes mechanical ventilation almost redundant. Buffer zones provide sunshading, water features serve as evaporative cooling and vertical gardens on the facade provide a comfortable living environment with a constant breeze flowing through a porous and perforated building style. Courtyards allow light to flood into the underground parking.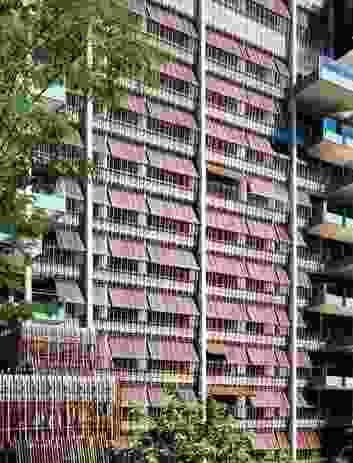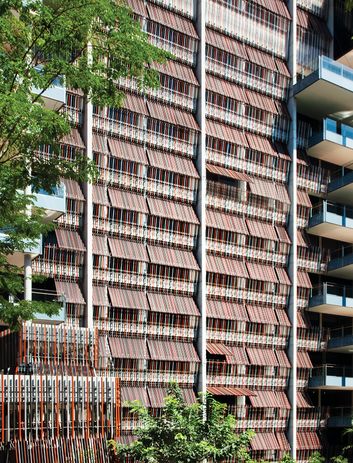 Custom-designed folding solar shutters on the windows are individually operable. Glimmering grilles of 220-centimetre-long strips of 25- by 75-millimetre aluminium sections refine the polychrome inner envelope of the building. Like side-by-side pick-up sticks, they function as sunshading devices when closed and frame the panoramic views when open. The facade becomes a kaleidoscope of ever-changing images, appearing as three-dimensional calligraphy drawn on fine woven textiles. Enveloped by a preserved landscape of trees and manicured lawns, the large building starts to lose its scale, becoming part of a shifting decorative pattern. Due to building regulation codes, the double-storey penthouses break the homogeneous regularity of the sunshading devices on the facade. These penthouses feature Euro Grey tinted glass in response to the building code on thermal performance and ensure the units comply with Singapore's Residential Envelope Transmittance Value (RETV), achieving the highest Green Mark facade rating.
Decorative cladding and wallpaper-like architecture dominate Singapore's current lifestyle architecture. WOHA breaks free from this trend, taking us away from the typical apartment template by interweaving greenery, tectonic layers and porosity with spatial elements – in the process rewriting the chapter on mass-produced real estate. And yet Goodwood Residence is also an influencer. Its straight and clear lines, less flamboyant than WOHA's earlier works, offer discreet luxury and total privacy for the more expensive end of the market. With an average construction cost of US$3600 per square metre, about 60 percent of the units were sold at the time of writing. The project has won the Green Mark Platinum Award from the Building and Construction Authority of Singapore thanks to its zero building waste concept, rainwater harvesting system and vertical green walls, among other notable features. With a strong architectural strategy, the design of Goodwood Residence successfully pushes the boundaries of tropical modernism and contributes more to the discussion of urban housing in a high-density tropical city than just the standard offerings of sustainability and optimized functionality.
1. The population density of Singapore is 7540 residents per square kilometre, according to the Singapore Department of Statistics (data collected 2013). www.singstat.gov.sg/statistics/latest_data.html#14 (accessed 25 February 2014).
2. The population density of Greater Sydney was 380 residents per square kilometre, according to the Australian Bureau of Statistics (data collected June 2012). www.abs.gov.au/ausstats/abs@.nsf/Products/3218.0~2011-12~Main+Features~New+South+Wales (accessed 25 February 2014).
3. The estimated percentage of the Singapore resident population living in Housing Development Board (HDB) flats for the 2012–13 financial year was 82 percent. Household data compiled by the Housing Development Board. www10.hdb.gov.sg/eBook/AR2013/keystatistics.html, page 5 (accessed 22 December 2013).
4. "Singapore Real Estate Highlights December 2013," research report by Knight Frank, 4 December 2013, 4.
5. "Additional Measures to Ensure a Stable and Sustainable Property Market," Inland Revenue Authority of Singapore media release, 11 January 2013.
www.iras.gov.sg/irasHome/page03a.aspx?id=14342 (accessed 20 January 2014).
6. "Consumer Price Developments in November 2013," Monetary Authority of Singapore. www.mas.gov.sg (accessed 23 December 2013).
7. Analyst at Barclays Tricia Song, quoted in "Singapore home prices could fall 20 percent by 2015: Barclays," CNBC website, 27 September 2013, www.cnbc.com/id/101067872 (accessed 13 January 2014).
8. Florian Schätz, "A new tropical baroque?" in d+a design architecture issue 047, December 2008 – January 2009, 70–74.
Credits
Architect

WOHA
Singapore
Project Team

Richard Hassell, Wong Mun Summ, Pearl Chee, Goh Soon Kim, Alan Lau, Cheah Boon Kwan, Hong Feng Lin, Kwong Lay Lay, Balaiyan Sivakumar, Shandy Loh, Anapat Chanadisai, Su Zheng Mei, Zhou Yubai
Consultants

Acoustic consultant Acviron Acoustics Consultants
Civil and structural engineer DE Consultants
Contractor Poh Lian Construction, Lian Beng Construction
Electrical and mechanical engineer Rankine and Hill Singapore
Facade consultant Aurecon Singapore
Interiors Miaja Design Group
Landscape consultant ICN Design International
Lighting consultant Lighting Planners Associates
Piling Ryobi-Kiso
Quantity surveyor WT Partnership
Signage Duet Design

Site Details
Project Details

Status Built
Category Residential
Type Apartments, Multi-residential

Source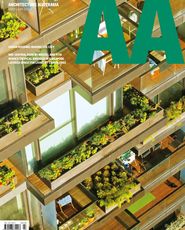 Issue
Architecture Australia, May 2014
Related topics