The Gordon Street Garage, designed by Sydney and Melbourne-based firm Foolscap Studio, is a new venture for seasoned restaurateurs Nic Trimboli, Graham Arthur and Daniel Godsell. Its reuse of a former auto mechanic site in West Perth has merged its inherent industrial qualities with European ideals of the home, in an energetic, intimate interior.
On the fringe of Perth's CBD, West Perth is a mixed-use area characterized by an eclectic combination of semi-industrial, residential and commercial uses. Adapting a disused garage at 16 Gordon Street, Foolscap Studio, working in close collaboration with Trimboli and his team, focused on West Perth's industrial characteristics and the notable influx of European immigrants to the suburb in gold-rush times and again post-WWII. This emphasis underscored the restaurant owners' longstanding relationships with local producers and suppliers, many of European background.
The Foolscap team wanted to create a place that connected with memories of suburban homes and backyard vegetable gardens as well as industrial heritage. The site had once served as the Blue Seal chocolate factory and later, Kings Park Auto mechanics. The designers were careful to retain indications of these previous uses, a layering of functional narratives interpreted through design. The front facade was stripped back to reveal the Blue Seal logo and the original mezzanine level was left intact. Elements of the auto mechanic's garage were retained, including the concrete floors and two-tone blue stripes on the walls.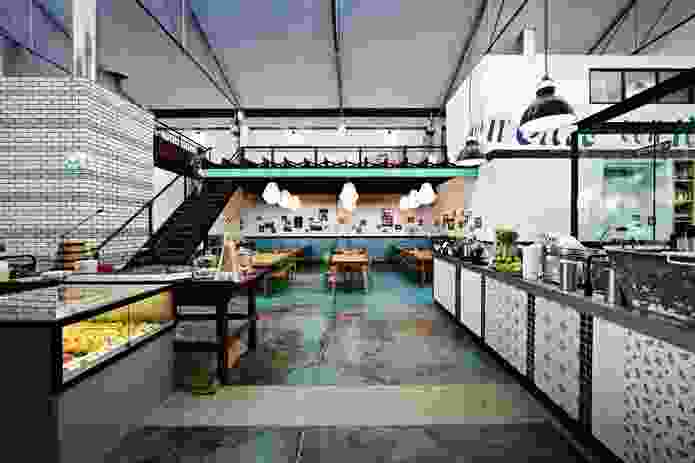 Original workbenches were reused, and the jarrah floorboards repuprosed for ceiling joists, skirting and wall linings. Foolscap designer Kate Archibald says the elements "lend a feeling of warmth that can only comes through the subtle effects of age." A sign with the motto "do it once, do it right" seemed appropriated cladding for an upstairs office.
The airy interior volume has been 'zoned' for different modes of dining, each evoking a subtle difference in atmosphere. Front of house provides a "common room," with small tables, stools and a communal dining area for a fast-paced, drop-in/drop-out dynamic. Prominently positioned as you enter, the folded zinc bar is ornately clad in an assemblage of European-inspired, hand-painted tiles in blues and white. The adjacent area provides high bar-style seating, which seems perfect for friends gathering for drinks and a bite to eat on the weekend.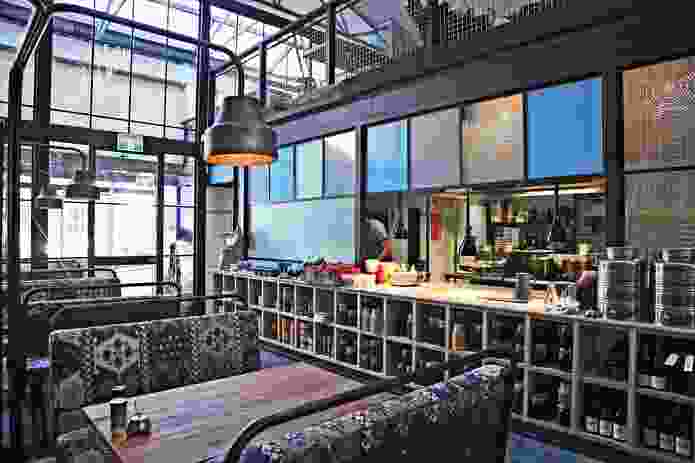 Back of house accommodates an open area of bus seats, suited to lively group dining. Collaborating with Justin Lamont of Life Space Journey, Foolscap Studio custom-designed the industrial wax-steel wall lights and pendants. The upholstered seating, also custom-designed with Lamont, provides the prime conceptual fusion, merging the industrial materiality and manufacture of the steel frame with the handcrafted quality of the Mediterranean-style upholstery.
To the north are small tables with booth seating. This dining area is semi-enclosed under a moody, dropped ceiling constructed from pegboard – a reference to the former garage's toolshed. Splashes of cyan, aqua and cobalt blue lend a lively atmosphere to this open area, as do the bright green bent-steel chairs scattered throughout. A glazed wall framed in steel looks out over a backyard vegetable patch of herbs and edible flowers.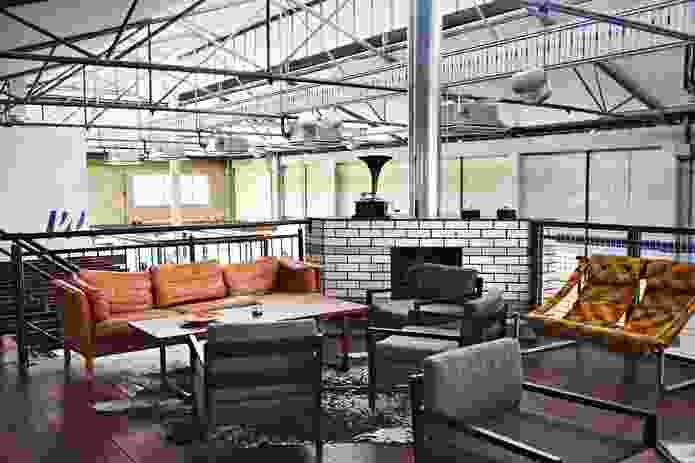 Larger dining tables are arranged under the mezzanine level for families and larger groups. Old family photographs, chosen by Trimboli and his team from the archives of local producers and suppliers, are scattered on the walls, contributing to the domestic atmosphere with a palpable sense of the past.
The fireplace stack extends vertically from the kitchen to the mezzanine, boldly articulated in glazed grey and white bricks. It functions as the chef's pizza oven and a fireplace for guests to enjoy a glass of wine by the hearth, up on the mezannine – where retro lounges in earthy tones and Scandinavian sideboards in golden teak lend an intimate and homely air.
The overall sectioning of dining areas is highly effective but also completely flexible for future needs. The space pulls together spirited gestures to set a tone that is both personal and accessible. Attracting locals and visitors to the neighbouring Perth Arena, Gordon Street Garage has successfully tapped into the underlying qualities of West Perth, and judging by the constant hum emanating from this new space, the community have taken to it well.
Products and materials
Walls and ceilings

Walls, painted in Dulux 'Lexicon Quarter.' Recycled jarrah floorboard, painted in 'Estuary Blue.' Euroa Clay glazed bricks in white and Stein Grey. Graphics by client.
Windows

Vintage graphic films. 3M opaque graphic films.
Doors

Doors by client.
Flooring

Existing concrete flooring. Ecostone Giada honed tiles from Attica Tiles for bathroom.
Lighting

Custom steel lighting by Justin Lamont from Life Space Journey. Porcelain lighting from Dunlin Home. Cumulus pendant by Enoki. Chimney light by Benjamin Hubert from Great Dane. Cloe Morsetto light from Halo Lighting. Ex-army barrack lighting from Angelucci.
Furniture

Custom stools from David Davenport of Illogical Study. Custom tables and bus seat booth by Justin Lamont from Life Space Journey. Amy armchair, Lola sideboard and Tomoe table from Temperature Design. Dining chairs specified by client.
Kitchen

Products supplied by client.
Bathroom

Ecostone Giada honed tile from Attica Tiles. Laminex bathroom partition system in 'Polar White' finish. Custom- designed and made steel and zinc bench.
Credits
Design practice

Foolscap Studio
Melbourne, Vic, Australia
Project Team

Adele Winteridge, Kate Archibald, Linda Raimondo, Alex Cerny, Laura Morteza
Consultants

Builder Gage Roads Group
Project manager John Van Morsell

Site details

Location 16 Gordon Street, West Perth, Perth, WA, Australia
Category Commercial / public buildings, Interiors
Type Adaptive re-use, Bars and cafes, Restaurants

Project Details

Status Built
Design, documentation 6 months
Construction 7 months

Source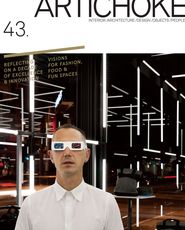 Issue
Artichoke, June 2013
Related topics