When entering the offices of GPT Group in Sydney, there are two things that immediately grab your attention. The first is that view – situated in the Harry Seidler-designed MLC tower in the centre of Sydney, letterbox windows show the city laid out in all its glory. The second is an impressive sculptural stairway that curves over three floors, snaking its way through the void in white and timber, and replacing the ubiquitous reception desk as the focal point of the fitout. But, while the interior architecture, by Woods Bagot, packs visual punch, the look of the place is underpinned by two important factors: a commitment to the environment and an impressive change management program.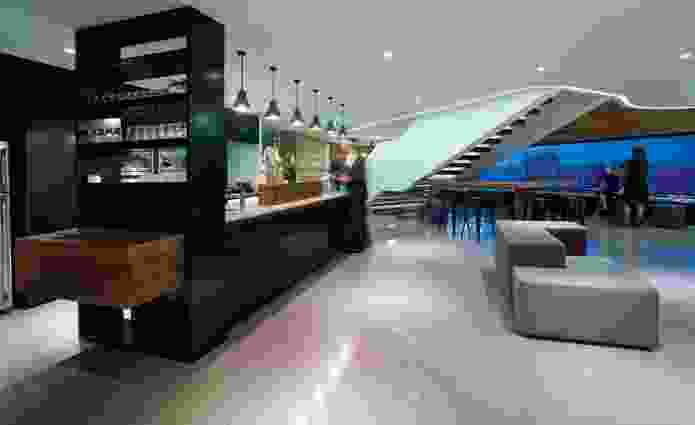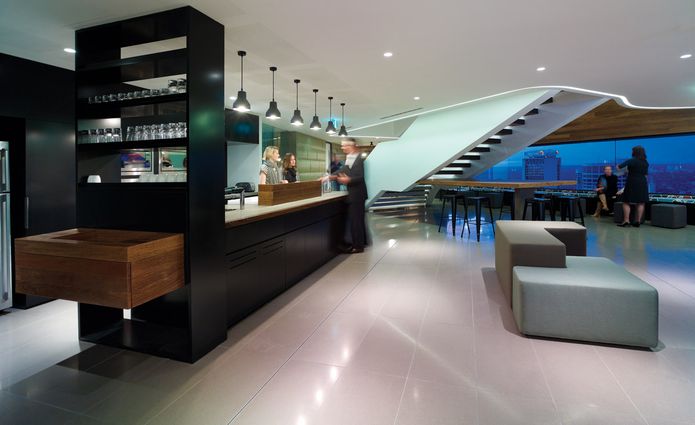 When GPT Group's lease in the MLC building was about to run out, it had the choice to either leave the building altogether or consolidate its staff (who at the time were spread over a number of floors) into a new tenancy on levels 50, 51 and 52. The company chose the latter and, rather than simply pulling out the existing fitout and starting afresh, it made a commitment to reuse as much of the existing fitout as possible with an aim of zero landfill. Timber panelling in the old interior was stripped, stained dark and used in joinery. Office chairs were reupholstered and regassed, Zip HydroTaps were refurbished. In fact, 80 percent of all waste created was either reused or recycled. Meanwhile, all new materials specified were sustainable, reused or recycled. Other ESD benefits included the use of off-site IT server rooms; chilled beam systems; low VOC in construction, paints, carpets and adhesives; twelve-and-a-half litres per second of fresh air (50 percent higher than is required by Australian standards); and a new computer-based lighting system resulting in 70 percent less energy usage.
"We found a home for every piece of furniture and finish existing – from door hinges to door glass," explains Robert Hitchcock, project manager and GPT Group development manager. Amanda Stanaway from Woods Bagot adds, "All the timber panelling that was in the old fitout was taken off site, stripped, restained and reused in all the joinery. It's part of GPT's commitment to zero landfill – it was extraordinary. Typically I don't have clients who commit to that level of detail."
Rather than thinking of this as a new build, or even as a re-fit, GPT Group chose to dub this a "reinvigoration" – and it was as much about changing the staff as it was about changing the environment. Rosemary Kirkby, head of sustainability at GPT Group and expert in the changing workplaces since her work on Campus MLC with BVN in 2001, was in charge of this process. MLC-based employees were surveyed and the findings were used to identify "key areas of focus" for the new workplace. An aspirational brief was developed by Woods Bagot and technology was used to completely shift the way the workplace is set up. Each employee now has a locker and uses the workplace like a club – they might have their favourite place to sit, but they do essentially select their own work setting every day. There are a variety of meeting spaces, from formal, corporate spaces on the top floor to more casual spaces near the auditorium, and from quiet rooms or media centres to informal open areas for impromptu meetings. This variety of meeting spaces up and down the stairs is called a "meeting tree." Stanaway explains: "It's all about layering. There's always an interstitial space outside the meeting room – the best way to learn anything is to repeat it when you walk outside. It's prevalent in education environments but not prevalent enough in workplaces. People aren't confident enough to say I didn't get that."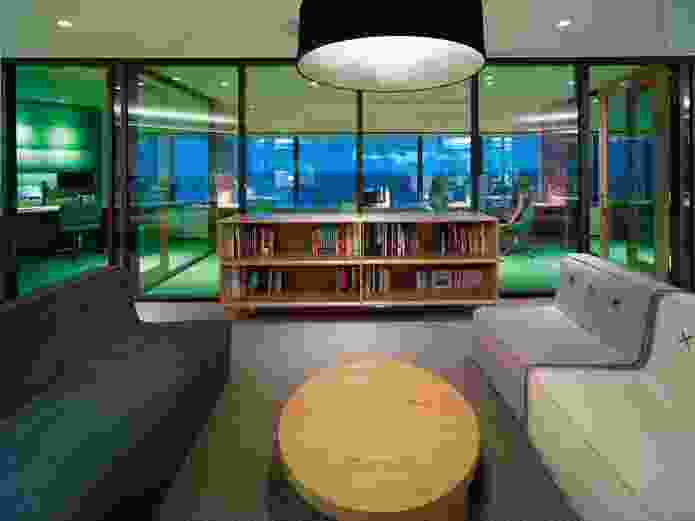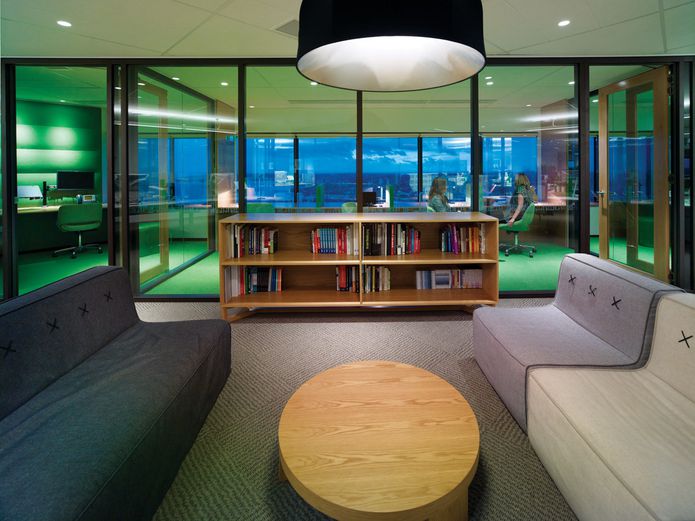 And this is not "hot desking" – the system goes much further than that, enabled by the technology shifts that are in constant development. GPT Group has embraced the latest. For example, if staff take their laptop to a workstation, they can plug in their monitor, keyboard and mouse with one USB key. They can use the interactive whiteboards and wireless internet to record meetings immediately, rather than having to go back and type it up afterwards. "The technology has caught up with the work we were doing ten years ago," explains Kirkby. "Once you put in the effort to learn how to use it, the technology is so liberating."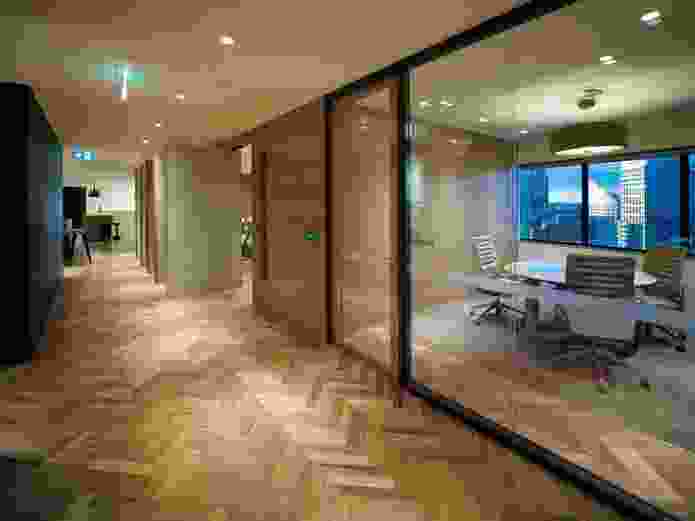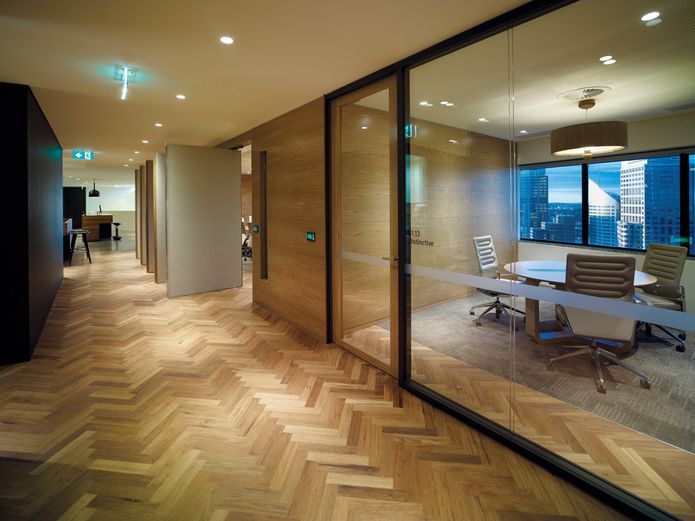 Another liberating factor is getting rid of paper. Because staff could potentially be moving every day, each worker is responsible for getting rid of about four lineal metres of paper. GPT Group made it a fun activity for staff, staging a challenge they called "The Biggest Loser."
But back to those stairs and to Woods Bagot's challenge of creating a contemporary workplace in a 1970s building. Designed by Harry Seidler, the MLC Tower was the tallest building in Australia when it was completed in 1978. Only using 20 percent of the site and needing to build around existing train lines, Seidler created an irregular octagon, meaning an unusual floor plate. But despite the challenges, Woods Bagot chose to celebrate the building, stripping back to the original structure in places. "This building has an amazing pedigree," says Stanaway. "We were keen to reveal the concrete structure – it's not wholly beautiful but it reminds me that it's one of the first concrete buildings of its type to be built in this city." At sixty-seven floors, another challenge is that the ceiling heights are relatively low.
To solve this problem, Woods Bagot set about carving into the ceilings in some places, letting in light and a feeling of space. In others places, such as the auditorium, ceiling elements have been added to create drama.
These interventions add to the layering effect, and the shapes created are a direct reference to the curves found in the lobby of the building. "It's that Harry philosophy of gouging out shapes," says Stanaway. "The ceiling references those shapes in the lobby."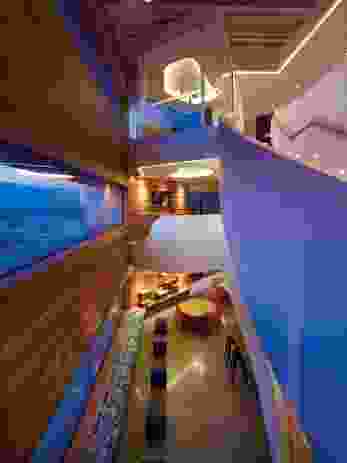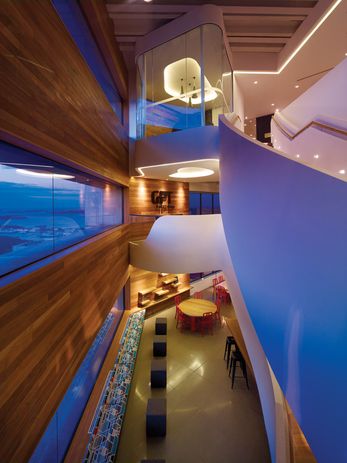 This is also the direct inspiration for the shape of the main stairs at the north-east facade, which reveal a number of interesting vistas and shapes as you move through the different floors. They lend a sense of monumental scale and a grandiose vision, certainly something to "wow" GPT Group visitors, whether they are led upstairs for a corporate meeting or tenants – small business owners who prefer the relaxed setting of the open breakout space on the lower level. Another way of getting through the space, this time created for the staff, is via a second set of stairs at the south-east facade. They have been created for the "bump factor" of collaboration through chance meetings – Woods Bagot calls it the creative link.
For Woods Bagot, the team's experience on this project was of a company that has gone out of its way not only to create a sustainable project, but also to create something as radical as two sets of stairs within the existing MLC tower. Let's just say GPT Group was not your usual client. "For us to do a three-floor void twice in one space is crazily ambitious," says Stanaway. "What's unique is the commitment to having two stairs – one at the front of house and one at the back – on such a small floor plate. Plus, GPT was committed to staying in its own building and creating a six-star project. It's a mammoth task."
Design Statement
Spurred by a vision to design a workplace that is more business lounge than office, the new working environment allows for business growth and optimizes performance by providing task-orientated wireless and technologically enabled spaces, allowing employees to utilize a range of settings – from concentrated private spaces to collaborative and project-specific settings, coupled with a broad range of meeting rooms.
Key to activating the workplace was creating a three-dimensional stack that would promote cross-group communication. Two stairs have been introduced into the floor plate at the north-east and south-east facades – one as part of the client experience to create a multi-layered meeting tree, and the other as part of the collaborative work zone, the creative link. The stairs are integral to the design as they promote interaction and allow employees the feeling of being part of "their community," but also linked to the wider organization. This connection is enhanced by the use of technology, allowing the GPT home base to link to other satellite sites and a key component of their business: the shopping centres.
The design responds to cues in the building by expressing existing forms and materials, and exposing the building's concrete structure. The front of house pod forms are extruded from the base building Nervi structure, and the sinuous language of the stair references forms created within Seidler buildings. This language is extended throughout the fitout, and is revealed in the grid ceiling, with flowing forms being juxtaposed against the rigid geometry of the floor plate.
True to GPT's core values is a strong interface with community and a commitment to the environment. Components from the former fitout that were reused and recast into the new include recycled timber joinery, reclaimed from the dark timber panelling; re-gassed chairs; and a stripped-back ceiling revealing the original, Seidler concrete ribbing.
—Woods Bagot
Products and materials
Walls

From Supawood, Van + Sans EchoPanel from Woven Image. Operable walls from Dorma. Modular North Tiles screen from Kvadrat Maharam.
Ceiling

Ceilings from Hunter Douglas, CSR, Rondo suspension.
Finishes

Recycled timber from Australian Architecture Hardwoods. Eco Core timber from Global Ventures Australia. Timber veneer from Briggs Veneers. Upholstery fabric from Sustainable Living Fabrics, Woven Image, Kvadrat Maharam, Instyle, Contemporary Leathers, Hugh Meagher. Laminate from Laminex, Halifax Vogel.
Doors

Hardware from Barben, Briter, Centor, Hafele, Halliday Baillie, Lockwood, Madinoz, McCallum Aluminium, Raven.
Furniture

Existing Life chair (available Zenith) and Aeron chair (available Herman Miller). Other chairs and stools from Jardan, Living Edge, Schamburg + Alvisse, Unifor/Vitra, K Five, Emeco, Space Furniture, Thonet, Wilkhahn. Ottomans from Koskela, Kubis and Temperature Design. Sofas from Stylecraft and Koskela. Tables from Stylecraft, Koskela, Map International, Living Edge, Corporate Culture, Stylecraft. Storage from Planex, Zuster. Authentics trolley from Dedece Plus. Lockers from Interloc.
Kitchen

Refrigerators, ovens, cooktops and dishwashers from Haier, Harvey Norman Commercial and Williams Refrigeration. Zip HydroTap from Harvey Norman. Oliveri sinks.
Bathroom

Basins from Imperial Ware and Brodware. Methvan shower from Harvey Norman Commercial.
Planters

Dual Top Medium Pots from Frenchams. Woolly Pockets from Koskela.
Credits
Design practice

Woods Bagot Sydney
Sydney, NSW, Australia
Project Team

Sarah Kay, Amanda Stanaway, Allisandra Johnston, Tessa Melick
Consultants

AV & technology integration Peace of MInd Technology
BCA Advanced Building Approvals
Builder and construction manager Buildcorp
Cost consultant WT Partnership
ESD Arup Sydney
Lighting Arup Sydney
Mechanical & environmental acoustics Arup Sydney
Planting Frenchams
Project manager The GPT Group
Structural engineer GCA Consultants

Site details

Location Level 51, MLC Centre, 19 Martin Place, Sydney, NSW, Australia
Site type Urban
Building area 3700 m2
Category Interiors
Type Workplace

Project Details

Status Built
Design, documentation 12 months
Construction 8 months
Website http://www.woodsbagot.com/en/Pages/GPTGroupHQSydney.aspx

Client

Client GPT Group
Website GPT Group

Source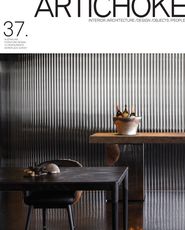 Issue
Artichoke, December 2011
Related topics