REVIEW PHILIP GOAD PHOTOGRAPHY TREVOR MEIN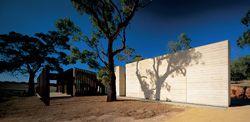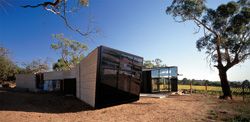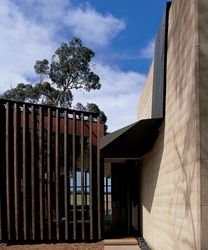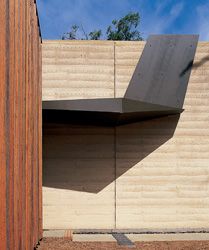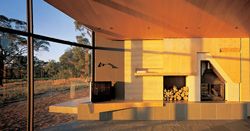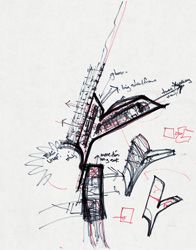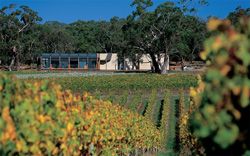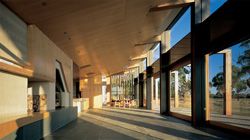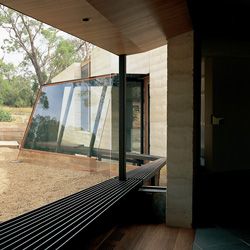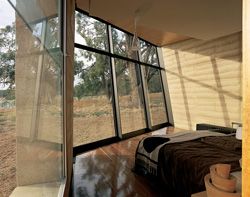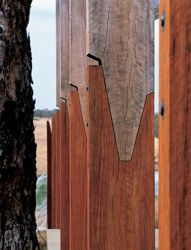 JOHN WARDLE ARCHITECTS' LATEST house joins an ever-increasing list of distinguished residential designs on the Mornington Peninsula, Melbourne's equivalent of the far reaches of New York's Long Island or Boston's Cape Cod. All three are stretches of land to escape the metropolis. Not necessarily warm places, they are often cold, with wild landscapes at their edges, slashes of rural pasture across their backs, and creeping incursions from suburbia. Sun and wind are carefully negotiated according to the season, and proximity to the sea encourages a relaxed and informal approach to living.
In the past ten years, notable beach houses by John Wardle at Balnarring, Flinders and Portsea; Robinson Chen at Somers; Nonda Katsalidis and Sean Godsell at Rye; Denton Corker Marshall at Cape Schanck; Max May at Portsea; Peter Crone at Mount Martha; and Greg Burgess at Flinders and Red Hill have completed another cycle of the Mornington Peninsula as a laboratory of high quality residential design. This follows on from 1950s houses by architects like the late John and Phyllis Murphy, McGlashan and Everist, Chancellor and Patrick, Guilford Bell, Neil Clerehan and Robin Boyd; the 1930s experimental shacks by Roy Grounds, Best Overend and W. E. Gower; the Griffins' gritty test of Knitlock construction at Gumnuts on Oliver's Hill; and even earlier palatial, or more correctly castellar, exercises by Harold Desbrowe-Annear in the early decades of the twentieth century. All these houses, from the everyday to the elite, are worthy of further study as what one might loosely describe as Peninsula Modern. Boyd coined the label "Peninsula style" in the early 1950s, but today the term suggests affinity with the current rash of coffee-table-style books and overlooks the complex motives – social, economic and climatic – that have determined the nature of this very Melbourne expression of landscape and class.
But this current house is not a beach house (although it might look like one). It is a farmhouse – a homestead, not for a grazing property but for a vineyard. As such, it joins another similarly distinguished list, which emerges from an older tradition – Peninsula farmhouses like Edward La Trobe Batema's Barragunda at Cape Schanck, Desbrowe-Annear and Percy Meldrum's Cruden Farm and stables at Langwarrin, Roy Grounds' Lyncroft at Shoreham, Bates Smart and McCutcheon's St Mirin's at Baxter, and Daryl Jackson's own homestead at Shoreham. However, these are not your everyday homesteads. Built for gentlemen farmers, each house is resolutely picturesque, handsomely detailed and enduringly comfortable. Here one does not find the pioneering and pragmatic spirit of early Australian homesteads lionized in Cox and Freeland's Rude Timber Buildings in Australia (1969) and Cox's later The Australian Functional Tradition (1988). Instead these are houses awash with the dexterous artifice of formalism.
Wardle's Vineyard House is no exception. Its design draws heavy analogy from the nature, form and planting of the cultivated grapevine.
On arrival at this three-bedroom farmhouse, one is immediately aware of an introduced landscape of vines offset against that of random and remnant manna gums and stringy-barks. The house acts as a sculptural interpreter between the two landscapes. A great glazed living-hall is aligned with the rows; its pergola of giant ironbark portals forms one of two major organizing lines of the house's plan. The other major element is a massive rammed-earth wall, also aligned with the rows of grapevines. The robustness of these materials lends a certain visual toughness to the house's exterior – especially the orthogonal pedigreed "root stock" of the open-planned living/dining extrusion. Standing at the granite kitchen bench at the centre of this space, one gets a panoptic view of the landscape with distant views to Mount Eliza. To one's left and right there are linear views along a corridor spine, east to a protected breakfast court and west to the carport to see who is coming home.
Grafted onto the rear is the "cultivar", a fluid piece of young growth (the bedroom wings) that curves sensuously outwards to the east and south-west, with the uppermost growth cut at an angle, as if expertly sliced with a pair of secateurs. Although Wardle describes this through direct analogy with grafting techniques, the making of plan and section through extrusion is typical of his now well-developed design method, explored not just through houses but also in institutional commissions. In this house, however, Wardle terminates his plan and sectional extrusions with a further nuance. He makes the cut at an angle in the vertical dimension (unlike his own house in Kew, where the angled cuts in plan were always perpendicular to the earth). As a result, the internal volume and external form are more dynamic. This change signals a freer and simultaneously consummate control of form that Wardle further translates into detail.
Wardle conscientiously follows the will of his materials: metal folds and bends; timber is spliced and jointed; the mass of rammed earth can be straight or curved. So plate steel is used in place of conventional gutters, gargoyles, pod roofs and bay window frames. The ironbark pergola posts are deliberately "grafted", not just to draw analogy with vines but also to express the organic analogies available to architecture.
Such directness in the application of the "nature of materials" echoes not only Frank Lloyd Wright, but more especially the tenets of the Arts and Crafts.
Nowhere is this sensibility more evident than in the house's interior, which also highlights the project's material excess – in the richness of Golden Sassafras timber veneer to walls, joinery and ceilings, where walls are giant pieces of joinery that might fold to become pieces of furniture like a window seat. In the baronial living-hall, Wardle exposes the workings and venting system of the French iron fireplace. The hearth becomes a sculpted seat/bench/joinery unit of Indian slate, timber veneer, firebricks and rammed earth. The descriptive quality of this fireplace recalls the material intensity of interiors by Charles Rennie Mackintosh, especially his Hill House for Walter Blackie at Helensburgh. This is echoed again in the internal/external window seat of bent steel rods that splays and folds deliciously from an external porch/pod where gumboots and farm shoes can be left into a built-in window seat within a secondary living space/study before the master bedroom.
Detail is a preoccupation for Wardle. In this house that interest reaches a new level of obsession. One could be justified in asking why. A simple answer is because it is possible – given a dedicated builder, Mal McQueen, and devoted clients willing to indulge their architect. Each instance of Wardle's craft also passes the test of usefulness, including the fennel-patterned etched glass between the kitchen and scullery; the curious cut-out in a piece of joinery that reveals laminations of ply and veneer; and the dressing-room unit that folds down to become yet another window seat. There is Ruskinian love and labour here in such work. What luck! But what is now required is the patina of use that will put this artful house to the test, show the investment of its craft and give real warmth to its perfection.
PHILIP GOAD IS PROFESSOR OF ARCHITECTURE AT THE UNIVERSITY OF MELBOURNE.
Project Credits
VINEYARD HOUSE
Architect The collaborative studio of John Wardle Architects—project team includes John Wardle, Andrew Wong, Fiona Dunin, Grant Roberts, Aimee Goodwin, Tarryn Deeble, Zoe Geyer. Fiona Lynch. Structural engineer Gamble and Consentino. Services engineer Foster Heating. Quantity surveyors Prowse Quantity Surveyors.
Builder Melford Constructions.