Brisbane has a new urban cellar door, with a bit of a difference. Green Beacon Brewing Company, Teneriffe's first craft brewery, has taken up residence in a 1940s warehouse in Newstead that has been repurposed by James Cubitt Architects. It's a left of centre project for this practice, whose projects are more typically schools, government buildings and embassy fitouts. Director Paul Chrismas is the brother of one of the brewers, Marc.
Inside the lofty warehouse, the look is industrial and utilitarian with a modicum of style, though it doesn't scream "design." US Navy chairs are arranged canteen-style around recylcled timber tables, while the gleaming stainless steel vats bubble away behind the bar, made from recycled hardwood segments, laminated together.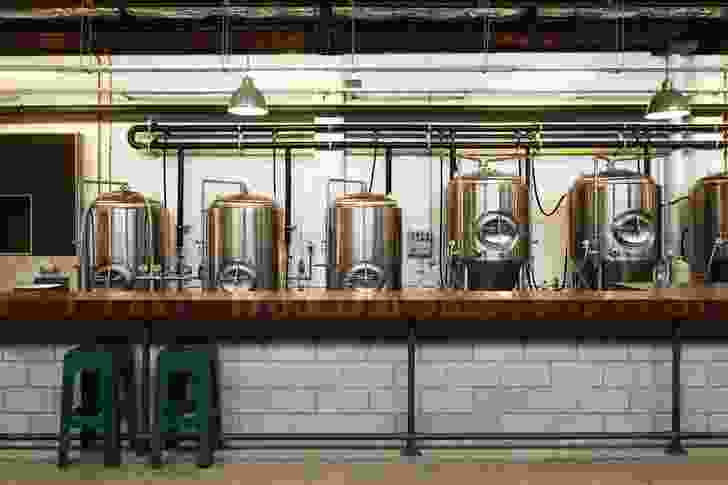 This is where brewer and drinker, publican and patron come together, so the connection between bar and brewhouse machinery was critical, says project architect Mark Tendys. "The bar had to provide enough separation from the public but in a comfortable and engaging way, with the sort of look and feel the boys were after in a place where they could brew, drink and catch up with friends."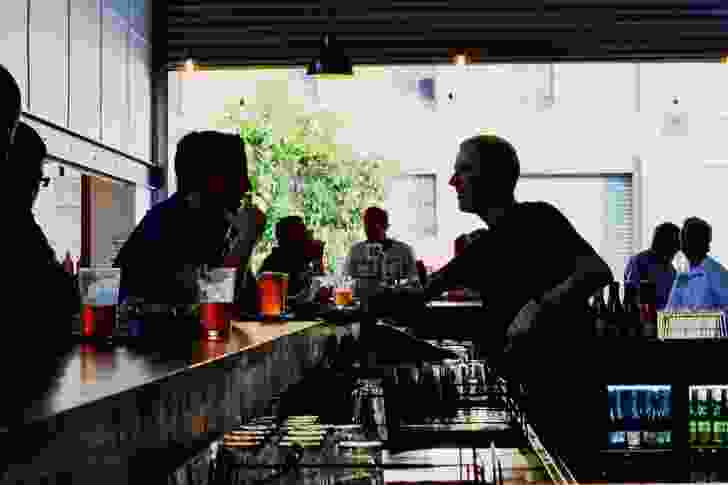 The bare bones of the warehouse gave the architects a voluminous space to start with, with good natural light coming through a long clerestory window. Working to a tight budget and the sustainable philosophy of brewers Marc Chrismas and Adrian Slaughter, the architects have kept much of the original building fabric intact, and have strategically reused certain elements and added new elements of concrete block and plywood. No mechanical ventilation was added, which has provided the fledgling business with a huge upfront saving, and it will reduce running costs down the track.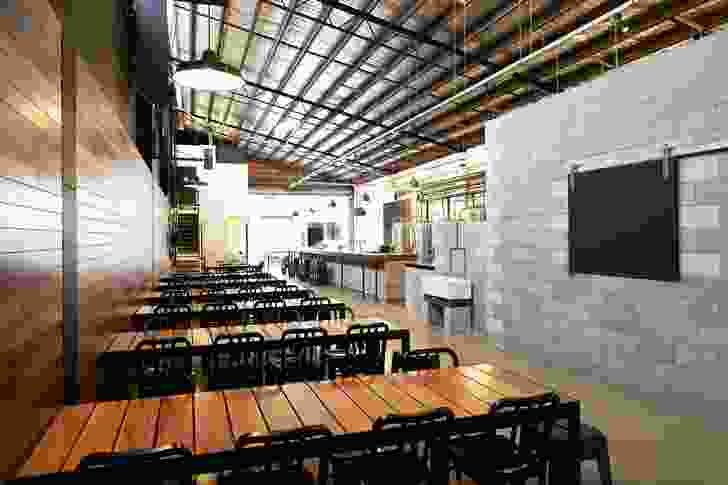 The original warehouse roller door was kept, allowing both a functional loading dock and an enormous framed window to the street. Other recycled elements include the hardwood for the bar, industrial light fittings, hand basins and other fixtures that were found in salvage stores or on eBay. Much of the fitout itself is designed to be dismantled and easily repurposed, making the space more readily adaptable for future uses. It is simplicity and utility personified, with the aluminium US Navy chairs placed around recycled hardwood tables. Even the bottle-green bar stools made for Green Beacon by Sydney collective DesignByThem are 100 percent recycled (and recyclable) consumer waste – mostly milk cartons.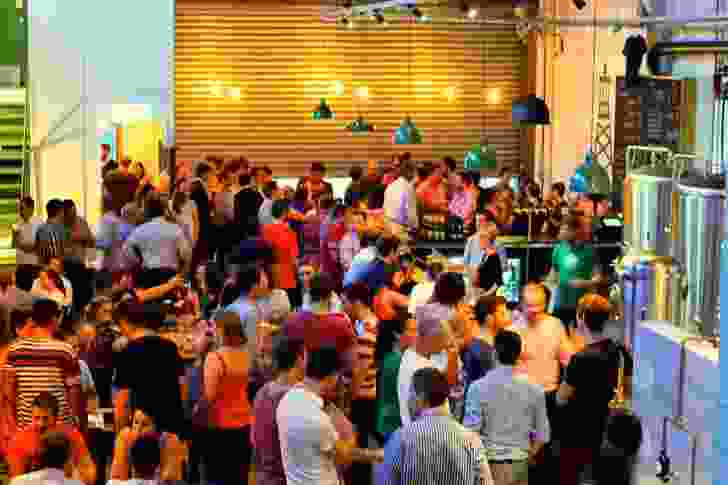 At the bar you can enjoy a pale or amber ale, a kölsch, a wheat beer, or that rich, smooth Porter (think stout), Marc Christmas's favourite. Their brews aren't in bottle shops – yet – though, like cellar doors in the south of France, you can take some home in refillable glass bottles (ask for a "growler" or "squealer" ).
According to Christmas, the brewery is doing well and people enjoy the simplicity of the space, and the chance to learn about the brewing process. Green Beacon also offers a limited menu of oysters, crabs, prawns and biltong from a handful of local producers to enjoy with their fresh brews, but insists it is not setting out to be a restaurant or a cafe. "We don't have a commercial kitchen, but we happen to think that nothing goes better with good beer than fresh seafood. So we serve it as an accompaniment, not the other way around. It's all pretty basic, although we definitely don't serve chips!"
Green Beacon Brewing Company is entered as a Small Project in the 2013 Queensland State Architecture Awards.
Credits
Architect

James Cubitt Architects
Spring Hill, Brisbane, Qld, Australia
Consultants

Builder Box and Co.
Services engineer Green Leaf Engineers

Site Details

Location 26 Helen Street, Teneriffe, Brisbane, Qld, 4006, Australia
Site type Urban

Project Details

Status Built
Category Commercial

Client

Client name Green Beacon Brewing Company
Website http://www.greenbeacon.com.au/

Related topics