The South Australian government has announced the $220 million redevelopment of Adelaide Festival, designed by ARM Architecture and Taylor Cullity Lethlean, will go ahead after it signed two key agreements with stakeholders.
The plaza redevelopment includes a new art space plaza, a new tree-lined avenue along Station Road, a new square with a water feature and arbour structure, a new promenade along the northern edge of the Adelaide Festival Centre (which is also slated for redevelopment, designed by Hassell), and a new pedestrian bridge linking Riverbank Bridge with the new entry to Adelaide Railway Station.
The government released designs of the plaza redevelopment for public comment in January 2016. In response to the public feedback, the design of the plaza will be amended so that the proposed green space will cover one third of the plaza.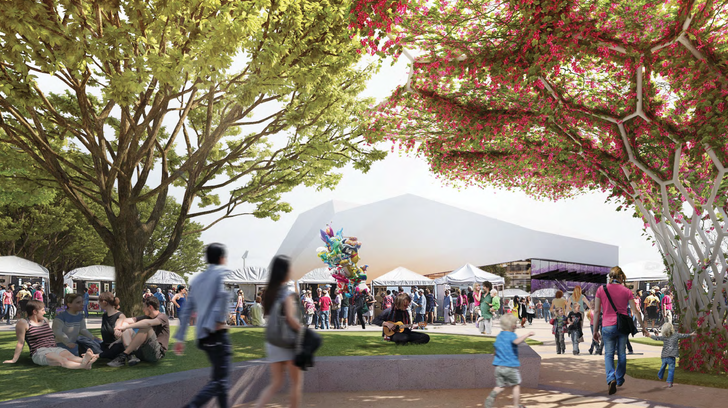 The plaza redevelopment is intended to work in tandem with the proposed expansion of Adelaide casino, which will occupy an existing carpark site currently owned by the government, and a premium office tower, developed by Walker Corporation, located to the south of the plaza.
Last week, the South Australian government formally announced two agreements had been signed. One is with Walker Corporation which will allow for the proposed redevelopment of public space, the office tower, a carpark and retail area from later this year; the other is with casino operator SkyCity which will allow for early works to the lower portion of Festival Drive, separating pedestrians from vehicles.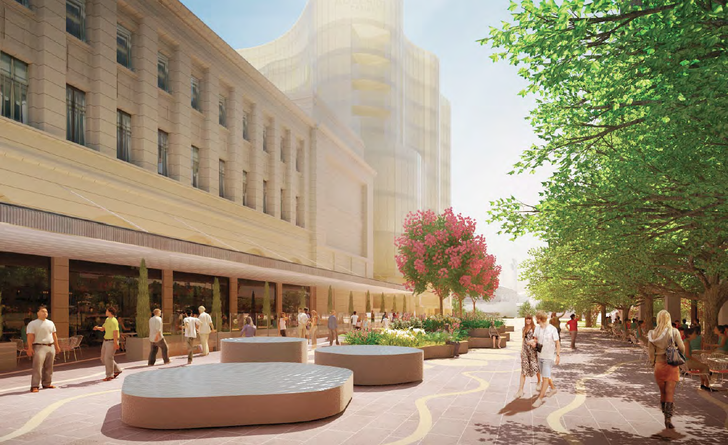 "Reaching these agreements has involved a complex set of negotiations between the key parties – Walker Corporation and SkyCity – as well as a number of other precinct stakeholders, such as the Festival Centre and the InterContinental Hotel," said housing and urban development minister Stephen Mullighan.
The South Australian government has committed $180 million to the redevelopment of Adelaide Festival Plaza including upgrades to the Adelaide Festival Centre. Walker Corporation will contribute $40 million.
The government is now seeking tenders for early works.
Related topics