McGregor Coxall's conceptual designs for a park at the new Green Square development have been approved by the City of Sydney.
The park will be located at the proposed Zetland Avenue, along the "ribbon" of public spaces and buildings. The park will provide a link between the proposed library and plaza by Stewart Hollenstein and Colin Stewart Architects and the creative hub on the old South Sydney Hospital site by Peter Stutchbury. It will also be less than 100 metres from the aquatic centre by Andrew Burges Architects, Grimshaw and Taylor Cullity Leathlean.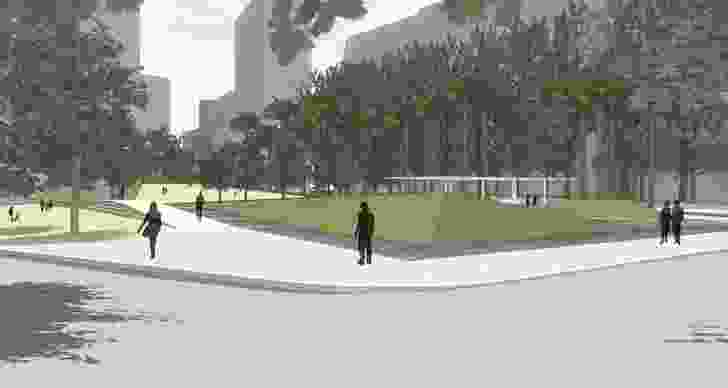 Featuring 6,200 square metres of lawn, stepped terraces, grassed bleachers, and play areas, the park will serve the more than 6,800 residents and 8,000 workers expected for the new town centre. The new park will be part of a $440 million plan for more than twenty parks in Green Square to be built over the next ten years.
Drying Green Park takes its name from the former wool washing industry that once populated the site. Taking advantage of the fresh water flowing through the marshes into Shea's Creek, the once thriving industry processed as much as 800 fleeces an hour. The washed wool would be laid out to dry in the sun, creating a landscape of white, fluffy fleeces.
Construction on the park is expected to take approximately one year and is due to commence in mid-2016, after trunk drainage and remedial works on the site have been completed.
Related topics