Grimshaw has completed a building for the University of Sydney that will act as a new home for the university's administration departments, which have until now been scattered across the campus.
The design of the F23 Administration Building was unveiled in June 2016, along with the design for a teaching and research building to the east by HDR. The two buildings flank City Road and form a "gateway" for the campus.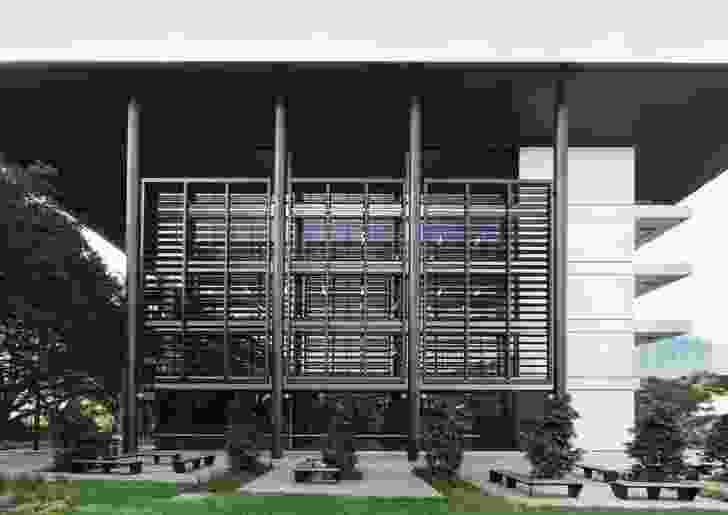 The architects said the building was designed in reference to the masterplanning of the university by architect and founding dean of the university's architecture faculty Leslie Wilkinson, who was himself inspired by an earlier unused masterplan produced for the campus by Walter Burley Griffin in 1915.
Andrew Cortese, Grimshaw managing partner, said, "F23 incarnates Burley Griffin's and Leslie Wilkinson's intention for Eastern Avenue; a park boulevard of pure sandstone, aligned with an ensemble of functionary buildings emerging out of an undulating landscape, composed with axial relationships that give address and prospect over Victoria Park with a distinctive visual prominence to the city."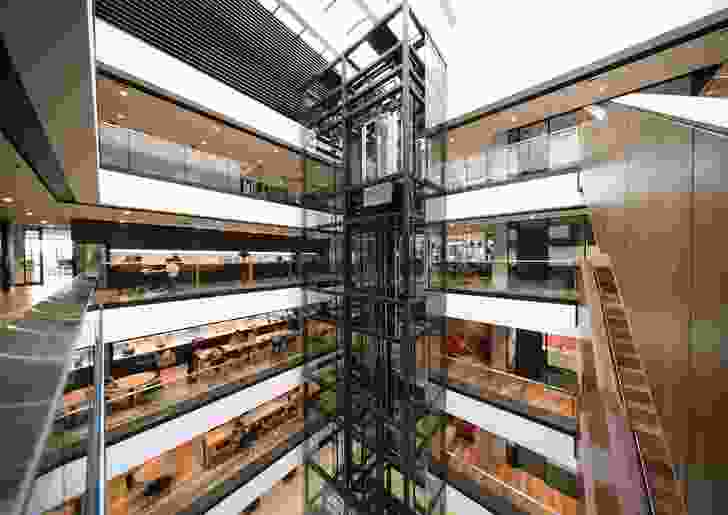 The façade comprises a sober mix of glass and sandstone, with a cantilevered roof. On the ground floor are exhibition and symposium spaces and a restaurant.
Inside is an airy, five-storey atrium, with a stone floor that mimics the plaza outside. Movement between ground level and the upper storeys is provided for through a timber casement staircase and a glass lift shaft, which both float in the atrium void.
Work spaces, which in total accommodate 520 staff, are largely open plan, with all workstations exposed to natural light. Most spaces are highly visible and open to other parts of the building through the atrium.
Michael Spence, the university's vice-chancellor, said, "There was close involvement from the executive team [in the design process] to create a more inclusive and collaborative working environment that enhances the ease of doing business at and with the university."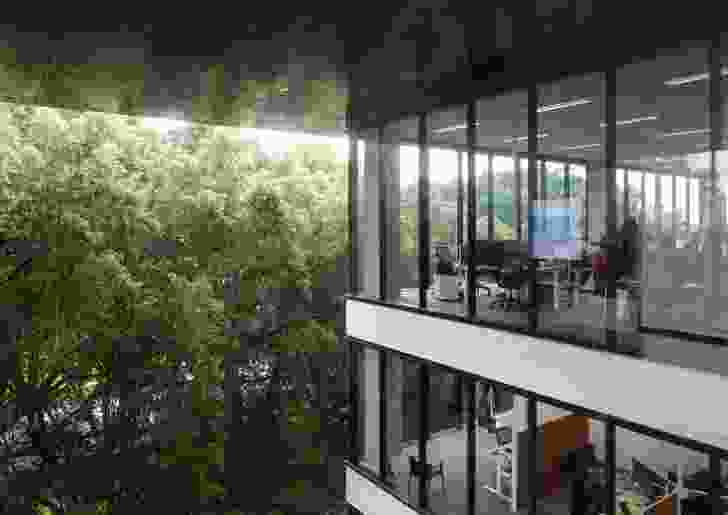 "F23 showcases our cutting edge research and researchers in exhibition spaces and supports in a visible way the University values – openness and engagement; diversity and inclusion; respect and integrity; and courage and creativity."
Related topics