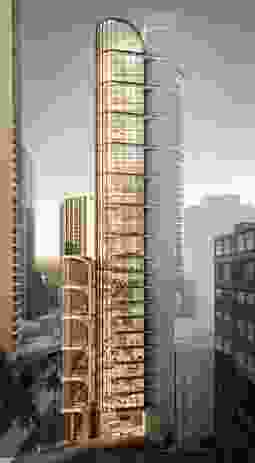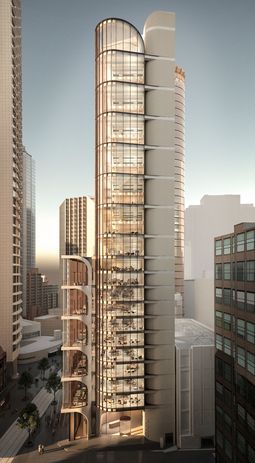 An office building designed with the "millennial worker" in mind, by international practice Grimshaw's Sydney studio, has won an invited design competition for a site in central Sydney.
The 26-storey office tower, to be located on a compact site at 210-220 George Street, will be surrounded by significantly taller buildings once complete. The architects responded to this context by introducing a two-storey, volumetric approach that maximizes natural light.
At lower levels, pairs of floors will share double-height terraces that will arch and cantilever over George Street. The upper levels will have double-height volumes within the office spaces themselves. The tower will be topped by a room with a vaulted ceiling intended to reference the form of the Sydney Opera House.
Andrew Cortese, managing partner at Grimshaw, said, "Sydney is uniquely placed to attract and retain 21st century talent, we see the opportunity to create a leading-edge workplace that inspires the day-to-day working lives of its occupants, enlivens the public realm and adds vibrancy to city life."
The Grimshaw-designed tower, if approved, will join several developments designed by high-profile and international practices slated for the precinct bounded by Alfred, Pitt, Dalley and George streets (APDG) south of Circular Quay. The tower's neighbours will include a 25-storey hotel by Kengo Kuma and Associates and Crone that features a "pixelated" built form, a 57-storey residential tower by Kerry Hill Architects, and a 263-metre office tower by Foster and Partners.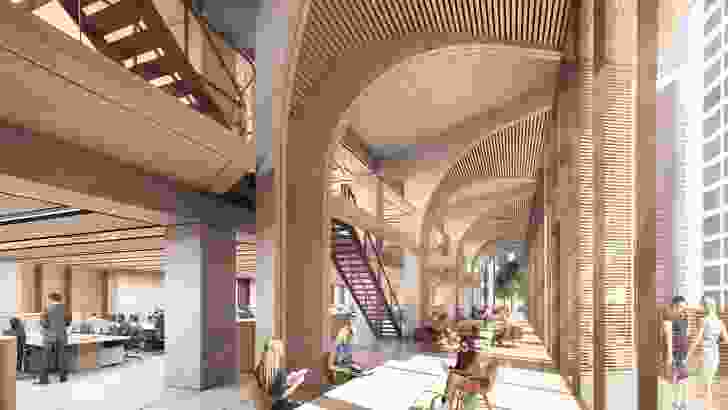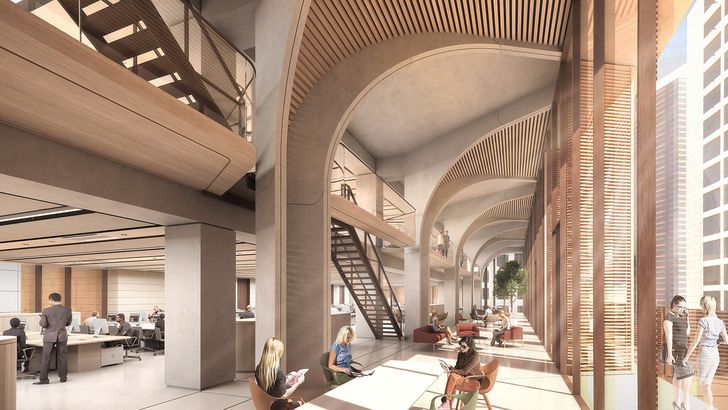 "With the addition of the light rail extending from Circular Quay along the George Street civic spine as well as the planned developments at Circular Quay, there exists within the northern CBD the opportunity to make a financial and creative hub of global significance for Sydney," Cortese said.
Grimshaw is also responsible for the design of station shelters with a family of elements along the under-construction Sydney CBD and South East Light Rail line, which pass by the proposed office tower.
Related topics