Grimshaw to design three new outer Melbourne stations
The Victorian government has announced that Grimshaw Architects will design three new train stations as part of the Mernda Rail Extension Project.
The project will extend the South Morang line in Melbourne's northeast. South Morang is currently the last station on the train line. It is expected that more than 8,000 passengers will use the new stations daily.
Wood Marsh will complete the line-wide design, including corridors, line-side infrastructure, pedestrian bridges and overpasses and a track overpass. Tract Consultants has been appointed as landscape architect.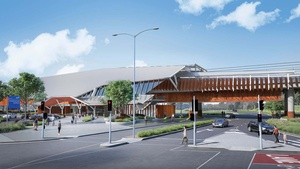 The $600-million project will provide eight kilometres of line between South Morang station and Mernda, a premium station at Mernda integrated with the proposed Mernda Town Centre and two further stations – Marymede and Hawkstowe – three rail bridges and two underpasses, and a train stabling yard at the end of the line in Mernda. 
The project also includes cycling and pedestrian paths and improved bus connections, as well as bike storage and up to 2,000 new car spaces.
The form of the stations was inspired by the traditional Australian homestead and features a folded roof. 
"We wanted a much more integrated typological form," said Neil Stonell, a partner at Grimshaw.
The design augments the forms of traditional farmsteads, verandahs and roofs to be responsive to the views and paths of arrival and movement.
"We've ended up with a [roof] form that is simplistic, conceptual and very responsive [to the] area and is integrated very closely with the line-wide design approach," said Stonell.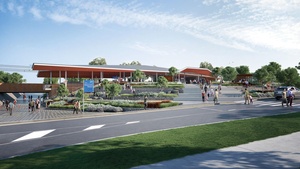 "The relationship between station form and landscape is a lot more important" because the stations "sit in a different environment than a lot of the much more urban stations," Stonell continued.
Grimshaw associate Matthew Hutton said the project will involve "reusing some of the materials from the site, such as felled trees" in "the landscape, fencing and other kinds of landscape elements within the stations."
"There's also reuse of some of the rock that comes out of the site. The area is quite prominent with basalt and we integrate some of the basalt into the rock wall, and that's included both as a veneer and in the landscaping within public areas," Hutton continued.
Construction of the Mernda Rail Extension will begin in 2017 and trains are expected to be running on the new line by early 2019.