In the heart of Sydney's Castlereagh Street the redeveloped Legion House in the new Liberty Place precinct stands as an elegant study in good taste and refinement. Grocon's Sydney office sits across the top two floors of Legion House, with a fitout that is as stylish and carefully considered as the heritage building's overall refurbishment. This is not your typical builder's office, especially when words like "glamorous" and "luxurious" are the first descriptions that come to mind. But then again Kerry Phelan Design Office (KPDO) would probably not be a typical choice for most builders when it comes to designing their own workplace.
For Grocon, however, this is what convinced them that KPDO was the right design firm for the job. "The practice has done a lot of work in the hospitality sector and that's the look and feel we wanted," says Grocon's New South Wales general manager Chris Carolan. "We wanted something that has a sense of warmth – almost akin to a boutique hotel." KPDO nailed this brief and the client's design directive has been applied successfully across the two-level office's intimate interior. The result is a relaxed aesthetic that feels more like a friend's home than a corporate environment.
The question of what the office should look like was important from the outset, particularly when dealing with how to best demonstrate Grocon's brand. Finding the balance between modesty, luxury and accessibility was crucial. "The trick was not going all-out 'masculine and industrial' because we were designing an office for a building company," says KPDO principal Kerry Phelan. "We steered well away from that and the outcome is kind of luscious." In keeping with the design firm's signature hospitality style, KPDO placed particular attention on beautiful finishes and details in the project.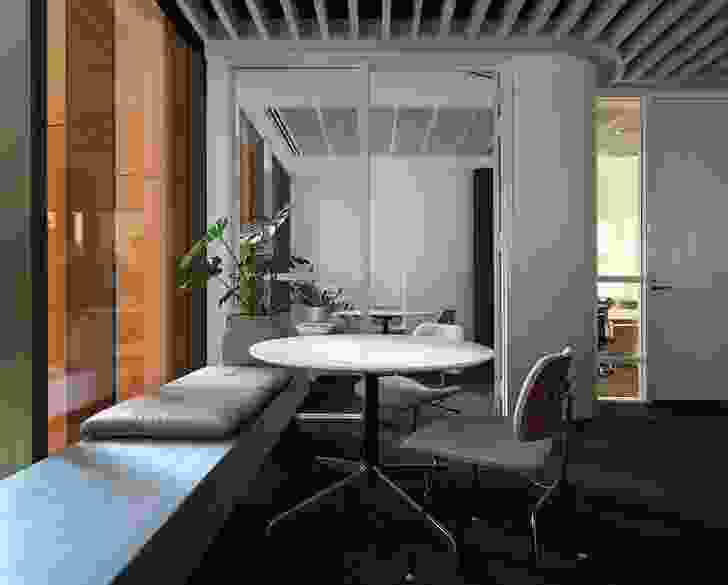 An element of comfort is emphasized throughout the office, finding its most overt expression in the reception area. The choice of furnishings here is unexpected and visitors are likely to be pleasantly surprised upon arrival; the impression is high-end without being pretentious. "What we wanted to do was bring in furniture with provenance," says Phelan. "We felt it was very important to have signature pieces in there." The rich caramel of the leather sofa, the deep red of the velvet chair and the olive green of the inset rug make for a deliciously appealing colour palette. The custom-designed joinery behind the reception desk features a near-black finish, which offers a strong yet refined focal point and a partition between front-of-house and back-of-house.
This same astute attention to detail is applied throughout the studios and meeting rooms, although with far more restraint. In the boardroom, the meeting table may be a bespoke show stopper and the curtains metallic in sheen, but the effect is not over-the-top. This is the room, after all, in which money is discussed and so a certain degree of subtlety is exercised.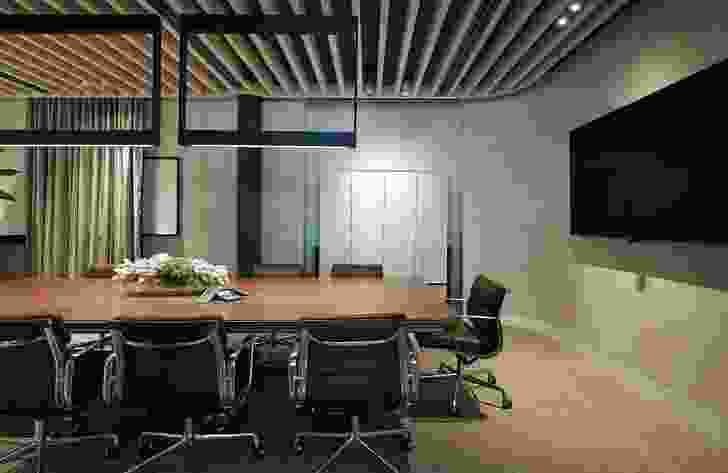 Given the site's modestly sized floor plan, functionality is key. KPDO essentially treats both levels as a series of cohesive spaces to aid efficiency and comfort. Curved walls add a sleek design flourish to the overall fitout – ultimately it's a clever device intended to make each space appear larger than it actually is. The studio's open plan also contributes to this impression and the egalitarian workstations minimize visual fuss and distraction, making the sunlight-drenched studio spaces as accessible as possible.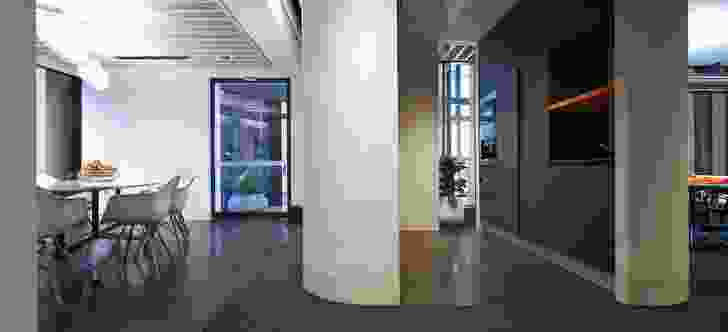 The design's most resounding feature is the slatted timber ceiling beams, which are as striking as they are functional. Spanning the entirety of each floor, they hide the light fixtures and speaker system, while giving the chilled beam cooling system the required airflow needed for operation. The slatted timber beams provide visual cohesion, uniting each of the interior's spaces, and also highlight KPDO's sensual material palette.
KPDO has been deliberate in making sure no one feature overshadows another. "The design has personality, but there's also a neutrality to everything," says Phelan. "And when a design is neutral you can bring in another colour or another piece of signature furniture and it will still work." The trick was to make all elements of the design come together in a harmonious way; Grocon's lease is for ten years and longevity must be considered.
While the design presents itself as timeless, its inherent flexibility is wonderfully generous on the part of KPDO. Companies and people do change, after all, and so pre-empting shift and movement is just part of good workplace design. Maintaining a level of comfort also means allowing for growth and development in the most practical sense. "Grocon is becoming known as an Australia-based developer rather than just a Melbourne-based builder," says Carolan. "The lushness of this design shows our commitment to this space, which demonstrates a commitment to Sydney in the long term."
Products and materials
Walls and ceilings

Ceiling and walls throughout use Ecolour Eco Living interior paint in low-sheen finish to match Dulux 'Vivid White.'
Windows

Window treatment by Blind and Drape Store.
Doors

Olivari internal door hardware from Bellevue Imports.
Flooring

Tretford general carpet. Reception features Artoz Rugs custom inset carpet. Medoc timber floorboards used in general front-of-house area from Will Winspear at Listone Giordano.
Lighting

In general, lighting is Tube Starr surface-mounted LED downlights from Inlite. In reception, lighting is Pedrera Ana black perforated pendant from Gubi. Workstations use suspended beam LED light from Linea-Lite. Meeting room uses Louvre light from Established & Sons.
Furniture

Arflex Marenco sofa from Poliform and De Padova Bergère chair from Dedece in reception. Herman Miller Eames armchair from Living Edge in green rooms. Herman Miller Aeron chair from Living Edge in workstations.
Kitchen/bar

Liebherr integrated refrigerator and freezer. Castagno Grigio Chiaro joinery from Lamicolour. Flexo Rubber Flooring studded tile in 'Ocean Black' from Signature Floors.
Bathroom

Calacatta joinery from Signorino. Duravit Vero undermount sink from Candana. Brodware City Stik hob-mounted basin mixer from Candana.
Other

Herman Miller shared planter in workstation from Living Edge. Coloured Dip pot plant and Aztec pot plant from Pop & Scott. Custom concrete planters and custom joinery throughout by KPDO.
Credits
Design practice

Kerry Phelan Design Office
Melbourne, Vic, Australia
Project Team

KPDO team
Consultants
Site Details

Location Sydney, NSW, Australia

Project Details

Status Built
Design, documentation 8 months
Construction 4 months
Category Interiors
Type Workplace

Client

Client Grocon
Website grocon.com

Source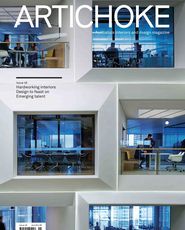 Issue
Artichoke, March 2014
Related topics