The Greater Sydney Commission has released a draft amendment of its 40-year vision for Greater Sydney and the first 20-year draft District Plans for public comment.
Titled Towards our Greater Sydney 2056 (TGS2056), the 40-year plan focuses on creating a metropolis of three cities: The Western City, the Central City and the Eastern City, with each conceived as 30-minute cities.
The Eastern City is the current Sydney CBD, which provides financial and professional services, financial technology, and is the health and education hub. The vision for Greater Sydney is to see the Central City (currently Parramatta) take on a similar role by 2036 and by 2056 have the Western City (around the proposed Western Sydney Airport in Bagerys Creek) as a trade, logistics, advanced manufacturing, tourism, health, education and science hub.
The plan aims to tackle what it has identified as Sydney's biggest challenges. It sets a "5-10 percent target for affordable rental housing for low and very low income households in all new development in new urban renewal and greenfield access areas across Greater Sydney," but it is not clear whether this would be subsidized.
The plan also includes a green grid of parks, waterways, tree-lined streets and cycling paths, and the designation of a "collaboration area," where different levels of government and sometimes the private sector and landowners could work together.
An online interactive tool called the Greater Sydney Digital Dashboard will also be developed to monitor the growth and changes in Greater Sydney.
The Greater Sydney Commission is an independent organization funded by the NSW government, which coordinates and aligns the planning that will shape the future of Greater Sydney. The Commission took over planning decisions from Sydney's 41 local councils and was established in late 2015, at the same time Sydney's six districts were defined.
At a community briefing on 21 November 2016, Lucy Turnbull, chief commissioner of the Greater Sydney Commission, said: "Our vision is for Sydney to be composed of three great cities within Greater Sydney, so that it becomes the kind of global Sydney that is home to a mix and variety of places […] that have within each of them the essentials of liveabiity, housing choices, smart jobs, great schools, open spaces and facilities."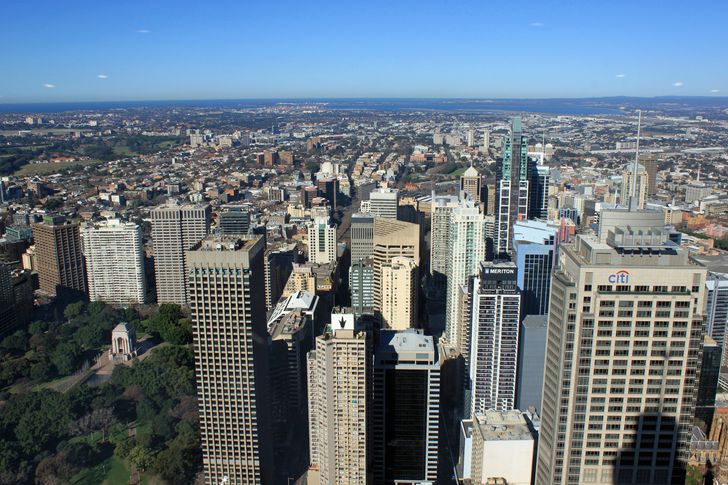 The draft district plans have been developed for each of Sydney's six districts: Central, North, West Central, West, South West and South. The plans provide the means for the current Greater Sydney Region Plan, A Plan for Growing Sydney (released in December 2014), to be put into action at a local level.
A key focus in TGS2056 is to bring economic and employment benefits to the West and South West Districts via the Western Sydney Airport at Badgerys Creek, which is being delivered by the Western Sydney City Deal.
The federal government's City Deals aim to drive national priorities tailored to local needs. Through these partnerships, the Australian government works with state, territory and local governments to develop collective plans for growth and commit to the actions, investments, reforms and governance needed to implement them.
Through the Western Sydney City Deal, confirmed in October 2016, the federal and NSW governments have agreed to work with local government to deliver additional infrastructure investment to increase public transport and reduce traffic congestion, deliver more jobs closer to homes and services, increase housing and streamline approvals and support clean air, green spaces and arts and cultural initiatives.
"What Western Sydney Airport does is give Western Sydney a chance to agglomerate globally significant jobs for the precious kids and grandkids that are going to be growing up in this area so that they all don't have to get in their cars or we don't have to build train lines to the same capacity to bring them into our Eastern City," said Geoff Roberts, deputy chief and economic commissioner of the Greater Sydney Commission.
"If we have an extension of the base case of where people live and where people work, this city's going to clog to a halt in the next 20 years or we're going to subject future generations to suboptimal outcomes in terms of social and economic outcomes."
Data in the plans appears to confirm the findings of a 2014–15 federal government report, which revealed that a social and economic divide was appearing in Australian cities based on geographical proximity to the city centre and a concentration of high-wage jobs and services in the CBD.
The 2014–15 State of Australian Cities report found that "Australia's cities are now increasingly characterized by the significant spatial divide between areas of highly productive jobs and the areas of population-based services, reflected through the price premiums associated with houses that have better access to the city centre."
The GSC reports that 904,500 jobs (37 percent of all Greater Sydney's jobs) are currently located in the Central District compared with 133,100 jobs (5 percent of all Greater Sydney's jobs) in the West district.
Currently the West District and South West District have the lowest percentages of residents with bachelor degrees, at 11 percent and 10 percent respectively. In the Central District 27 percent of residents have bachelor degrees and in the North District 28 percent.
TGS2056 is on public exhibition until the end of March 2017. Submissions can be made via the Greater Sydney Commission website.
Related topics