Ha Architecture, Product and Environment in collaboration with Ben Sibley has designed a pavilion for Shimmerlands festival at the University of Melbourne's Parkville campus.
The two-month-long festival features an outdoor cinema and stages for live music, bars, an open-air food court and social activities.
The pavilion, designed with the assistance of University of Melbourne graduates, houses a bar and a seating area.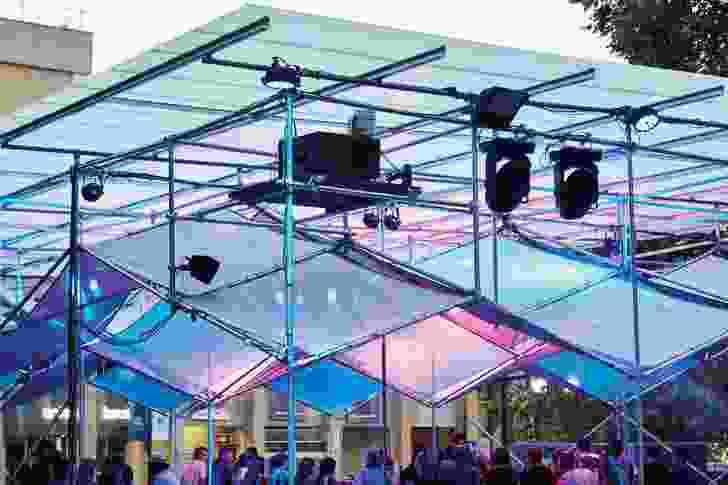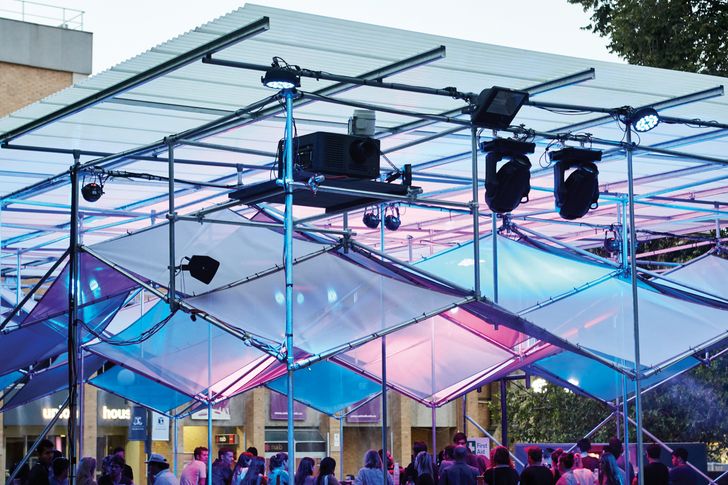 Ha Architecture principal Nick Harding said the pavilion's design embraced the temporary nature of the brief.
"The design is modular, fully demountable and reusable which allows it to be re-erected, altered and reused. We worked very closely in collaboration with builder Ben Sibley to devise a design that was seamlessly constructed in 10 days, taken apart in four and [can be] recreated all over again next year," Harding said.
The proprietary scaffolding components of the pavilion became key in Ha Architecture's early explorations with form and structure, said Harding.
"We saw these components as an opportunity to create a sculptural form that was largely derived from how the various components work," he said.
"We really worked hard to push the boundaries and create something both functional and dynamic for the patrons."
The pavilion was designed with both day and night use in mind. The pavilion is topped with a "dynamic and autonomous ceiling 'veil,' [which] shades the pavilion throughout the day, and also provides a medium to reflect and cast light [into] the night," said Harding.
He continued: "The 'veil' allowed for a level of transparency and porosity, embellishing the semi-permanence of the structure."
Shimmerlands runs until 26 February 2017. To view the program visit the Shimmerlands website.
Related topics