The merest wobble in the line of a hallway cornice is one of the few physical reminders of when this Federation house, in the heritage suburb of Haberfield, was divided into two dwellings during World War II. A perfectionist would have ironed out the line. Something would have been lost.
The late Enric Miralles once said that contemporary architecture is usually experienced as just a single moment in time – flattening the experience, to our detriment. He would have approved of this Sam Crawford scheme in Sydney, which takes seriously his clients' vision. "They appreciated the early-twentieth-century heritage of their house, including later changes," says Sam, "and wanted the new work to contribute to that in an early-twenty-first-century way."
The Haberfield House is a clean-lined restoration of the existing building, with a 1940s garage and confining back rooms levelled to make room for a large new living room and kitchen, with a study and TV room off to one side. Two small courtyards separate most of the twenty-first-century additions, however an ensuite bathroom and study still connect to the original house.
The new main room, like a pitched-roof great hall, does more than echo the original roof forms. Its half ton of double glazing in each gable allows the original Federation slate roof, with its slowly accumulated lichen, to remain evident in the contemporary space. The presence of the past is a constant here, in reused materials and in aspects of the owners' personal history that have been incorporated into the fabric.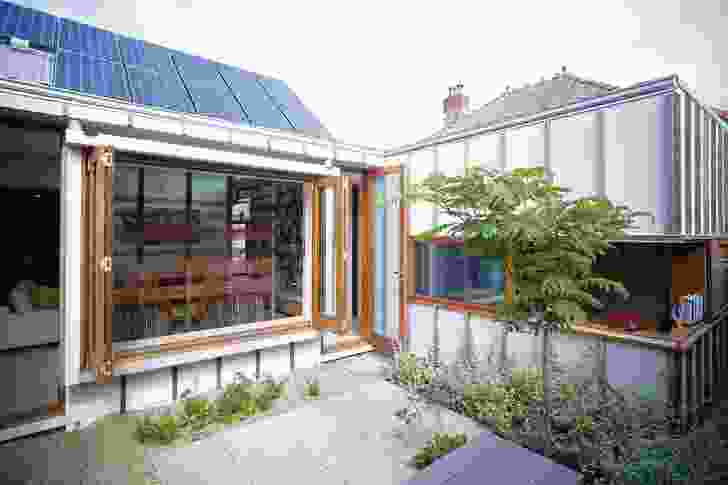 For instance one of the owners, Stephen, has his early life in Fiji presented in a woven screen (in part structural) of steel and the magimagi coconut fibre used to bind together elements in vernacular Fijian building. It took Stephen and Sam several weeks to get the weave just right. Similarly, what looks like a Federation chimneystack off the rear decks is an adaptation of a parrilla barbecue grill, in great demand when Stephen's wife's carnivorous Argentinean family visit this vegetarian household.
Sam and his clients deliberated over the details for a year. It took another year to squeeze the necessary heritage approvals out of the council. This slow consideration shows all over the house – for example, a window seat made a touch wider by pushing out the window frame.
Another example is a retractable corner window at desk height in the study, which allows a view across a courtyard, through the TV room and out again to the pool – to keep an eye on the kids. The sill height is just below that of the built-in desk directly adjacent, so instead of simply offering good views and a reduced sense of containment with the window open, there is a real feeling of the interior unfolding outwards beyond the building line.
Attention has been directed not only to the life of a heritage artefact over the last century, but to daily life as lived by a family. By the back door to the drive, for instance, is a place to dump the crap you bring in from the car that in most houses ends up first on the dining room table.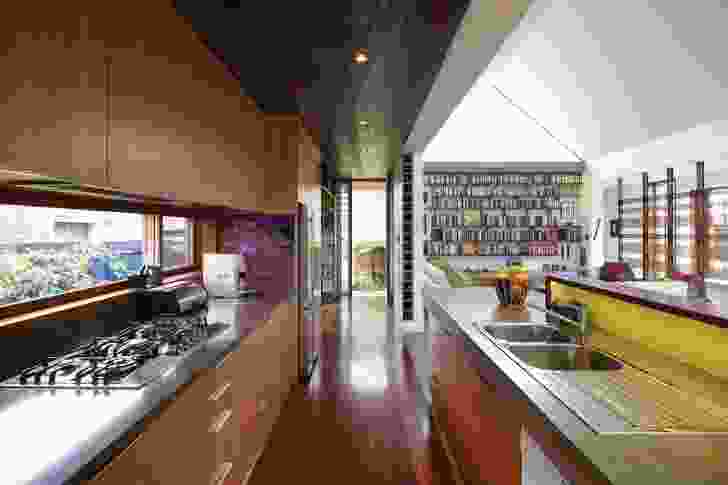 Old fabric has been incorporated into the new. Roof timbers found fresh life as furniture and old newspaper linings have been rescued and printed onto glass: "World Shortage of Caffeine" reports a 1941 headline on the kitchen splashback. Another humble aspect of the house's history is honoured in the sealed fibre-cement-sheet external areas of the new work.
This recycling is different from going to a warehouse and buying yet more historic timbers from the inevitable dismantled Fremantle jetty (how many are left in situ, given their frequent appearance in cast lists of architectural materials?). Sam's work here is about reuse in situ and respecting the embodied energy within our historic built environment – an issue that is still not properly encompassed by environmental rating tools.
This is sustainability in its broadest sense and supplements careful modelling to control winter and summer sun – the life of a house over a year – and some extensive kit that includes an 18,000-litre water tank, in-slab heating and, on the roof, photovoltaic cells and evacuated solar tubes.
It was not a cheap house and the cost of the green technology and double-glazing alone will not be recouped anytime soon, despite the family previously spending $1,000 a quarter on heating the often cold old house, but heritage is about sustaining the future as well as the past. It takes time for the best architectural stories to unfold and a richer narrative comes from being able to read a building's earlier chapters.
Products and materials
Roofing

Lysaght Trimdeck and Custom Orb, Zincalume finish; Stratco VT gutter.
External walls

Austral Bricks face brick, 'Bowral Blue'; Australian Architectural Hardwoods recycled ironbark timber battens with Ultra Timber seal; CSR fibre cement sheeting.
Internal walls

Ultra Last cement render, finished with Ultralast Ultrapaint.
Doors

Madinoz hardware.
Flooring

Polished concrete; Australian Architectural Hardwoods recycled grey ironbark.
Lighting

C U-C ME Suspension lamp by Kenneth Cobonpue from Kezu; Apple and Cigar Bubble lamp by George Nelson from Spence and Lyda; Planos wall-mounted uplight from Light 2.
Kitchen

Franke sink; Abey Gessi Oxygene Art sink mixer; polished concrete 'Boral Stone' island benchtop; CaesarStone Mink benchtop; Australian Architectural Hardwoods grey ironbark upstand; Briggs Veneers blackbutt veneer to cupboards; Miele oven, cooktop and steam cooker; Electrolux top mount fridge; Qasair rangehood.
Bathroom

Viridian glass shower screen and Decor mirror; Grohe Modern shower head; Parisi Envy MKII wall-faced toilet suite; Kong bench basin; Kaldewei Centro Duo bath; Newform bath mixer; Sussex single towel rail; white matt tiles 600 x 100 mm; CaesarStone Cashmere benchtop.
Heating/cooling

Evacuated tubes with in-slab hydronic heating.
External elements.

Austral bricks face brick 'Bowral Blue' fireplace; Electrolux barbecue.
Other

Custom dining and coffee table by Sam Crawford Architects; custom magimagi screen designed by Sam Crawford Architects; sculpture by Sam Crawford Architects with Morgan Shimeld.
Source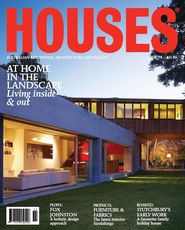 Related topics