If a Twitter feed is any way to judge the impact of an architect's practice on a community of peers, then the work of Rael San Fratello Architects, as presented by Virginia San Fratello at the 2013 Australian Institute of Architects National Convention in Melbourne, clearly left an indelible impression.
"Virginia San Fratello – highlight of what I have seen of #material2013 so far absolutely"
"Virginia San Fratello you are winning in my books. Incredibly compelling, you'd be a hard act to follow #material2013"
"Virginia San Fratello 'LOVELY' (to quote Fox News) #material2013"
"Hacking the 3-D printing process by using clay and porcelain, fascinating end results re: character and surface opportunities #material2013"
"Beautiful ideas of making, composition and social connection by Virginia San Fratello #material2013"
San Fratello teaches at San Jose State University. The work she produces with her partner and husband, Ronald Rael, and the small core of staff working at Rael San Fratello Architects in San Francisco exhibits a curiously broad range of project types. Work such as the Border Wall – an ideological and conceptual examination of architectural possibilities for the 3,145-kilometre-long Mexican/American boundary – sits juxtaposed against the digitally designed and 3-D printed products of their offshoot company, Emerging Objects (EO). On the surface, these works suggest a contradiction of sensibilities and skills that a small office would find challenging to develop and implement.
Chris Knapp: You mentioned that the national convention in the United States is an event that is so "bureaucratic," for lack of a better term, that you would never attend it – yet the Australian Institute of Architects Convention in Melbourne was a real delight. Can you provide further comments on the convention in general? Which presentations made an impression on you?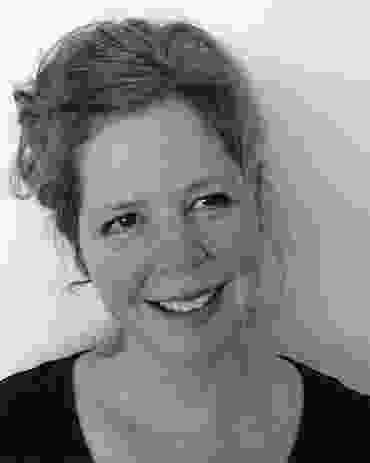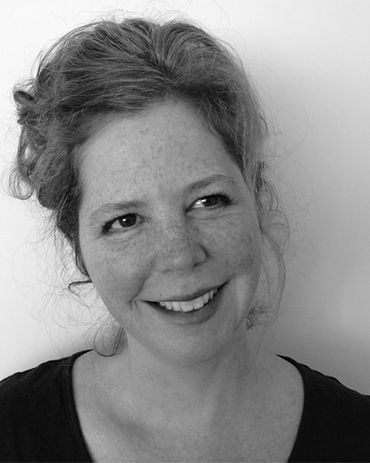 Virginia San Fratello: I thought the conference was fantastic. I attended and listened to every presentation. It was exciting to hear architects such as MAD and Gramazio and Kohler present their work, as I'm quite familiar with it through various publications, and I was also excited to learn about some new architects whose work I was not familiar with but was incredibly impressed by, such as Manuelle Gautrand and Kathryn Aste.
CK: I assume the American convention would seldom run along a theme such as "Material" – how did you find engaging this subject in the forum of a professional event?
VSF: I really applaud Sandra [Kaji-O'Grady] and John [de Manincor] for digging deep and finding some really interesting people with unique and incredibly focused practices from around the globe. It was great to hear these diverse presentations through the conceptual lens of material; we each have such different perceptions of how material might be meaningful in our work.
CK: What are the elements of the conference that you found particularly meaningful and were able to take with you?
VSF: When I listen to others talk about their work, in the back of my mind I'm always thinking about what I can learn from it and how it can inform the way I work. For example, the next phase we are moving into with Emerging Objects is to 3-D print larger surfaces – like walls and building enclosures. Carey Lyon's work with such large aggregated, tiled and tessellated surfaces that were embedded with meaning and identity gave me some ideas about how to proceed with a 3-D printed wood wall on which I am working right now. Matthias Kohler's work I'm familiar with, and I'm also a huge fan, so it was exciting to hear him present. I think there are obvious relationships between our digital work and the materials with which we are 3-D printing and the use of the robot as a 3-D printer, but at a much larger scale.
CK: Picking up on the subject of Emerging Objects, this stream of work appears to differ dramatically from conceptually driven projects such as the Border Wall. Do you think of them as separate endeavours?
VSF: Yes. The Border Wall, Prada Marfa, the SOL Grotto, the Straw Gallery, and so forth, are all part of Rael San Fratello Architects. The 3-D printed materials, objects and products fall under Emerging Objects, which we've incorporated as a separate entity. Emerging Objects is focused specifically on 3-D printed materials and objects for the built environment. We are casting a wide net with EO – in the spirit of Henry van de Velde and others, we are interested in designing not just buildings, but their interior surfaces, the furniture, the jewellery and possibly right down to the 3-D printed clothes that the occupants might wear.
CK: So you've got a broad practice agenda and have clarified that through the two offices – what drove that decision?
VSF: Ron trained as an architect and teaches architecture. However, I have an undergraduate degree in design – I studied fashion design and industrial design – and a graduate degree in architecture from Columbia [University in New York], and while I have taught architecture students for many years, right now I teach design – classes such as furniture design, object design and interior architecture. I think that has opened the door for us to consider ourselves a design studio and not only architects, which has been liberating. For example, in the last few months we've been asked to design an award, a jewellery collection, a land art installation and eight houses. We apply rigorous conceptual strategies to all of these endeavours and explore material considerations and technologies in similar ways between all of these projects. The jewellery sometimes feels like an architectural study model, for example. Little scale models.
CK: Given that range of work, do you think your practices will tip in one direction or the other as the dominant way you work?
VSF: That's a tough question. Right now we are spending a considerable amount of time getting EO off the ground but opportunities still arise for Rael San Fratello. For example, we may build another permanent version of the SOL Grotto. We were also recently asked to design a collection of houses in Oakland [California] for a certain price point which would exclude 3-D printing at a large scale from that project, but we still want to take these other projects on for the opportunity to explore other materials and cultural and social insertions into our own "backyard" in Oakland.
CK: You mentioned that you have not damaged any 3-D printers in your research, albeit you have often needed to fix them using Zen and the Art of Motorcycle Maintenance as a guide.
VSF: It's not so much that the printers break or are problematic, they are just a little sensitive! The print heads are delicate and need constant cleaning. You might get an air bubble in the line between the binder tank and the print head and need to siphon the binder out … These things would happen even if you were using the proprietary materials. I'm not a mechanic and I've never been in a position where I needed to fix equipment until now. So I've learned that it's best to sit down, take a deep breath and ask yourself what is the most simple solution and start there before taking the machine apart. Ninety-nine percent of the time, there is a simple fix.
CK: What actually led you to start "hacking" 3-D printers in the first place? Is that a technology you adopted early on?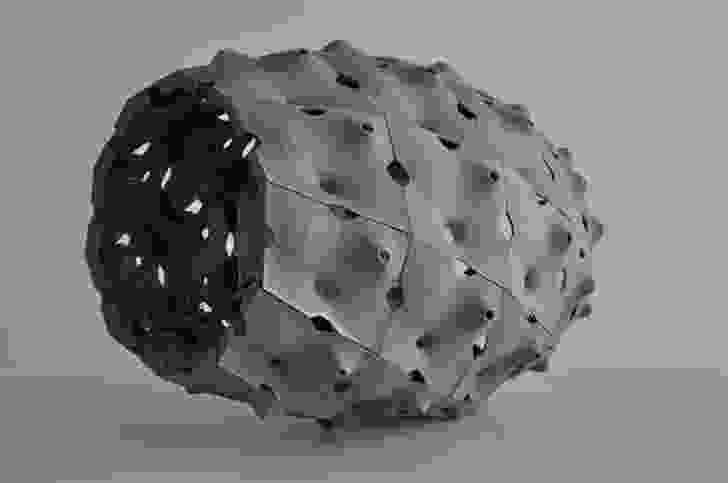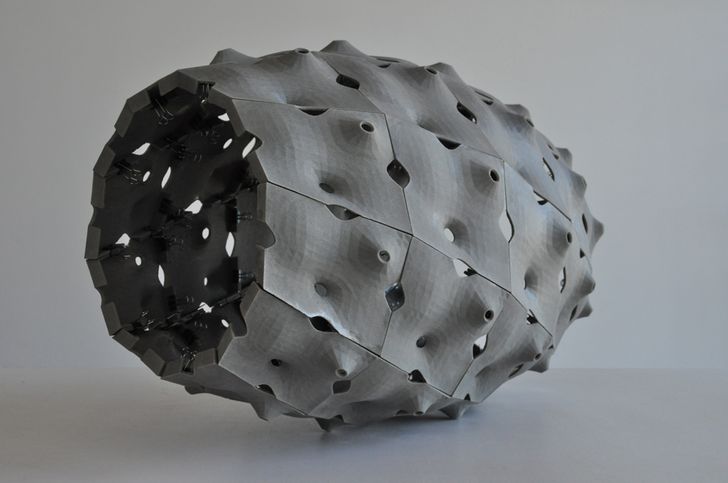 VSF: The first time we used a 3-D printer back in 2006, one of our first questions was "Why can't we use other materials?" Because of warranties and so forth, we were unable to experiment with other materials on those machines. However, more recently in 2009 and 2010, Ron acquired a 3-D printer in conjunction with the ceramics department at UC Berkeley, and he decided to test clay in the printer. That is how it started. On the heels of those early tests we were invited to participate in an exhibit called "The Nature of Things" for the Biennial of the Americas. We decided to print everything in the exhibit using a sand-based material. Because of our inherent interest in buildings made with earth-based materials, it seemed like a logical choice. The sand prints were displayed on the sand material itself – reinforcing the idea of geomorphologist as architect.
CK: How many printers does the office have?
VSF: For research purposes we have access to five powder-based printers and two fused deposition modellers.
CK: What is next on the horizon in terms of the materials or applications your 3-D work might engage?
VSF: We are increasing the scale of our designs. So far the largest thing we have printed is the Seat Slug, which is eleven feet long and made of 253 parts. We are currently 3-D printing a room out of salt, which is made of approximately 500 or so parts, and this summer we are designing a 3-D printed dwelling. Because we would like to print at the scale of architecture we are trying to address issues of scale in terms of the bricks or units that we print. For example, do we need a printer farm so we can print thousands of "bricks" at one time or could we print larger ones? What does it mean to dig or excavate something larger out of the printer? Is that possible, or is it going to break before we can strengthen it? When we jump scale there's a whole new set of questions that need to be explored. And we are also continuing to refine our materials and develop new ones, such as rubber, glass and carpet.
CK: With respect to Emerging Objects, where do you hope and plan to steer that? Toward commercialization? Toward patented products?
VSF: Both. We would like to commercialize our materials, our assembly systems and the products we are designing.
CK: Speaking to the digital project in architecture generally, where do you see this going? Do you envisage a time in the future when we won't even make reference to the digital as something "other" but rather as commonplace?
VSF: For us that has already happened. We think of the computer as just another tool.
CK: There seems to be a notion that when 3-D printers and robots start entering the architect's realm, somehow cultural and societal questions are thrown out the window. Looking at your work, can it be argued that the "cultural" is embedded in the "digital" – the example being the 3-D printing of mud bricks, the locally specific? Have you considered your work in this way, and can you elaborate on that?
VSF: I think architecture is still about customization and uniqueness. Architecture still responds to unique sites and contexts and 3-D printing actually facilitates the role of customization in architecture, and the number of issues we can respond to as designers.
Related topics