Many of you will be familiar with the idea of the halo effect, whereby we tend to assess a person's characteristics and skills positively if our overall impression of the person is good, and negatively if our impression of them is not so good. It's the cognitive bias behind the adage "first impressions last." However, few bar the marine biologists among you will know of the other halo effect, which describes the fertile ecosystems that emanate from and surround icebergs in the Southern Ocean. As icebergs melt, they release iron-rich material, most likely accumulated wind-borne dust and ground-up rock resulting from glacial movement. The material fertilizes the surrounding seawater, propagating phytoplankton, which then attracts larger organisms such as krill, fish, seabirds and mammals. As inhospitable as that frozen environment might seem to us, it teems with life. Around the particular, jagged geometry and unbroken whiteness of the iceberg, life itself is created and nurtured.
At this point you might be wondering if the printer mixed up a couple of pages from Australian Geographic with the Houses print run. Don't worry – you're still with us. The (Antarctic) halo effect was the initial creative concept for a new house in the leafy and mostly non-icy Melbourne suburb of Glen Iris, designed by Breathe Architecture. Central to the clients' brief was the wellbeing of their large family – mum, dad and four school-aged kids. Their house was first and foremost a place for the family to be nurtured, the metaphorical iceberg around which they would thrive.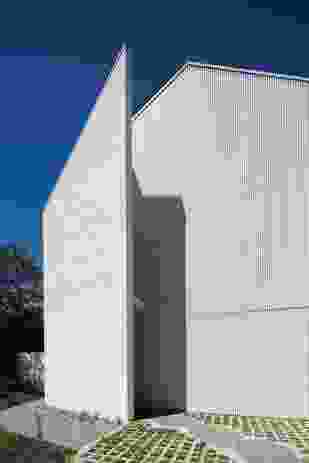 Sometimes these concepts are simply abstract sparks for igniting the creative process, but as you can see in the photography, the idea of the iceberg has been well and truly translated into the final form of the house: on a tree-lined street, among the polite brick architecture of Glen Iris, a sharp white shard vaults 9.5 metres into the sky. Closer inspection reveals that it is in fact another brick house – constructed from recycled, locally manufactured bricks, no less – but it's not "just" another brick house. The facade is dramatic but also mysterious, faceless, presenting white-painted brick and pine battens and with no visible openings. The front door and a first-floor window are tucked out of sight. When the front garden of native grasses matures, the house will appear even more like an iceberg, floating in a soft grey sea.
Inside, the whiteness continues, but the interior is certainly not cold. Perhaps unusually for Breathe Architecture, whose houses and apartments tend more toward dark, industrial treatments, white surfaces and pale timber joinery predominate. The aesthetic brief was for Nordic modernism; with Victorian ash sourced as a suitable local replacement for imported northern-European timber, the desired effect was achieved in a way that was consistent with the architects' well-known MO for sustainability.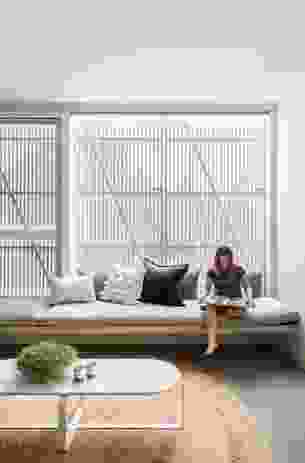 The ground floor comprises an entry hall with an individual locker for each family member (organization is key when you have four kids!), an open-plan living/dining space that looks out to the northern garden through timber-battened shutters, and an almost-commercial-sized kitchen. On the southern side of the house, tucked in behind the double garage, is a fully fitted-out gym for the clients' personal training business. The gym can be accessed from a separate entry down the side of the dwelling and shares a powder room with the residence.
A large stairway climbs up through the central void, with a woven-wire-mesh balustrade providing visual and acoustic connect- ion between the levels. Operable clerestory windows bring in natural light, creating the impression of a halo above the stairs. When opened, they create a chimney effect for expelling warm air at night.
The first floor is given over to sleeping quarters, which, considering the number of people to be accommodated, required a clear design rationale for maximum efficiency. With so many places for the kids to play and do homework – the open-plan ground floor, the large backyard and side courtyard, even the gym – their bedrooms didn't need to be huge. Arranged around the airy, white-and-blonde-timber stairway and with discreet garden outlooks, they feel anything but cramped. The main bedroom is larger, of course, and enjoys a view down the street thanks to that concealed front window, while the main bathroom also provides views over rooftops and street trees, through a panoramic window.
One final flight of stairs leads up to a loft storeroom that can double as guest quarters for extended family. And therein lies the crux of this project: between the shared downstairs living space, the central public avenue of the stairway and the bedrooms clustered together on the first floor, this is very much a house designed to bring family together, where kids and parents are near each other for companionship and support, and where their private ecosystem is fed and nurtured.
Products and materials
Roofing

Lysaght Custom Orb in Colorbond 'Surfmist'.
External walls

Recycled cream bricks in Keim 'Royalan'; pine battens in Dulux low-sheen 'Whisper White'; James Hardie HardieFlex concrete sheets in Dulux 'Whisper White'.
Internal walls

Recycled cream bricks in Dulux 'Whisper White'; limewashed Victorian ash wall cladding; Parchem concrete render in Dulux Aquanamel 'Fair Bianca Half'; Gyrock EC08 plasterboard.
Windows

Rylock aluminium clerestory in Colorbond 'Surfmist'; Binq windows in Dulux Aquanamel 'Fair Bianca Half'.
Doors

Solid-core entry door and semisolid-core internal door in Dulux Aquanamel 'Fair Bianca Half'; double-glazed Victorian ash sliding door in Quantum Timber Finishes Aquastain.
Flooring

Hy-Tec polished concrete floor with bluestone aggregate; limewashed Victorian ash floorboards.
Lighting

Anchor Ceramics Potter pendant light; Light Project up/down wall lights and Xlux track lighting.
Kitchen

Afa Exact undermount double sink; Sussex Scala pullout sink mixer; Concrete by Keenan Harris polished concrete benchtop; Eco Timber Group recycled Victorian ash benchtop; Briggs Veneers crown-cut Victorian ash veneer on door and drawer fronts.
Bathroom

TeraNova hexagonal Carrara floor tiles; Bespoke Tile and Stone hexagonal matt white tiles; Johnson Tiles satin white rectified tiles; Sussex Scala basin mixer, shower mixer and rail shower in 'Tumbled Brass'; Sussex Pol showerhead; Omvivo Neo double basin; Caroma Urbane wall-faced toilet.
Heating and cooling

Timber batten awnings and shutters on steel frames; Hunter Pacific Eco2 ceiling fan from Universal Fans; Griepink and Ward airconditioning; hydronic heating.
Other

Galvanized woven mesh stair balustrade in Dulux Aquanamel 'Fair Bianca Half'; custom dining table and bench seats by Fido Projects.
Source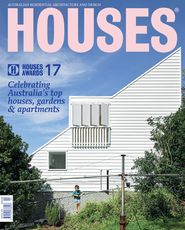 Project
Published online: 17 Oct 2017
Words: Mark Scruby
Images: Dianna Snape
Issue
Houses, August 2017