Completed in 1982, Hamer Hall is a strange building. It is based on the iceberg principle, with the concrete cylinder visible above ground hiding a much larger volume beneath the surface. The floor of the concert hall is sunk well down in the mud of the Yarra River's south bank. The idiosyncratic bluntness of Roy Grounds's simple geometry and robust concrete construction is mediated within by the equally idiosyncratic interiors by the theatrical and film designer John Truscott – gold leaf, mirrors, plush orange/vermilion carpets, padded beige leather on the walls.
Strangest of all is the interior of the concert chamber, where the richness of the Truscott repertoire is put aside for a kind of mineralogical regime – the walls are finished with striations apparently inspired by rock strata but realized in shades of brown paint. It is as if a boulder had been prised open to be revealed as a geode, but one that contained not only crystalline glitter within but also something else, an enigmatic specimen from an altogether different section of the cabinet of curiosities.
This unusual range of design references is astutely maintained in the recent reworking of Hamer Hall by Ashton Raggatt McDougall (ARM Architecture). If anything, the surreal quality of the Truscott interiors has been enhanced, and the contrast between these and the monumental late modernism of Grounds further sharpened.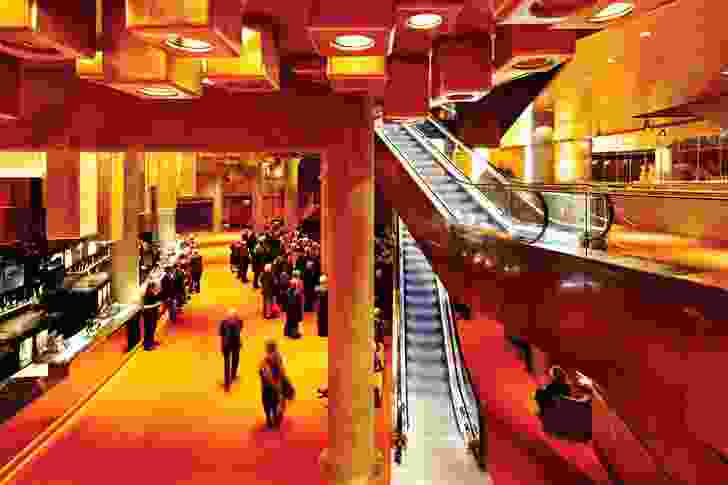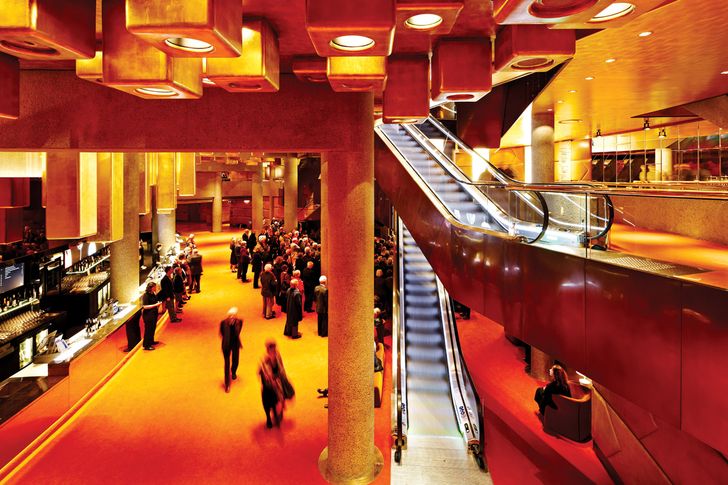 All the public lobbies within the existing building use the elements, materials and finishes introduced by Truscott, but the planning has been reorganized to facilitate easier movement of patrons, in particular by pushing bars and other such facilities to the edges of spaces, and relocating escalators to integrate them more fully into the interior scheme.
Previously, they seemed somewhat like necessary but visually out-of-place pieces of equipment. This reworking has entailed the loss of one beloved Truscott feature: the void that visually connected the stalls-level lobby with the entry level two floors above. This void featured a great chandelier-cum artwork, Arcturus by Michel Santry, a particularly rich gobbet of glitter heading straight for Morris Lapidus kitsch.
Melbourne's concert-going audiences seem to have enjoyed all this greatly, coming as it did before the indulgences of Crown and the glitzier bits of Chadstone, and there is some regret that it is gone. But patching the void has allowed room for the escalators to make it all the way to the entry foyer (previously they did not), and I think it has the distinct architectural advantage of, by comparison, making the cavernous volume of the concert chamber itself all the more dramatic when first you enter it. The loss of Arcturus has been compensated for, in part, by the installation of a new suspended, illuminated sculpture by Robert Owen with Rachel Burke of Electrolight, all made of Swarovski crystals. Mmmm.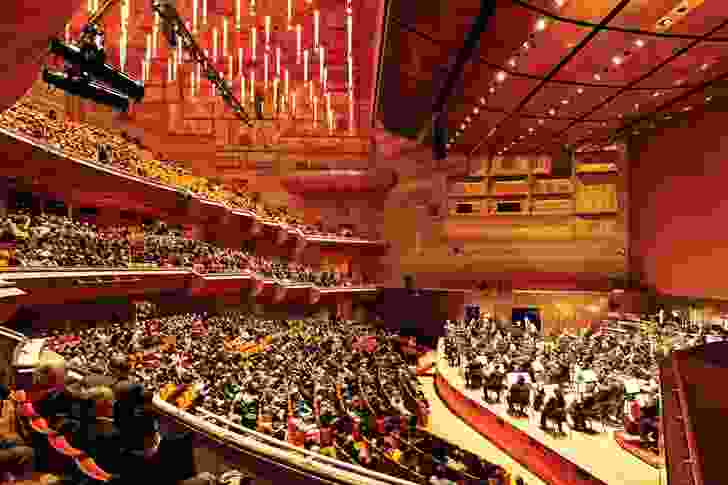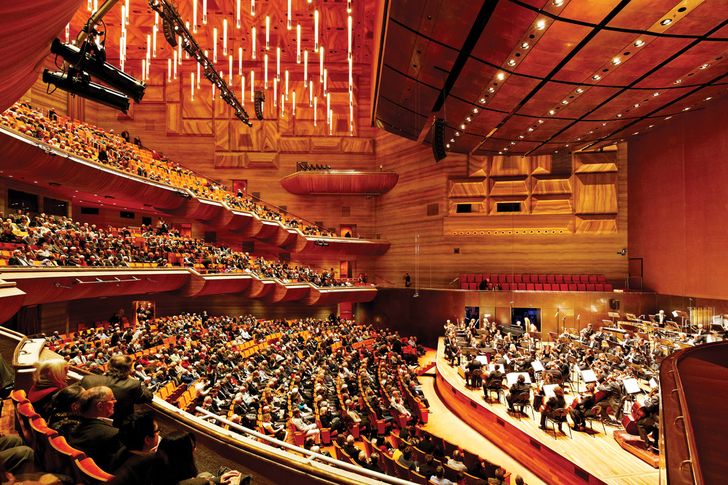 The concert chamber has been altered somewhat, principally to improve acoustics and comfort. The splay of the side walls at stalls level has been reduced, and some areas of the side balconies removed. A canopy over the stage houses necessary equipment, and features operable acoustic reflectors that can be positioned in different ways for the requirements of different kinds of performance. The organ at the back of the stage has been removed till such time as it can be restored and hopefully be reinstated.
New seating is more generous than the old, and its influence on the hall's acoustics has been technically calibrated with the more overtly architectural changes to the shape of the hall and with the effect of gloop sprayed over wall surfaces to sharpen acoustic performance. The geological striations of the original have been repainted, and seem much more assertive now since the subtraction of lateral balconies has made the side walls visually more significant. Dangling from the lofty ceiling is a multitude of new pendant lights, a remote cluster of glow-worms in the gloom of the cave.
The other main change to Hamer Hall made by ARM has been to open up the entry level to the St Kilda Road approach, and to reconfigure the lower levels on the river frontage. New glazing to the entry lobby is more extensive than it was previously, and clear rather than tinted – the crack in the Grounds boulder is bigger than before, and more of the interior can be seen from without. The zigzag arrangement of the new fenestration is drawn from the zigzag strip of glass at the top of the National Gallery of Victoria down the road, now sadly blocked from actually lighting any interior gallery spaces.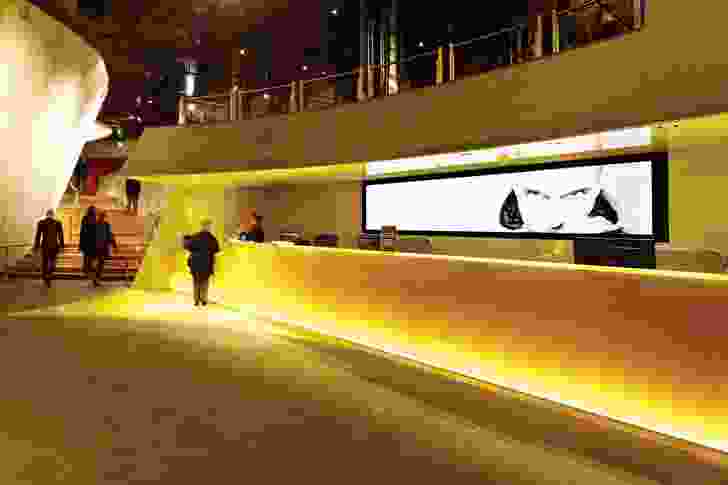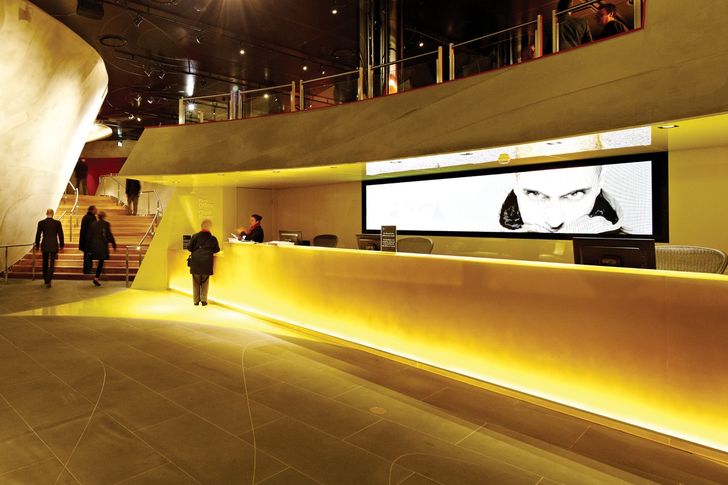 Along the river, the external terrace extending from the building's entry forecourt has been drastically cut back, and the stairs from this to the riverside promenade below have been repositioned. Restaurants and a new lower-level entry lobby sit under the terrace. The yellow interior of the new lobby is a departure from the old, a welcome little bit of citrus palate cleanser, perhaps, between Grounds's beef and Truscott's dessert trolley.
But the principal signature for the new spaces reclaimed from the unfortunate undercroft of the previous arrangement is in the architecture of the new facade. This is made in typically enigmatic ARM mode: a looping "boolean string" of square section – influenced by the Clement Meadmore sculpture Dervish positioned on the promenade nearby – is apparently subtracted from the cast concrete that defines the new building edge. The openings made by this operation do appear to have some resonance with how Grounds generally treated wall openings in his Arts Centre buildings as clearly defined cut-outs. But their particular geometry is all ARM.
The material repertoire here is also quite different to the double language of the original building, elsewhere so carefully tweaked by the renovation. In particular, the concrete is finished much more frankly than anything Grounds would do. Various surfaces within and without are figured with inscribed lines that members of the design team told me were based on soundwaves, but they also suggest tide marks from the river's ebb and flow. The concrete of the ARM addition, then, is a third mineralogical condition alongside the solid rock and metallic glister of the old Hamer Hall, a sedimentary mass seemingly drawn from possible meanderings of the notoriously muddy Yarra, a flow whose outlines necessarily evade definition.
Hamer Hall was also reviewed in Architecture Australia by Conrad Hamann.
Products and materials
Walls and ceilings

Class 2 off-form concrete to external walls. Elmo Elmotreasure leather wall panels, Bronzeworks bronze-tinted metal panels, concrete render, tinted mirror, coloured stainless steel, gold leaf and factory-applied high-gloss polyurethane panels to internal walls.
Windows

Polished stainless steel, anodized aluminium and patterned interlayer.
Flooring

Ground-floor foyer uses RC∞D hand-tufted custom-designed rug insert and Spanish orange and silver grey loop pile insert, Brinton custom Wilton woven cut-pile carpet in Earthern Brown, antique brown granite. Riverside foyer uses honed bluestone, spotted gum timber and Trend Cristallino reconstituted stone. Other foyers use Brinton custom Wilton woven cut-pile carpet matched to original colourway and Persian red travertine to match existing. Auditorium uses brushbox parquetry to match existing, Brinton custom Wilton woven cut-pile carpet matched to original colourway, spotted gum narrow board to stage.
Lighting

Lighting supplied by LED Lighting, Endo Lighting Corp, Eagle Lighting, Acdc, Lighting Group, Zumtobel, Clearlight Shows, Erlo, Xenian, Planet Lighting, Klik Systems, Thorn and Bega.
Furniture

Kelly low-back chair and Ned large ottoman in Kvadrat Maharam Mohair Supreme Earthern Brown, Albert coffee table with gold mirror and brass-plated frame, Jarvis low-back chair in Kvadrat Maharam Divina Melange 2 orange and light grey, Jarvis low-back 2.0 seater in Kvadrat Maharam Divina Melange 2 dark grey, Bandy coffee table, Milo lounge and small and large Coast ottomans all by Nick Garnham and Rod Carlson for Jardan. Maxalto Elios oval side table by Antonio Citterio for B&B Italia, La Santas Teresa Table lamp by Jaime Hayon for Metalarte, Chantilly Ottoman by Inge Sempe for Edra, all from Space Furniture. Mummy chair by Peter Traag for Edra from Space Furniture. Custom Figueras theatre seats with oak frame and Warwick mystere velour fabric in Persimmon.
Bar

Trent custom-built refrigeration. Joinery fabricated by GOSA with high-polish brass fronts. Corian Glacier White worktops. Stone Italiana Super Black reconstituted stone rear counters and tinted mirror. Astra Walker Icon tapware. Zip chilled water fonts. Riverside counters include Baresque Illume in foil-backed orange and yellow.
Bathroom

Catalano wall-mounted basin and floor-mounted WC from Rogerseller. Astra Walker Icon tapware. Walter Knoll Vola soap dispenser from Dedece. Kyissa partitions. Cotto D'este Kerlite Black Absolute Style tiles on wall from Signorino tiles. Bisazza Opus Romano tiles on floor. Mirrors are custom designed by ARM and fabricated by GOSA.
External

Bluestone.
Other

Ground-level sculpture is Silence by Robert Owen (sculptor) and Rachel Burke of Electrolight. Velik foyer circle level sculpture is Falling Light by Robert Owen (sculptor) and Rachel Burke of Electrolight. Mobile merchandise stands custom designed by ARM and fabricated by Gamma Doura. Auditorium stalactite lighting custom designed by LDP Sydney.
Credits
Design practice

ARM Architecture Melbourne
Melbourne, Vic, Australia
Project Team

Ian McDougall, Howard Raggatt, Neil Masterton, Peter Bickle, Stephen Davies, Jonothan Cowle, Andrea Wilson, Rhonda Mitchell, Doug Dickson, William Pritchard, Justin Fagnani, Sarah Lake, Sarah Box, Timothy Brookes, Allira Davies, Paul Buckley, Thomas Denham, Matthew Ginnever, Asako Miura, Deborah Rowe, Simon Shiel, Monique Brady, Jason Lee, Ken Billan, Mordechai Toor, Martine de Flander, Mark Raggatt, Tom Marsh, Andrew Ta, Tobi Pederson, Natalie Lysenko, Lee Lambrou, Aaron Poupard, Andrew Lilleyman, Stephen Ashton
Consultants

AV consultant PLP Building Surveyors & Consultants, Hanson Associates
Acoustics Marshall Day Acoustics, Kirkegaard Associates
Building surveyor PLP Building Surveyors & Consultants
Contractor Baulderstone
Heritage consultant Bryce Raworth, Philip Goad, Bryce Raworth
Kitchen services consultant MTD Group
Landscaping Taylor Cullity Lethlean Melbourne
Pedestrian modelling Arup Melbourne
Project alliance Southbank Cultural Precinct Redevelopment Project Alliance: Arts Victoria, Major Projects Victoria, Baulderstone, ARM Architecture
Quantity surveyor Rider Levett Bucknall – Melbourne
Specialist lighting Lighting Design Partnership
Structural & building services Aurecon
Theatre technical consultant Schuler Shook
Traffic consultant Cardno
Urban design Peter Elliott Architecture + Urban Design
Wayfinding ID/Lab
Wind consultant Vipac

Site details

Location 100 St Kilda Road, Melbourne, Vic, Australia
Site type Urban
Category Interiors
Type Culture / arts, Public / civic

Project Details

Status Built
Completion date 2012
Design, documentation 12 months
Construction 24 months

Source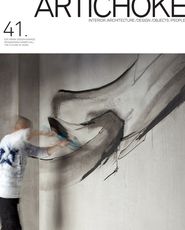 Issue
Artichoke, December 2012
Related topics