Hames Sharley and Danish practice Schmidt Hammer Lassen Architects have been jointly commissioned to design a $60 million refurbishment of a library at Curtin University in Perth.
Built in 1972, the brutalist TL Robertson Library was designed by Vin Davies of the Western Australian Public Works Department. Deborah Terry, Curtin's vice-chancellor, said that the "redesign focuses on preserving the building's iconic brutalist architecture and creating additional internal spaces spanning more than 2000 square metres to facilitate informal learning, knowledge sharing and collaboration across the university."
"The design will also enhance the library's connection with Sir Charles Court Promenade and the surrounding public areas."
The refurbishment will maintain much of the original architectural fabric, while expanding its facilities. The main addition will be a large atrium at the heart of the building, with auditorium-style seating doubling as a stairwell. Space will be freed up by reducing the size of the book collection kept in the building, and will be turned into new flexible teaching spaces.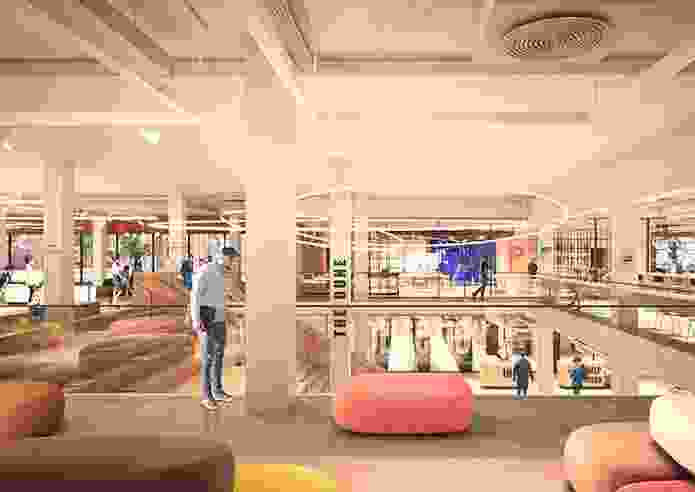 Morten Schmidt, founding partner of Schmidt Hammer Lassen, said, "The design complements the building's original features with bold, contemporary architectural interventions that focus on warm, natural materiality, and contrast the original structure with open lightness."
"The journey through and within the building is simplified by creating strategic architectural connections between spaces that are fluid and intuitive. The transformation will visually and physically connect the library to the heart of the campus and the new developments, further underlining the importance of libraries in higher education – not only as institutions for academic endeavour, but also as cultural meeting points for all."
James Edwards, Hames Sharley director and education leader, said, "The local knowledge and sensitivity combined with a Danish perspective has produced a uniquely Curtin design. We believe the completed project will make a great contribution to the ongoing mission of the university – and we hope it will be an inspiration to all students of design."
Schmidt Hammer Lassen and Architects is behind the design of a number of prominent libraries around the world. The Robertson Library will be its second library project in Australia – it also designed the ongoing transformation of the State Library of Victoria, in collaboration with Architectus. The first stage of the project was completed in September 2018.
Elsewhere, it has designed a library for earthquake-damaged Christchurch, the Urban Mediaspace in Aarhus, and the new Shanghai Library.
Related topics