Houses are often described in terms of the journey one makes through them: the choreographed experience of arrival, exploration and occupation; the spatial "slow reveal" that intrigues, seduces and surprises; the nooks, niches and dead-ends that waylay guests; the blockbuster view deferred until the visitor is in just the right location. A shrewd architect can plan out a home that rewards days and weeks, and takes years to truly know. But what if you don't want that? What if you're building a holiday house and you want to be able to walk in, drop your bags and simply be "away"? What if your holiday house is three hours from your home in Sydney and by the time you get there, you've had enough of "journey," thank you very much? What if all you want is "destination"?
These questions underpin much of what is wonderful about this holiday house at Hampton, on the western fringe of the Blue Mountains, by architects Noxon Giffen. The house nestles into the hillside on a one-hundred-acre working farm, and looks out over the property and down to distant valleys. Its enveloping, wave-like form is simple yet emphatic and, if it wasn't wrapped in a Colorbond shell colour-matched to the leaves of local eucalypts, could almost be described as monumental. However, it's clear that the emphasis here is on the landscape, not on the object in the landscape – indeed, with its upward-tilting roofline, the house almost seems to be saluting the view.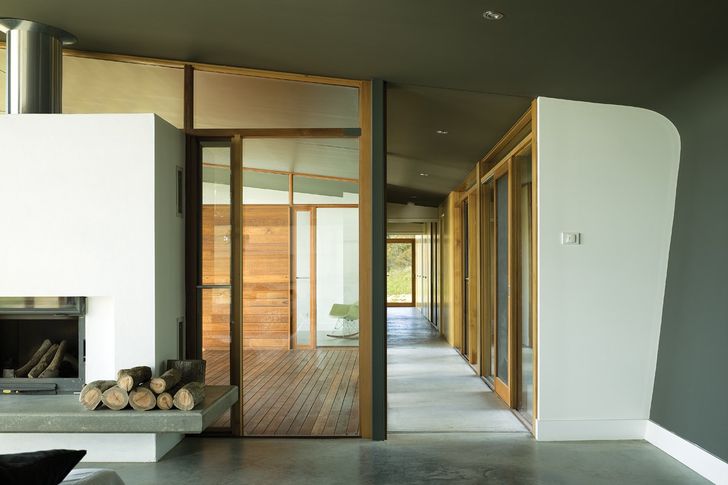 Inside, this hierarchy is borne out in a series of column-free spaces with walls of floor-to-ceiling glass and dark-painted ceilings that draw attention away from the interior and frame outward views. The house faces north and, thanks to a long, lean floor plan, every single habitable space enjoys those outward views. It's a simple plan, and not without precedent, but, here, it's the blueprint for the perfect holiday – whether it's for a day or a month, whether you're having a morning shower or fixing an afternoon shandy, every moment in the house is a moment spent in celebration of being out of the city, divorced from the extraneous mental industry of busy, modern, urban life.
The interior palette of timber, raw concrete and foliage colours is undeniably rich and textured, but also provides an explicit connection to the natural environment and fuels a sense of the interior spaces spilling out of the house and flowing down the hill. A covered courtyard, protected by the curving roof form but open to the north, blurs this line even further. It's an outdoor room in the truest sense – a fresh-air space inserted into the floor plan. (Its other function is to provide a physical buffer between the owners' sleeping quarters and the rest of the house.)
The reference to fresh air is, it has to be said, a slight under-statement; the house has to stand up to some extreme weather conditions, including winter snowfalls. To this end, its construction, essentially a repeated laminated-timber beam and steel crossbeam configuration with "clipped on" skin of timber, double-glazing and Colorbond, is "thermally broken" and, thus, provides a highly effective and efficient form of insulation.
So, the house satisfies the familiar twin imperatives of prospect and refuge. Like the desire to connect with nature, these urges are probably vestiges of our primitive past. Architect Justin Noxon tapped into these innate feelings when, in the early stages of design, he asked, "How would you camp on this site?" The end result is far from primitive, but it certainly harks back to simpler times, to a simpler way of life, like any good country holiday should.
Products and materials
Roofing

Lysaght Custom Orb, Colorbond 'Woodland Grey'; CSR Bradford Insulation.
External walls

Western red cedar boards, finished in Cabots clear penetrative oil sealer; Lysaght Custom Orb, Colorbond 'Woodland Grey'.
Internal walls

Plasterboard, painted Dulux 'Natural White' and 'Woodland Grey'; interior-grade plywood, finished in Cabots clear low sheen sealer; CSR Bradford Insulation Soundscreen wall batts.
Windows

Trend double-glazed windows with seasoned western red cedar framing; Breezeway glass louvres with anodized aluminium frame; Aneeta double-hung, double-glazed windows.
Doors

Seasoned western red cedar doors, finished in Cabots penetrative oil sealer; Centor Architectural internal sliding doors, painted Dulux 'Natural White'.
Flooring

Steel trowel concrete with water-based clear sealer; spotted gum decking, finished in Cabots penetrative oil sealer.
Lighting

Provided by client.
Kitchen

CaesarStone benchtop, 'Snow'; Miele oven, cooktop and dishwasher; Qasair rangehood; ASG Safety Glass back-painted glass, low iron finish in Dulux 'Natural White'.
Bathroom

Rectified edge matt tile in 'Snow White'; Rogerseller basin and tapware; Caroma toilet.
Heating/cooling

Devi electric in-slab heating; Cheminees Chazelles fireplace.
External elements

Underground water tank and septic tank; Edwards Solar Hot Water; fire dish by Coco Republic.
Credits
Architect

Noxon Giffen
Sydney, NSW, Australia
Project Team

Justin Noxon, Stephanie Morgia, Maya Borjesson
Consultants

Builder Cox's River Construction
Engineer SDA Structures
Interiors Noxon Giffen
Landscaping Noxon Giffen
Lighting Noxon Giffen
Quantity surveyor G. J. Seib

Site Details

Location Blue Mountains, NSW, Australia
Site type Rural
Building area 285 m2

Project Details

Status Built
Design, documentation 9 months
Construction 12 months
Category Residential
Type New houses

Source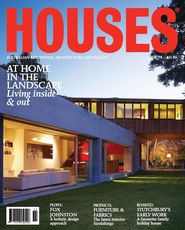 Related topics